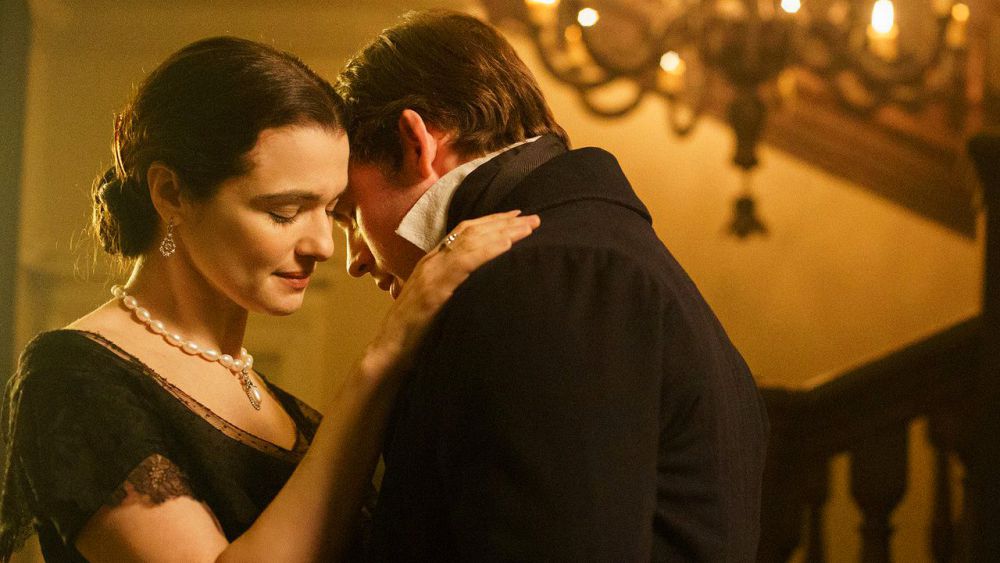 The fiction of mid-century English author Daphne du Maurier has inspired some of cinema's most sinister highlights, the most admired being Hitchcock's Rebecca and The Birds. Written and directed by Roger Michell, this new adaptation of her 1951 novel My Cousin Rachel is the first film treatment since Richard Burton and Olivia de Havilland's romance a year after publication. Michell is maybe best known as the director of rom-com smash Notting Hill, and much of his work since, like frothy breakfast show comedy Morning Glory or Bill Murray's FDR turn in Hyde Park on Hudson, has stuck to middle of the road material. My Cousin Rachel's psycho-drama is ripe for exploitation by a more daring, cynical film-maker, but Michell has helmed a robust, entertaining film, with a seductive performance from Rachel Weisz's slippery anti-heroine.
Much of My Cousin Rachel drifts on a juicy atmosphere of ambiguous toxicity and romantic and sexual frustration. Sam Claflin stars as Philip, who was raised by his cousin Ambrose after being orphaned at a young age. The two have shared an idyllic life on Ambrose's estate, cultivating in Philip a boyish hetero-attachment and general ignorance of women, traits which suggest sexual incuriousity or even mild dysfunction. When an ill Ambrose retires to the healthier Mediterranean climate and sends back word of his affections for his titular cousin, trusted family friend Nick (Iain Glen) and his daughter Louise (Holliday Grainger), a potential match for Philip, are surprised by the about-face of a man who appeared uninterested in the opposite sex. 'Well, why would he?', remarks Philip, 'he had me'.
After a possibly paranoid Ambrose writes scathingly and desperately of his new wife's murderous intentions, and then succumbs to an apparent brain tumour, a grieving Philip vows revenge. When Rachel comes to stay in the Cornish manor, property due to pass to Philip on his approaching 25th birthday, and he is prepared to give her both barrels. That is, until he gets a look at her.
The new arrival is charming and funny with an inviting, joyful, slightly artificial way of expressing herself, and the inexperienced, dumbstruck Philip quickly falls under her spell. Before too long he's rewriting wills and raiding the family jewel collection, dressing her up in his late mother's pearls, and in him she finds an improbable likeness of her late husband. Each reads in the other a replacement for an absent love, generating dysfunction tensions of attraction. Weisz's skilled performance keeps Rachel's intentions difficult to readable, her over-pleasing deliberateness designed to put Philip, concerned observers and audiences on the back foot. Unable to communicate his desires properly, and hobbled by a buoyant immaturity, Philip starts to spiral. The uncertainty is compelling, even if the film holds its cards for too long.
My Cousin Rachel is visually handsome and well-tailored but leaves undercurrents of erotic darkness under-explored (earning only a 12A rating). Genre fans will enjoy its fun assemblage of Gothic familiars — candelabras, nightgowns and windy cliff edges— and melodramatic indulgences, a fair distance from the swooning, hysterical intensity of, say, Guillermo del Toro's Crimson Peak. This is gentler and less menacing, more interested in the uncomfortable, scornful tragi-comedy of sheltered privilege tripping over itself. Conor Smyth
My Cousin Rachel is screening at Queen's Film Theatre, Belfast and the Irish Film Institute and Light House Cinema, Dublin.