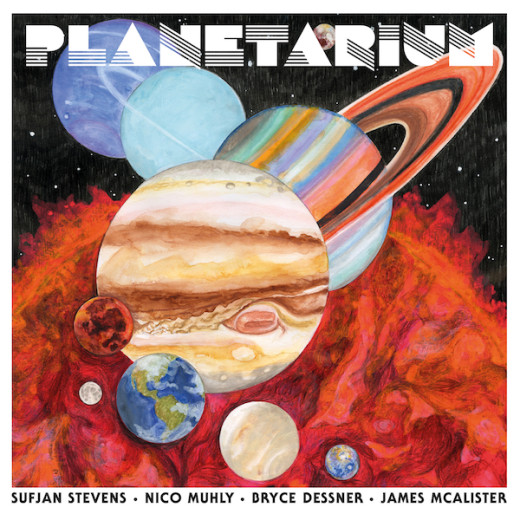 "I am the god of war. I reside in every creature. Dispose of the future or put away your sword." Michigan's musical polymath Sufjan Stevens takes aim at the stars to reflect on the best and worst of our human nature on this collaborative record with Bryce Dessner of The National, composer Nico Muhly, and drummer James McAlister. The arrangements may be stellar, but earth is never too far away. "Love me completely in song" opines Stevens on 'Venus', with its references to Methodist summer camp and formative sexual experience. Each of the planets is a canvas for Stevens to ruminate on ancient yet contemporary concerns about work, war, sex and religion.

This is very much Sufjan's album, with each track directly referencing the planets, assigning to each one  a particular sonic structure.  Fans of 2011's Age of Adz will delight in the shifting rhythms and melodic textures. Where his own production on that album occasionally sounded cluttered with an underlying queasiness, James McAlister's propulsive percussion anchors each song here with a searching urgency. This is best exemplified on second track 'Jupiter', the most accessible collaboration on the record. Lyrics ruminating on fatherhood swirl across propulsive beats that break down as Sufjan's treated vocal laments how Jupiter is the loneliest planet.
It's in the woozy atmospherics of the instrumental mid-section of 'Black Energy', 'Sun', and 'Tides', where Muhly's orchestration takes centre stage. These filmic interventions may test the patience of some not familiar with Sufjan's more esoteric song-cycles exploring such subjects as the Chinese zodiac or the Brooklyn-Queens Expressway, but compared to those excursions, these workouts are relatively pop-tastic.
'Earth' propels the listener back home with three minutes of panic-inducing feedback before soothing synths usher in a series of hymn-like stanzas:
"Innocence was never lost though it may have been insulted.
Even if the Earth forgot, her inheritance resulted.
In contradiction, ceremony. Benediction, hallelujah."

Glacial ballad 'Mercury' closes the record beautifully with bursts of Stephens' longing falsetto, previously used to such devastating effect on 2015's Carrie and Lowell. After touring the solar system and returning to earth he remains haunted by its smallest and innermost planet. In Roman mythology Mercury was messenger to the gods, and Stevens seems to be desperately questioning their very existence here: "And I am faithless, all that I dream. Where do you run, where do you run to?" It's a moving end to a record that circles the solar system to ask simple questions about what it means to be human.

Some of us are looking at the stars. Let's be thankful Sufjan Stephen's is one of them. Put your headphones on and listen along from the gutter.  Jonny Currie