Live Reviews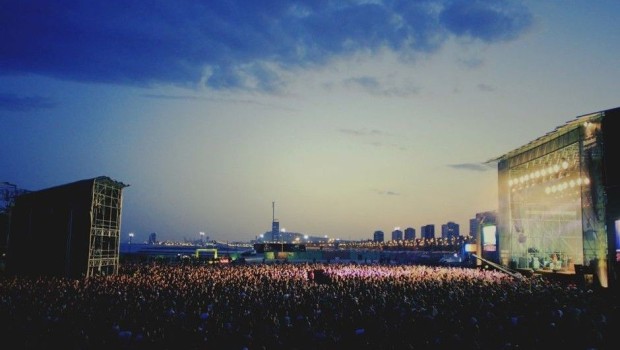 Published on June 8th, 2017 | by Stevie Lennox
0
Primavera 2017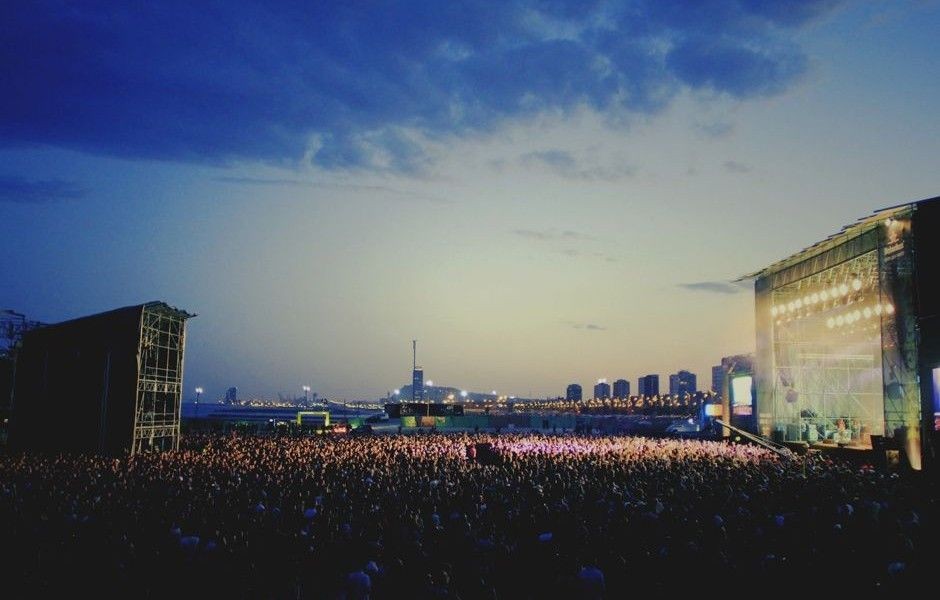 After 16 years, there's no doubt that Primavera is Europe's premier festival, for everyone from the capped-up indie kids to right-on middle-agers seeking some escapism, from the techno heads on through to High Fidelity type nerf herders and vinyl hoarders. So: how does Europe's best music festival follow up on a last year's best-ever edition – a mammoth lineup topped by Radiohead. Well, partially through sticking with what works – every sub-genre well catered for and then some, and not just on the three main days at Parc del Forum, but in venues across the city in the preceding weeks. Then, unlike last year, there are secret sets from Arcade Fire, Haim and a full live album premiere from Mogwai, each of which is announced just hours prior. Doing its work to catalyse future lineups by preventing the ossification of independent music in Europe, its Primavera Pro events boasted interviews and keynotes from the likes of Billy Bragg, The Slits' Viv Albertine & Portishead's Geoff Barrow, a pertinent talk about dealing with music amidst the chaos of Brexit, and a full network of professionals to link arms, share ideas about the business, and of course, new music.
It wouldn't be Primavera without some indie rock, and Cymbals Eat Guitars are a worthy early entrant on Thursday, where it's sunny lead parts and hooks aplenty before the sun even sets. Teenage Fanclub have lost no passion and deliver, as promised, power-pop glory, as we essentially see 25-odd years of guitar-led indie rock band's discographies play before our eyes, closing with one of the straight-up finest songs ever written in 'Everything Flows' as a wide grin is born on every face in earshot.
Joining Swans on the 'bands who returned with more relevance than on their original run' front, there's the 8-strong This Is Not This Heat,  joined by Hot Chip's Alexis Taylor and led by Charles' Hayward & Bullen, over 40 years after their first gig. Playing with a freedom and spontaneity nary seen since Krautrock's halcyon days, with incredible precision, it's not overstatement to say that these songs could all have been conceivably recently penned, as they perform probably the finest 'nostalgia' – if we can say that – set of the weekend, solely through the work's unwillingness to age.
Now in its fiftieth year, The Zombies give the due respect that their 1967 masterwork Odessey and Oracle deserves in a note-for-note rendition of the quintessential psychedelic pop album in the almost acoustically perfect Auditorium, featuring every living member of the original lineup, with band leader Rod Argent giving everyone their due – notably co-writer and understate bassist Chris White – in a heartfelt speech offering fresh insight into the making of the album, and unintentionally underscoring how unlikely it was that those young musicians seemed to happen upon one of the most subversive, forward-thinking sounds of its era. And, perhaps most essentially, Colin Blunstone's voice remains inimitable, and much less strained than Odessey…'s ensuing half-century should dictate.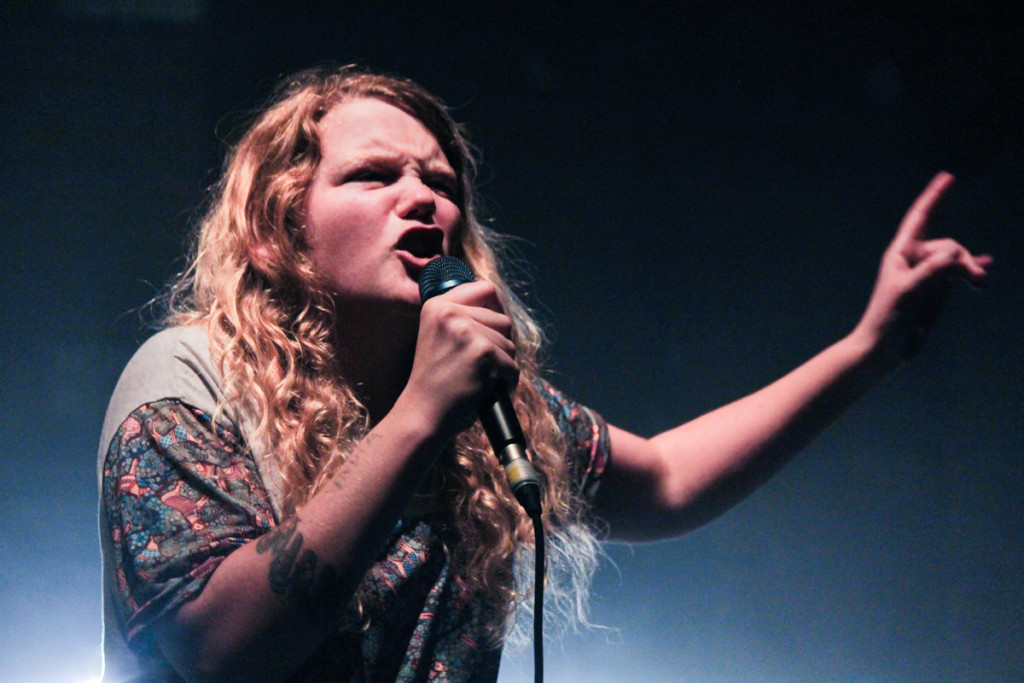 There are times when the Pitchfork stage area is used as a transitory mass footpath even during sets due to some corners of the Parc del Fòrum layout, with the Adidas Original stage overflowing with humans for Kate Tempest (above), whose appeal amongst a liberal Europe audience is underestimated by the planners. Performing to a heaving fleshy amalgam, she can with one line sink a heart and birth the seed of a new idea through prodding our consciences and consciousness. "Is this what it means to be alive?", she begs in another 4:18am kitchen sink London, yet universal truth. Mining grime and backed by an incredible, eclectic band, her beat poetry is a vehicle by which she can ask us to connect and love. Tempest's transition into an authority of transcendent politics would not come as a surprise. If only similarly charismatic demagogues pointed their rhetoric in the same direction.
When Aphex Twin is billed as electronica's enfant terrible, the festival bookers aren't wrong. Without help by visual artist Weirdcore's interactive face-mapping & mangling, as well as a light-show that challenged this epileptic, Richard D James' epic, tangential journey of a set could have dragged. Cycling through about everything to car alarm sounds, pure brostep indulgence, abrasive noise and deep grooves, Aphex Twin caused tinnitus en masse. Weirdcore's visual marriage,  and you can, as many others have, discuss the intellectual merit or the idea that most of his career has been him trolling his own fans, but ultimately, it just fucking rules. 
It's important to remember the importance of sticking around for an entire performance than spreading yourself too thinly. These are sets a touring band has been refining for the best part of a year, if not decades, and they're begging to be heard as a whole. Another lesson from a seasoned vet is that it's best to take some chances on the unknown – walking past the Night Pro stage, I hear some ethereal, Liz Frazer-esque vocals penetrating some mammoth guitars and happen upon Seoul trio Billy Carter, who command a small, but rapt crowd.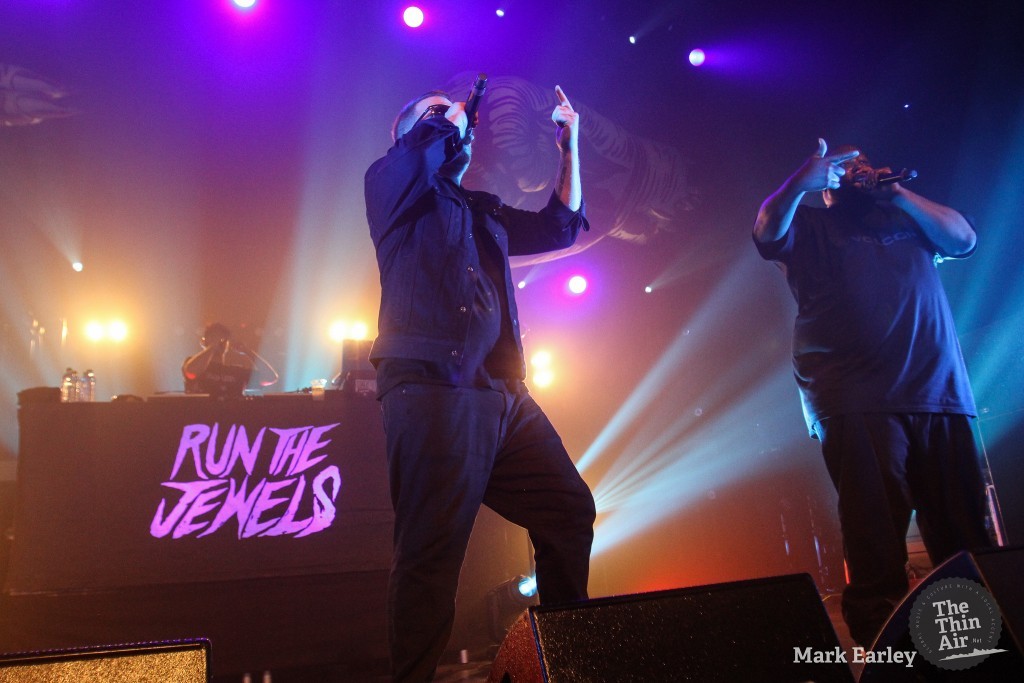 The second largest of the festival, the Mango Stage, also suffers from low volumes and poor sound if you're not too close. Run The Jewels (above) are plagued with a poor mix, and although they're one of the most vital acts at the festival, their righteous intensity and sub bass wobble is better-suited suited to jam-packed clubs than the open air. This unfortunately also hampers the vibe-heavy Mac DeMarco – who, by the way, should have seen the audience into sunset for obvious reasons – and is one of Primavera's biggest audience-pullers, on the quietest and most conveniently-placed stage for stragglers and chatters; For as strong as Mac's work is, he's at least 50% vibe, and despite him being eaten up by the exact audience he's been cheekily, shrewdly crafting over the last few years, not hearing his between-song schtick in places, and the woozy synth in of 'Chamber of Reflection' without clarity feels like a felony to the season, especially when he does his butt-exposure bit and the drummer spends the set naked. That said, what can be heard hits the spot.
That said, as peak frustration with crowd chatter hits – one Englishman caught passionately, drunkenly, inexplicably howling Coldplay's 'Yellow' in a Millwall-fan display of machismo – and the pilgrimage towards Swans begins, nearby, an English voice can be heard contentedly stating to a friend his thought that "this is just the greatest festival in the world", and immediately, the tension dissipates; for as mush as Primavera is about the art, the good time comes first, and throughout the weekend, so blissed-out is the audience that we see zero incidents of aggro despite a (welcome) fairly realistic and lenient security check given the current international climate. As with all the best gatherings, there are cordial pre-set conversations to be found with fellow fans from all continents.
And now, Swans (below). Michael Gira has led the definitive live show in non-mainstream music of the last few years, wherein every single moment is earned, from the grandiose opener 'The Knot' giving way to the collective relief at the first discernible groove of 'Screen Shot'. As Gira conducts, his every facial expression or mannerism enthrals. He cracks a smile once, bassist Christopher Pravdica plays for his life, almost in tears, while slide player Christopher Hahn has a quick, furious verbal altercation with Gira when some gear malfunctions and prevents him from carrying out his instruction. Each of these members has become crucial to the paradigm, commanding a space, and each passing member bleeds more into the band in the bigger picture. Having been moved beyond words, it's without a doubt the heaviest thing that will take place this weekend.
So physically and emotionally draining is the Swans experience that it's difficult to appreciate the following acts in a serotonin-sapped state; and it's not just the volume, but the amount of control he exerts over the band, as each peak somehow topples the last, never losing the attention, bringing parts in and out of focus in what's unfortunately the last show many in this crowd will see of this iteration of the band. But, if this is something Gira feels he should bring to a close, he obviously has enough faith in what comes next.
It's not something that's frequently talked about at Primavera, but the representation of metal and heavy music at large at this year's festival is indisputable, with Slayer slaying (sorry), Gojira, Converge and stoner doom totem pole, Al Cisneros & Matt Pike's Sleep. Sleep's place in the hallowed annals of heavy music is assured, but in the last year, they've been vital as ever. Taking to the stage late, that doesn't prevent the audience from starting early, as smoke piles form above the crowd, that smell as synonymous with Sleep as The Shirtless Matt Pike, a living embodiment of his art. They could have been louder, and played longer, but even a limited Sleep show is a Sleep show.
When it comes to schizoid alt. rock pioneers Royal Trux, quite how they band got to where are is hard to comprehend. They – especially Jennifer Herrema – are loose, tanked and completely unfocused, but it's the Trux, and they bring that amphetamine, yet somehow strung out energy. Similarly Nots, while exciting on record, aren't quite as dynamic live, Natalie Hoffman's vocal grates and guitar work is buried in the mix. On the other end of the tightness spectrum, Jardín de la Croix represent their genre well in a tight, furious set that fuses the prog-metal and math rock, and Sinkane leads one of the most in-the-pocket bands seen across the weekend – understandable, considering he leads David Byrne, Alexis Taylor, Damon Albarn and more in the Atomic Bomb! Band. Nearing 4am, Wand also get a good rise out of an audience whose eyes are by now glazed over, as the band adapts to frontman Cory Hanson's Jimmy Page-meets-Tom Verlaine guitar whims and eccentricities.
Backed by players of tremendous pedigree, 'are wee country''s Van Morrison is all business, breaking out the hits, covering Dexy's, calling a quick "C" before going straight into the next song. Of course, he's ever mercurial, ignoring crowd reaction and making a statement in favour of squeezing in as much music as possible, going from sax to harmonica. They really don't build them like this anymore. Quite honestly, Van offers one of most breezy sets of the weekend, and as the sun slowly sets, he closes out with a brace of 'Brown Eyed Girl' and 'Gloria', even if there are some bizarre instances of him chanting his own name during the singalong section of both.
Effectively closing out Saturday, we've got Arcade Fire, who've made the transition from commercially palatable Neutral Milk Hotel-worshippers, and look set to finally truly elevate their status beyond R.E.M. levels to a credible, well-oiled rock machine with credibility. In the wake of the bloated Reflektor, their live show seems somewhat manipulative, consistently every song marked by a four-to-the-floor beat, but it holds the audience all the way to the back. But it's a given that Everything Now won't hold up to the likes of Funeral in terms of carrying the mark of a band in its primal infancy, screaming just for the chance to be heard. Instead, Arcade Fire hold an enraptured audience for almost two hours, and certainly convert this cynic to the redemptive power of stadium rock, with Win Butler siding just on the correct side of the perilous Springsteen-Bono tightrope spectrum of sincerity.
Preoccupations play a tight, impassioned set featuring their best songs – where Matt Fregel's harsh croon is emboldened by their live arrangements. They jam out well beyond their time limit – their light show and PA are unplugged, and yet they pulverise the stage and keep playing, drawing out stabs, refusing to relent to constraints as the crowd continues to watch the band give it everything, even if it's inaudible apart from the distant clatter of cymbal at 3.30am.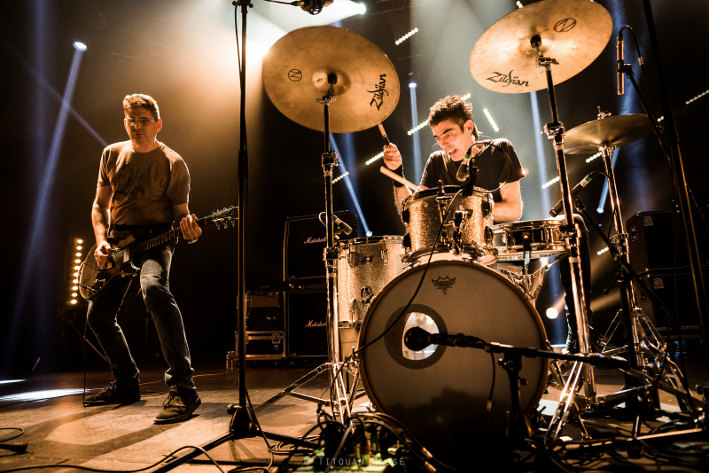 Their tenth year at the festival on the trot, Shellac (above) play a pair of shows, with the latter in The Sala Apolo club, to which they're much more suited. The trio offer their usual tongue-in-cheek minimal rock histrionics – a pound shop Kiss, they have syncopated cymbal crashes and a Q&A. Steve Albini archly mines classic rock indulgence for all it's worth, with trademark music nerd witticisms and references peppering his lyrics: "these records are all amazing on headphones, on psychedelic mushrooms"/"My top 10 is the top top 10", and an Eddie Money lyric or two for good measure. In essence, Shellac are the payoff for a rockist upbringing and as ever, Albini's arrogance works as a shield for his humility as he praises the next band, one Sleaford Mods, as "The Greatest Band In The World", and in a crowd of Brits (and some confused Catalonians) the pair earn their place as the definitive working class punk band of this decade. Andrew Fearn hits play on his laptop, stacked on an old flight case and a beer crate as Jason Williamson spits venom and walks rings around his microphone stand, and at no point does the crowd miss a beat. Towards the end of the set, a young man invades the stage, bound for the microphone. Jason backs off the microphone as the invader shouts "Fuck Theresa May!" after which the room explodes in the biggest reaction of the night, evoking once more the sociopolitical sentiment echoed by Kate Tempest just nights ago.
There are some caveats: Although the organisers did as well as they could to avoid major clashes – last year's Shellac, Dinosaur Jr, Tortoise and more performing during Radiohead's 2 hours being a memorable miss – when you book acts with such niche, but deep and wide appeal like Aphex Twin, a 200,000-strong audience will invariably suffer from the symptom of our time: choice paralysis. There are, in fairness, few ill-planned attendances and timing choices, although Royal Trux and Thurston Moore fandom go hand-in-hand, with Moore's set in the 700-capacity Heineken Hidden Stage, certainly one of the less instinctive timing choices. That said, once you've accepted the clashes of fate, it's overwhelming how much you're music you're in for, and there's much to be said for sticking around and dedicating oneself to one set than trying to spread one's time; these are setlists that bands have toured for the last year or more to refine.
The food quality is also fairly poor for such a specialist festival, especially compared to other 'boutique' festivals, aside from the safety of the vegetarian options – many of which run out by the end. Additionally, considering the clientele, more options than a couple of stands on the whole site would be nice for the tired & dedicated, and more beers than the sole option of Heineken would be excellent. But these are understandable, given that without this longstanding sponsorship, the festival probably couldn't afford to continually exist and grow, ultimately to fall into the economic shortsightedness that put an end to All Tomorrow's Parties.
TL;DR: If you're in a place in the sun that can comfortably host the 21st century's definitive opposing festival archetypes' favourite bands on the same stage (ie. Mac DeMarco's rolled-up jeans and capped, vape naysh army vs. grizzled man in khakis and a Slayer shirt), sponsored by not-awful beer and security that seems to actually trust you to be a responsible adult, you might be in heaven. Stevie Lennox