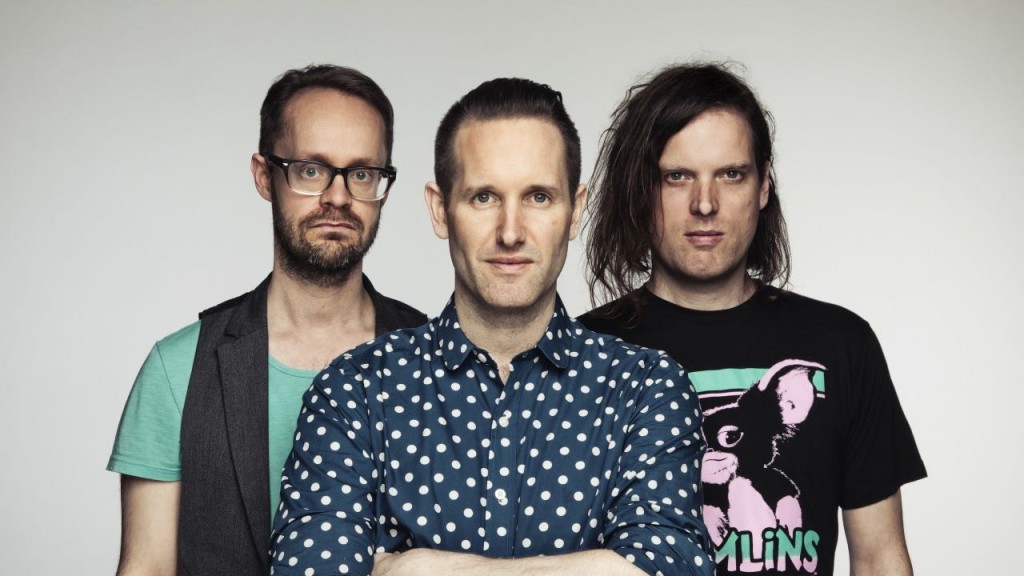 In between the victory lap of a 1997 anniversary tour and a new studio record set for release next year, Ash are spending the summer playing clubs and festivals across the UK. Jonny Currie spoke to frontman Tim Wheeler ahead of the band's highly-anticipated headlining slot at Stendhal Festival in Limavady next month.
If money was no object, what would be your dream festival line-up alongside Ash?

Oh, that's a good one. I'd say probably… Mudhoney, Weezer and Brian Wilson.
You and the band are playing Limavady in August, but outside of touring with Ash are you back in Northern Ireland much these days?
Yeah, I was over in April around Easter time, and we should be around in August a fair bit because of the tour. I do get back a lot. The last big thing we did was the NI Music Prize but haven't been in since then. It was great to be involved in that.
For a large part of last year you guys were doing the 1977 tour. Would you consider doing this again with any of your other records?

Not really. We did do a Free All Angels tour around the time of its 10th anniversary. We did some shows with Charlotte. It would be cool to do a whole run of nights for all four records but it would be an epic amount of learning and rehearsals. So it would be fun if it was on a grand scale with all the albums but at the minute we're focusing on new music. I don't want to get caught up in doing too much retro stuff.
Half the time anniversaries come up and we realise two days before. It was the 25th anniversary of our first rehearsal a few weeks ago and I guess we could have done something fun around that but we didn't realise until a few days before.
How are things progressing with the new record?
It's almost 90% done but I don't think it's going to come out until next year. We're in the middle of sorting out a new deal for it so I think by the time that's all sorted it's going to be next year. It's almost there.
Rick's in Edinburgh and me and Mark are in New York. We've got a studio in New York so we've got a place we can rehearse and leave all our gear. So it's just a matter of Rick coming over for a week or so a time and we work quite intensely while he's here. Once he's done his drums there's a lot of work to be done on finishing the tracks afterwards so he doesn't need to be around. It works quite well. Communication is so easy these days with the internet.


Is it usually Ash business that brings you guys together or do you spend much time together outside of the band?

I'd see Mark a lot mainly in New York. The main times we connect are when we're doing band stuff but it's pretty regular. It's a bit like family in that we've spent so much time together in the past it doesn't take long to click back together instantly. As soon as we start playing it sounds like us. We don't need much of a warm-up time anymore.
Your song 'Feels Like Summer' on the Shaun the Sheep movie seemed a bit of a departure. How did that come about?
It was weird. My friend Ilan Eshkeri is a soundtrack composer so he was doing the whole score for that and he was co-writing the songs on it with Nick Hodgson who used to be the drummer and the main writer in the Kaiser Chiefs. The writing was going really well except for the first song. The filmmakers had something very specific in mind and they tried a couple of songs and hadn't quite been what they were looking for so they wanted some fresh ideas. I was staying at Ilan's house in London..we went to the pub and on the way back he said can you check out this song we're trying to develop as we're running out of patience trying stuff with it. I just helped him a bit and then as I was in London I sang the demo for him. It was like a favour just for fun.
I think they were looking for other people to sing it like Will Young or someone like that. In the end, they couldn't find anyone but they loved my demo vocal so much that they just wanted that. It was kind of a big accident. Originally I was like, "Man, this is a kids' movie… I'm not sure if I want to be the voice of this" but then I realised how cool this stuff is. And I guess it really connected with a lot of people.
We actually did an Ash gig in China the summer it came out, and Shaun the Sheep is so huge there they were asking us to play it in the Ash shows and we actually did. That was pretty fun.


Your solo album Lost Domain was really well-received. Do you have plans for another album on your own?
Not really. I had a personal reason for doing that and it made sense for the album to be a solo record – but I've got a lot of new songs. The new album we're making at the minute is very guitary. The guys were over recently and we were jamming through other stuff that was kind of different. We're thinking of making another album quite soon that will have some different styles.
The main reason I would do a solo album to do something different but it kinda feels that in the band we're ready to do something a bit different following this record. I think Ash is really my main outlet and it can accommodate experimentation as well now. At the minute it's a low priority to do a solo record but I did enjoy it. Maybe in a couple of Ash albums' time I'll do another.
Go here to buy tickets to Stendhal Festival