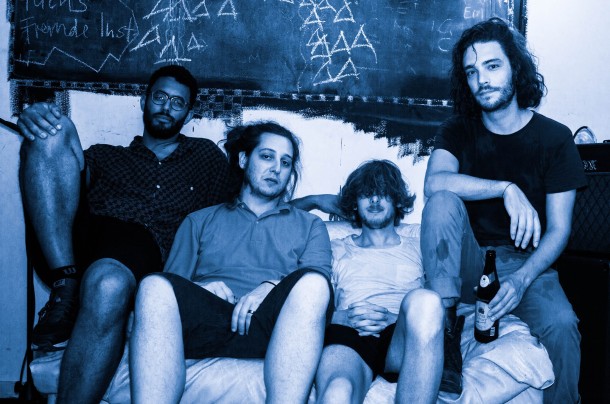 Anxious and introspective on record, Berlin-based Last Days of Elvis are anything but when interviewed. On first impressions, their debut Must Be A Mistake draws stylistic comparisons to The National and Nick Cave but underneath lies diligently crafted expressions of fragility and angst. Ahead of their upcoming UK and Ireland tour, our Dominic Edge discuss life in Berlin, toilet ambience and recording at Funkhaus Studios with vocalist, guitarist and stew-enthusiast Andrew Stark.
Tell us more about your name – is it in admiration to the King, or am I wide of the mark?
To be honest, I think we just really enjoy the images that show up when you type our name into Google. A lot of pictures of fat Elvis squeezed into sparkly white jumpsuits, what's not to love? We'll need to incorporate those outfits into our live shows one day.
Yourself and Sean formed Last Days of Elvis in Glasgow. Did you ever operate as a two piece, and if so was it a conscious decision to expand the line up?
Well our first two EPs were all us and were recorded before we got the full band together. We never performed as a two piece though. That's the reason we got the guys involved, but having them onboard has really changed the way we write. A bit more consideration is taken in regards to how things will actually be performed live and songs are now ironed out in our studio. Some of the tracks off our first EP are pretty unplayable without 4 guitars, a drum machine and a theremin.
You and Sean took the decision to emigrate to Berlin, where you completed the Last Days of Elvis line up with the addition of Jason and Thomas. What inspired this decision, and how has living in one of Europe's most creative cities shaped your sound?
Well Sean actually moved here a year before I did, and the band started by us sending ideas back and forth to each other while I was still in Glasgow. I think we were both just feeling a bit stagnant and needed a change. I didn't really have any preconceptions of what Berlin was like as a city before I moved here; I was just a sheep and followed my friends because they said it was cheap and that you could drink outside (coming from Glasgow this was a game changer). But I think moving here was just the kick up the arse we both needed.
Musically, it'd be hard not to forgive someone for thinking you're not four strapping young lads but been on the scene for years. The instinctive comparison is to The National. Is it any coincidence that your artwork could be a nod to Trouble Will Find Me?
Mind if we put "strapping young lads" on our promotional material? It might attract a good crowd. It's funny, I had never really listened to The National before Sean told me that I sounded a bit like Matt Beringer, but now I'm a huge fan. The cover for the album was actually designed by my girlfriend. We told her the kind of mood that we were after and she came up with it just as an example, but we really liked it. It's actually her face on the front as it was just a picture she had saved on her desktop at the time. I'm not sure how she feels about having her face on an album called Must Be A Mistake, I find it pretty funny though.
How would you describe other influences and themes on your album, Must Be A Mistake?
Well I've always been a huge fan of 90s Shoegaze and Britpop which I'm sure comes through pretty clearly. Nick Cave is a big influence as well, both in his music and persona. Although, I don't think I'm dark and moody enough be anything like him. One day I'd like to be able to pull off a pinstripe three-piece-suit and medallion combo as well as he does. I think Sean is in charge of bringing the phunk. By phunk I mean punk/funk, but also an interesting smell.
Thematically, I think there's a general sense of anxiousness which permeates through the whole album. This wasn't really intentional though. It wasn't until we were all sitting in Jason's house, mastering the album, that we realised most of the songs have this slightly edgy, concerned feeling. I think we're both just natural worriers.   
Call me naive, but Berlin is synonymous with electronica in all it's shapes and forms, which makes your sound all the more refreshing. What other bands are on a similar lo-fi scene to you in Berlin right now?
Yeah, you're not wrong. Techno and House is everywhere here and I really like it. It's one of the reasons I fell in love with the city in the first place. That being said, moving here has actually reignited my love for more guitar-based music. The last two years I was living in Glasgow I was pretty much exclusively listening to electronic music since there's also a great scene there, but the indie scene feels really over saturated so I think I just got a bit bored of it. Or, more likely, I'm just contrary. But it feels like we belong to a really great crowd here. There's Party Fears who we're going on a UK/Irish tour with in August/September, Mondo Fumatore who will join us for our Scottish shows, Mincer Ray, Man Behind Tree, Mother of the Unicorn, Soft Milk, HAWK, Highest Sea. Loads of good stuff!
Lyrically, is it fair to say Must Be A Mistake is dark, broody and shaped by loss? In some places, I interpret it as a quest for closure.
Yeah, I think that's pretty fair to say, especially the last two tracks on the album. However, normally I don't really sit down and try to write about any one thing in particular but rather convey a mood; like the mad thoughts that go through your head when you can't sleep or being concerned about the future. There's a lot of being concerned about the future on there…
I understand that your debut was recorded at Funkhaus studio. How was it to record in such a legendary and inspiring setting?
Well actually, most of the album was recorded in my bedroom. The only things that weren't were the drums which Thom did in a few sessions, and some guitar re-amping. It was great getting in there though; Jason is studying mastering at Funkhaus so we managed to sneak in some free time. We just used loops on our first EPs, so I think getting Thom on live drums really breathes some life into the tracks. I'd really like to do all future recordings in a proper studio setting but I think we'll continue mixing everything ourselves. We definitely don't produce the cleanest mixes, but I think there's an attention to detail in our recordings that can only be achieved by sitting in our bedrooms with headphones on for months on end. Currently all of our songs are written separately in front of the computer as well, so recording is really part of the writing process.
There's also a picture posted on your Facebook page of you recording in your bathroom. What song can we hear this on, and how did it come about?
This can mostly be heard on the guitars in 'Breath', and a little bit on 'Amateur Hour'. I really hope the toilet ambience comes through. Basically, we had run out of time in Funkhaus and so had to improvise. Jason has a sweet set-up in his house, so we did it there. His neighbours hate him. He's actually a great hip hop producer, that's something I think we'll capitalise on for the next album.
You'll soon be touring across the UK and Ireland. Do you spend much time back in the UK nowadays? What can fans expect from the tour?
I think people are maybe a little surprised by how energetic our shows are when they come to see us. I know that our music is a little on the moody side, but our live shows couldn't be further from that. We all just really enjoy playing, so I hope that comes through. I can't wait to go on the road with Party Fears either, they're so much fun. I think there's a similar warmth in what both bands do. We're really pleased that Mondo Fumatore are joining us for the Scottish shows too, they're really great. I've had their song 'White Devil' stuck in my head for weeks.
We both go home a few times a year to visit our families, but not so much apart from that. Sean is from Dublin originally and has promised that his Granny will make us a stew which I couldn't be more excited about. I've also been dreaming of black pudding and scotch pies. I'm looking forward to showing the guys where we come from as well since Thom is from Australia and Jason is from America. Luckily the Fringe Festival is on while we're in Edinburgh. It'll also be my first time visiting Belfast, Manchester and Bristol which is exciting.
Tour Dates:
18/08 – Internet Explorer, Berlin/LDOE album launch
23/08 – The Hut, Dublin w/ Montauk Hotel
24/08 – McHughs, Belfast
25/08 – Leith Depot, Edinburgh w/ Mondo Fumatore
26/08 – MacSorley's, Glasgow w/ Mondo Fumatore
27/08 – Wharf Chambers, Leeds
28/08 – Fuel Cafe Bar, Manchester
29/08 – The North Bar, Rhyl
30/08 – Gwdihw Cafe Bar, Cardiff w/ locals Carolines, Charlie Says
31/08 – The Old England, Bristol