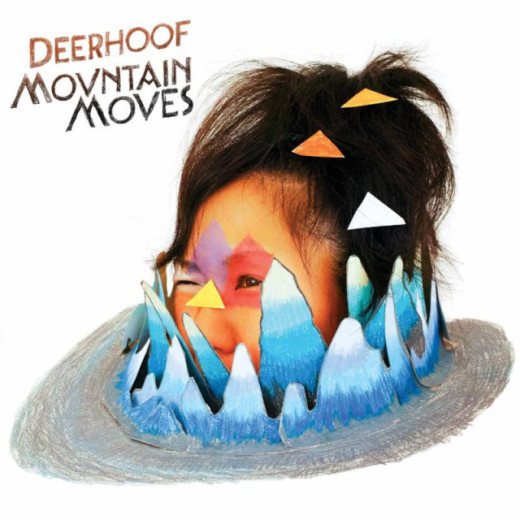 Mountain Moves is the 14th album in 23 years from Bay Area art-rock stalwarts Deerhoof. Though the band have changed labels, styles and members over the years, they have always retained their singular madcap approach to writing and recording music. They've been a stable four piece since Ed Rodriguez joined on guitar before the recording of 2008's Offend Maggie and have been releasing an album roughly every two years since then. At times this work rate seems to have flattened the quality of the releases, never quite reaching the heights of 2003's Apple O or 2005's The Runners Four but always retaining a certain consistency. During this time they've remained as one of the premier live acts in their realm, with their giddy energy imbuing each show with a certain joy, each song driven by Greg Saunier's stunning drum work and carried further by Satomi Matsuzaki's effervescent personality. What does this mean for Mountain Moves? Does it break the Deerhoof mould in 2017?
The gambit employed by Deerhoof on Mountain Moves is to bring in a series of guest vocalists to back up Matsuzaki on seven of the 15 tracks. It's an interesting move as her vocals are such a unique part of Deerhoof's sound and to potentially usurp them seems like an unnecessary risk. The thing is though, Deerhoof's sound is so of its own that it really makes little difference. Vocalists come and go, sometimes making an impression, like Laetita Sadier on 'Come On Down Here And Say That', a song that the former Stereolabmember takes over through force of personality. The appearance of New York YouTube rapper Akwafina on 'Your Dystopic Creation Doesn't Fear You' initially raises an eyebrow but her appearance is mercifully brief, with the track showcasing Deerhoof's way of mashing three genres into one song more than anything else.
It is the songs without any guest vocalists that figure as Mountain Moves highlights though. 'Ay That's Me' is one of the most simple songs here, with winsome male/female vocals on the chorus and twinkling guitars throughout. It's followed by 'Palace Of The Governers', which starts off sounding like the intro to an 80s TV show and tails out with a wistful vocal from Matsuzaki. 'Mountain Moves' itself features saxophonist Matana Roberts in a starring role. It's Deerhoof doing jazz fusion, with whichever guitarist is taking the leads doing their best John McLaughlin impression.
There are some missteps on the album. The band's cover of 'Gracias a la Vida', a folk song by Chilean singer Violeta Parra, is a jarring operatic interlude after the high point that is 'Come On Down Here And Say That'. Another cover that fails to achieve its aims is The Staple Singers' 'Freedom Highway', a track that Deerhoof fail to make their own. Better is their cover of Bob Marley's 'Small Axe', on which Matsuzaki is accompanied only by keyboards, lending it a poignancy and concluding the album well.
There's much to like about Mountain Moves, as you would expect from such an accomplished band of veterans. It's joyous in its relative brevity, its 15 tracks whipping by in under 40 minutes. There are highlights, such as 'Come On Down Here And Say That' and 'Mountain Moves', but ultimately it comes down to the fact that Deerhoof have made another Deerhoof album. The guest vocalists add texture to the affair but under that it's still the same band turning out highly skilled, tightly coiled instrumental tracks with sly vocals on top. It might serve as an ideal entry point for the new Deerhoof fan, but seasoned followers will have heard much of this before. Darren Keane