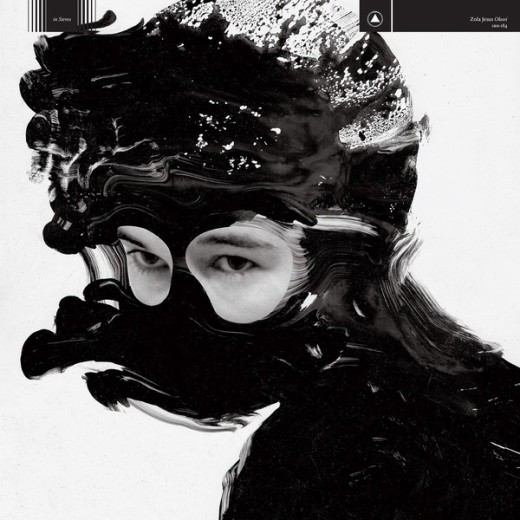 To aid in writing and recording her fifth album, Nika Roza Danilova – better known as Zola Jesus –returned to the sparse landscape of her childhood in Wisconsin. In turn, the woodland environment itself contributed greatly to the inception Okovi and the soundscapes that pervade it. As a body of work, Okovi is unsettling, unpredictable and conjures the illusion of being lost in uncharted terrain populated by deafening drum machines, sinister synths and, of course, her incredibly powerful vocals.
It has been three years since Zola Jesus released new material. The interim facilitated a brief period of collaborating with Dean Hurley – David Lynch's primary sound designer who recently shared a record of the arrangements he composed for Twin Peaks: The Return – and remixing scores by John Carpenter, as well as a marked return to Sacred Bones, the label that put out her debut album in 2009. The recent creative partnership with Hurley will perhaps draw the listener's ear to reconsider how Okovi's 11 songs can be processed. There are several moments on the album that sound as though they are made to soundtrack a high action scene in a blockbuster film ('Soak'), equally there are chilling chords that create suspense akin to the recent distant drone noise-music featured in the reboot of Twin Peaks. A filmic quality runs throughout the blueprint of the record. This subsequently lends to the listening experience of Okovi being slightly altered, becoming fuelled by its eerily dramatic elements. It wouldn't necessarily be an ideal companion on a walk home at night, or something to nonchalantly play in the background. Instead, its purpose is to command attention in an unapologetically arresting manner.
For all this bold, magisterial quality, it is perhaps ironic then that "Okovi" translates directly from Slavic to mean "shackles". Perhaps though it is the listener who is shackled, arrested and ensnared by the album's sonic fervour. It serves to further suggest that we should think beyond the convention of how to listen to this sort of music, particularly pop compositions coloured using a darker and vaster palette.
It's not to say that Zola Jesus has reinvented the genres in which she is working in though. Far from it. With an open ear you can easily trace a hint of mercy or uncertainty in Okovi's grip, with similarities to be drawn to the meditative tones on Weyes Bloods'  Front Row Seat To Earth. Also audible is a semblance to melancholic strings typically associated with one Lana Del Rey.
The similarities to such artists are few however, with Zola Jesus' music being far less immediately accessible. Instead, "dramatic" is the word that recurs when describing this album, especially in how the sonic textures are created through various patterns of weaving and layering drum machines, synths and vocals, the latter being an exceptionally distinct dramatic aspect of the music.  While not particularly shocking by any stretch, the lyrics remain striking on top of deft instrumental density. Industrial, noise fused music can at times bee intimidating or evasive, and there are certainly moments on Okovi ('Exhumed') that are not immediately appealing, but given time and compartmentalising of preconceptions, one comes to appreciate what is proffered.
Among the highlights on this record, the couplet of 'Veka' and 'Wiseblood' are particularly inviting due to the commerciality of their production. They both provide interesting and digestible melodies which will aid newcomers to Zola Jesus in becoming accustomed to her modus operandi.'Doma' and 'Half Life' work exceptionally well as the opening and closing tracks, affirming a sense of cohesion to the narrative, giving gradual introduction and definite conclusion to this chapter in Zola Jesus' repertoire.
While Okovi is not an album for the everyday, it is one to venture to when looking to explore pop music with a refreshed, infinitely darker, mindset. Zara Hedderman