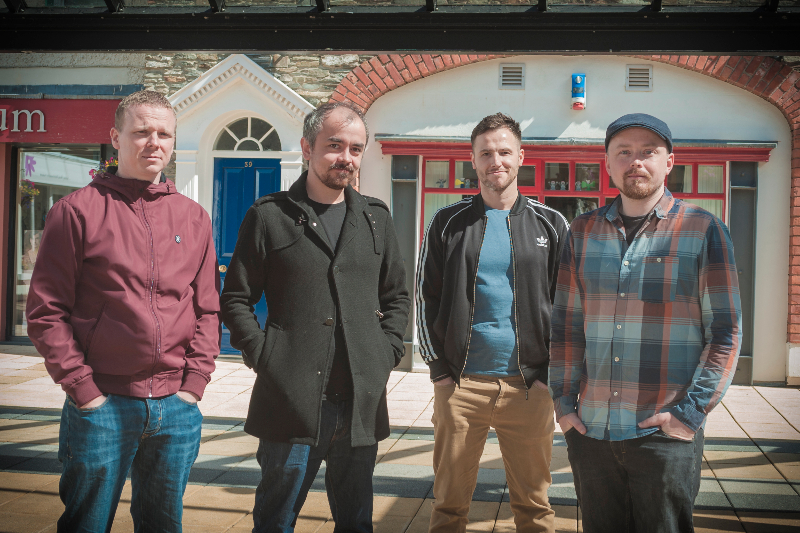 Look as far and wide as you will, but you'll struggle to find an Irish band as respected as Derry's John Deery and the Heads. Ahead of the launch of their wonderfully-woven third studio album, Nothing Permanent Lasts, at the Nerve Centre on Saturday night, we talk to the quartet's main man about evolution, the power of change, successfully going down the crowdfunding route and much more.
Go here to buy tickets and for more info about the album launch
Hi, John. You officially launch Nothing Permanent Lasts at the end of the month. You ran a successful pledge campaign for the release. Many campaigns come up short. Why did you opt for this and were you confident you'd reach your target?
We used Crowdfunder for this campaign, which allowed us to set a flexible goal and keep whatever we raised, minus a slightly higher fee for flexible funding. This gave us the confidence that even if we didn't reach our target, we would be able to raise some funds towards the recording costs. In the end we actually could have gone for the set target, because we far exceeded our target, so we're absolutely delighted with how our fans responded to the campaign.
You are, of course, a Derry-based band. The area has always been hugely supportive of its own artists. Do you think this proved instrumental in seeing the release of Nothing Permanent Lasts?
Derry has always been a fantastic city for music and some of the best songwriting I've ever heard has come from this part of the world. There is a sense of community and support here that like to support local music and definitely helped us with the Crowdfunder. I think with having built up an interested audience over the last 7 years with the band, people were keen to hear new material from us and Crowdfunder allowed us the opportunity to get everyone involved in making it happen. Many of them were from Derry and each individual who helped is thanked on the album cover artwork.
You're consciously deciding to keep it a physical only release. What informed this decision?
It's not that it's only ever going to be a physical release, more that it's the first time we have released an album on Vinyl and CD, having designed and painted the album artwork ourselves, and we want to concentrate on those first and foremost. The digital album is available to download directly from us for a fiver on the website, it's just not on the streaming sites yet. I think overall we've become a little disillusioned with the music industry and the fact that artists get next to nothing from streaming royalties. The Crowdfunder made us realize that the people who want to hear our music are willing to pay a small amount to do so and it has meant we can cover some recording costs, which hasn't happened on previous records, when we have been relying on streaming sites for income. We might revisit the streaming sites again next year, but for now we're really happy that the music we made for and with the fans, is available to the world through our website. Buying directly from the artist helps to directly support local music and it's something that we don't see enough of these days.
The album is your third full-length release. Comparing it with Horizon – which was released back in 2013 – how do you feel the band and your craft has evolved in that period?

The band has come through massive changes since recording Horizon. We've had new members come and go, life circumstances changing for everyone individually and a whole lot of time to get this album exactly as we wanted it. In that time I think the band has grown a lot together and we've been able to develop and craft the songs exactly how we want them for Nothing Permanent Lasts.
Touching briefly on the recording of the album, who did you opt for to capture the songs and did you find yourself experimenting in the studio or was it a case of going in with all ten songs good to go?
We wanted to record with Mik O'Connell at the Blast Furnace in Derry, who has previously recorded albums for bands we admire like the legendary Little Hooks. We've known Mik for a number of years and knew that he would understand the sound we were after. We agreed with Mik to bring Mark Donnelly of Eat Sleep Drums on board for the recording process and it was the best decision we've ever made; the two lads are an absolute dream team, really down to earth and amazing to work with. They knew the sound we were after and worked really hard with us to get the album sounding exactly as we wanted. Because of the time we had developing the songs for the album, most of the songs were ready to go, but we wanted to allow room for Mik and Mark to bring some production ideas to the table and try a few things out. We're delighted with the end result and would love to work with them again.
There are some really nice harmonies and compositional nuances layered right throughout the album. How was the songwriting process for these songs? Were they penned over the last three to four years, or largely material that came together more recently?

The album is made up of songs that have developed over the last four or five years really. I was lucky enough to work with a number of great people throughout that time, including being part of the Six Strings and Stigma mental health project in 2014 and working with musicians in residence at Nerve Centre, David Lyttle and Marty Coyle. The songs One Silver Line, Fall Apart (Moth into a Flame) and Circles arose out of those opportunities and I was greatly appreciative to work alongside such great artists. Other songs on the album have been finished more recently and some, like Show and Tell have been lying unfinished for years and have only found their fit on this record. It's really had time to grow and develop and I think the structural nuances and layered vocal lines have come from that time of development with the lads in the band, working over several versions of the songs before we were happy with them.
The album starts on the title track. Although the lyrics are self-explanatory, what compelled you to write this song?

The title track was inspired by seeing the Stromatolites while in Australia; tiny 'living rocks' made up of 4 billion-year-old cyanobacteria, the first forms of life on earth and the origins of every form of life around us today. A timeline board there showed human-kind as a fingernail on the armspan of life and it really shifted my perspective on our place in the world and fundamentally changed my view on life. That experience sat with me for a number of years, because I couldn't articulate how I felt about it, until the phrase Nothing Permanent Lasts came about as a way of summing it up. Nothing that we consider permanent; tattoos, scars, buildings, civilizations, mountains, planets and so on ever really lasts. This scary but powerful thought stayed with me and instead of being something to be frightened about, became a liberating message for me, to enjoy your life while you can, not to take anything too seriously and to make the most of every day, because we're only here once and for a very short space of time.
Generally speaking, what are the main themes that you confront throughout the album?

Generally speaking, I'd say there are two main themes in this album: time and mental health, which are actually pretty closely linked. The theme of time and perspective ties in with taking care of your mental health and focusing on the important things in your life.
The album is a varied work of light and shade touching on the past, mental health, memory, love, destiny and the power of perspective. Looking at it objectively as a full work, do you feel the overarching sentiment on the album a positive one?
I'd say overwhelmingly yes. I once read Eckhart Tolle's Power of Now and A New Earth, both of which were about embracing the now in your life. We can't change the past or predict the future and I want this album to have the same positive message for people; that you have the power to make a change for the better in your life in every moment and the power to do something good and positive with your life.
The album is being launched at the Nerve Centre on September 30. What can we expect from the night?

The album launch night is going to be a very special night. We will be playing newer and older songs in a full night of music, with special guests joining us on stage. We will have support from the amazing Waldorf & Cannon in the beautiful refurbished Nerve Centre venue. Tickets are £10 and anyone who supported the Crowdfunder can get a £5 discount. It will be a special night of music and we're really excited to launch the album officially.
Finally, looking over the rest of 2017 and into next year, what are your hopes for the release of Nothing Permanent Lasts?
The album has had a great reaction so far from critics and fans and we're delighted the songs really mean something to people. Our main hope for the album is that more people continue to support the band and buy the album and that more people get to hear and love the songs.