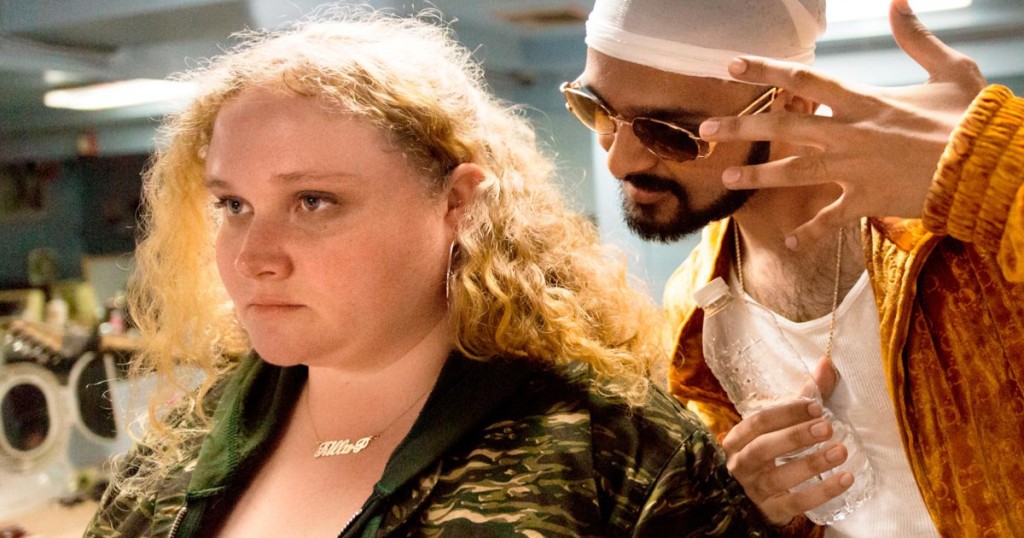 Geremy Jasper, former vocalist of 00's New York band The Tears, has channeled his younger creative frustrations into feature debut and Sundance hit Patti Cake$, an upbeat tale of an unlikely hip-hop hustler and solid contender for the year's feel-good rankings. Its got magic indie dust and an against-the-odds underdog ethos and its leads, Danielle Macdonald and Siddharth Dhananjay, two best friends and hip-hop partners, are a memorable and winning double act.
Macdonald is Patricia Dombrowski, aka Dumbo, aka Killer P (the titular tag comes later), a plus-size, white, ginger woman desperate for rap glory. Dhananjay is Jheri, an Indian-American who works at a pharmacy and laces her rough rhymes with silky smooth club lyrics. They are a pair of small-time amateurs getting by in Bergen County, New Jersey, eager for the respect, fame and validation of a record deal. At one point a car radio plays Springsteen's 'The Time That Never Was', and Patti's arc has the give-em-hell storybook triumph of an fist-pumping Brucie track, or something from fellow NJ alumni Bon Jovi.
Patti Cake$ is a different kind of hustler story, but follows the white trash made good beats of something like 8 Mile, in which Eminem's semi-fictionalised 'Rabbit' persona attacked the mic and the haters as his only route out of the trailer park. Patti has escape on the mind too, her mundane working class routines interrupted by daydreams of glorious dry-ice club debuts, introduced by rap hero and local legend "OZ" (Sahr Ngaujah), whose grill-grinned approval could bounce her into the big leagues.
Domestic reality, for the moment, is less glamorous. Her wheelchair-bound Nana (Cathy Moriarty) perches in the living room watching mindless TV, while creditors buzz Patti's phone with reminders about overdue medical bills. Patti's mother Barb (Bridget Everett) is a former singer turned hair dresser with a struggling salon. She listens to her old records in the kitchen, sipping wine and wondering sardonically to her daughter about 'when the fun starts' and pestering her about money. A conversation in which she describes the circumstances of her pregnancy carries of subtext of blame: if it wasn't for Patti, she might've been something.
Patti works shifts at the local drinking hole, placating barflies and watching her mother relive her glory years on the karaoke machine. The filming of her mother's singing, later with a backing band and squeezed into a rock jumpsuit, make it clear the film doesn't view her as pathetic, just a little lost, and too quick to dismissive Patti's own musical ambitions. She lacks the despair of 8 Mile's Kim Bassinger matriarch, and despite the working-poor troubles the film holds back on judgement or fatalism.
Patti does her best to get ahead, jotting down lyrics, stashing cash and smiling like a good girl during back-breaking catering shifts. Her appearance marks her out against with the misogynistic bro rap of those around her, forcing her into skirmishes with self-doubt and self-hate. Macdonald's performance has a snarling, bitter confidence, and when Killer P's in full flow it's easy to get pulled in. Along the way she meets anti-social scuzzy musician who calls himself The Bastard (Mamoudou Athie), and the pair of freaks strike up a mutual understanding. With Jheri the trio put together some fun earworms and the film's best sequences, entertaining expressions of the relatable if well-trod thematics of making something of yourself.
Patti Cake$ sticks to underdog beats so generic you could plot much of it out ahead of time: the struggle; the fall; the rousing comeback. There is an element of autopilot, as it swerves into familiar movements, and the tonal mix of turnpike realism and the faintly fantastical makes for sometimes uneasy pacing. But Patricia's transformation into Patti Cake$ is a rousing endorsement of self-invention and the final performance is, as the kids say, fire. Conor Smyth
Patti Cake$ is on general release.