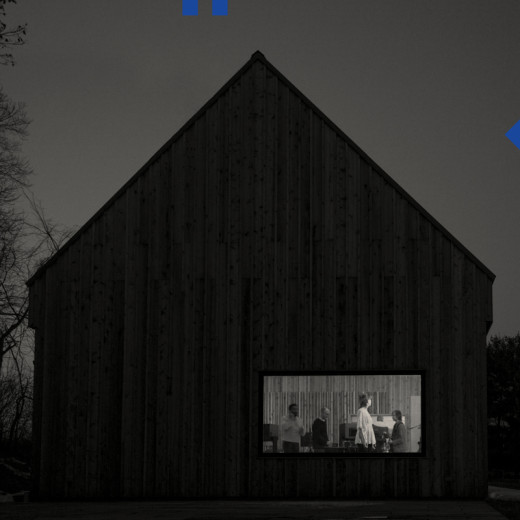 After a four year period rich in collaborations, side-projects and production work, the build-up to this, The National's seventh album was a carefully crafted and ubiquitous one. Teaser clips hinted the release of its first single, 'The System Only Dreams In Total Darkness' and a blue-coloured, minimal take on the album's cover art popped up in different cities across the globe. What is interesting is how this bold, outward looking campaign stands in a sharp contrast to the songs themselves. Here we find album that at its core is an intimate reflection on failing relationships both personal and universal, one that confronts our individualised misunderstandings of the human condition and of those closest to us. Not quite billboard material. The songs here then are, by and large, what have come to be expected from The National, intimately casting their poignant reflections on life. With the quintet being this far into their career though, it begs the question of whether they have matured and evolved into being able to write these songs better than anyone else, or whether they have just cashed in on their reputation as miserablists.
Whichever the case, Sleep Well Beast doesn't hold back in navigation of its path. It feels as though Matt Berninger, now more than ever, is treating the listener as a sort of makeshift sounding board. The lyrics don't tend to be overly abstract. They are the words of someone who knows exactly what has gone wrong, and that no amount of poetic sugarcoating can change that.
'Walk It Back' is built on the tentative realisation that a relationship is set to collapse and provides a bleak snapshot of that desperate, slow fall and the confusion that comes with it. Berninger sings bitterly of mixing weed with wine, lamenting on how "nothing I change changes anything." It's a familiar sentiment for anyone who's ever found themselves in a similarly helpless situation. The song also features a quote from ex-White House aide associated with the Bush administration Karl Rove: "We're an empire now, and when we act, we create our own reality." Here, The National stray from the obvious, twisting the political to apply to the personal, to the acts committed in a relationship that may be its downfall.
The universal and political's relationship to the personal is explored again on 'The System Only Dreams In Total Darkness'. Speaking about the track to Pitchfork, Berninger explained that it was "less about relationships, than it is more of the strange way our world and our idea of identity mutates." The song acts as a sort of mirror to 'Walk it Back'. While in that track, political talk was interpreted and shaped around individuals, here, intimate, pronoun-heavy lyrics – "maybe I listen more than you think", "why are you hiding from me?" are directed at a world order, not a begrudged lover.
'Turtleneck' is the most out of character track on the album, and the closest thing to a Rock n' Roll anthem the band have come to in a very long time. It breaks in from the left in the running order, contrasting with the quiet and sombre 'Born to Beg' that precedes it and the gentler 'Empire Line' that follows. While not the most cohesive transition sonically, in an album that's supposedly revolving around relationship breakdown, its inclusion here makes complete sense. The song was debuted at an anti-Trump inauguration and Berninger mocks his supporters here, sarcastically proclaiming that this "must be the genius we've been waiting years for". But if one didn't know this background, the energy of the track – the anger, the frustration – fits naturally with the thematic approach the band has taken to this album. The frantic chorus – "keep the weed next to the bed, light the water, check for lead" – sounds like the bitterness of a man trying to regain a semblance of normality in the aftermath of a break-up. With this interpretation in mind, the lyrics are less on the nose then if you take them at face value in their political anger. Even Berninger has said that these were "obvious" lyrics, but there does feel like there is another, more intimate layer in lurking – or at least, it feels like there should be.
With the exception of 'I'll Still Destroy You', side two of Sleep Well Beast, is a quieter, slower affair, trading the energised guitars and drums for lighter synths and piano. Berninger sings about "the molecules and the caplets" and his "bad taste in liquids", and the regrets that they remind him of. Here, simple but devastating lyrics like "I swear you've got a little taller since I saw you / I'll still destroy you" are a jolt, showing a helpless man; one who loves his family, but struggles to reconcile this affection with his own personal demons and intrusive thoughts.  It's reminiscent of the worries and fears that come with parenthood that were found on 2013's Trouble Will Find Me. Again, it's a wider examination of a relationship breakdown, a consideration of the outside factors that can have a very really impact on our lives and that torturous question of "What if I weren't like this? What if I had done something differently?"
Sleep Well Beast leads you down a tumultuous path, the same one that the narrator and lover are trying to navigate and, like them, it sometimes leaves you feeling a bit lost. The broad theme is there, showcased through earnest and honest lyricism but while taking its time to try and establish this emotional landscape it's hard to say if this is The National performing at their best. When you're seven albums in, how can a band continue to better themselves within their own format? It can become far easier to fall back into a mould. Sleep Well Beast features some of their best lyrical work to date but, at times, there are moments that feel formulaic. 
Sleep Well Beast is a dissection of all the awful mistakes we make as humans, of those common fears we can't let go of in our relationships and in so many facets of our public and private lives. It is an album that is at its strongest when it's at its most uncomfortable then, so it is a pity that all too often it feels as though pushing themselves sonically was foregone in order to hammer home those lyrical ideas. Still though, that unvarnished fear and honesty does not belie a band who have cashed it in completely. They're just very aware of what they're doing.  Aoife O'Donoghue