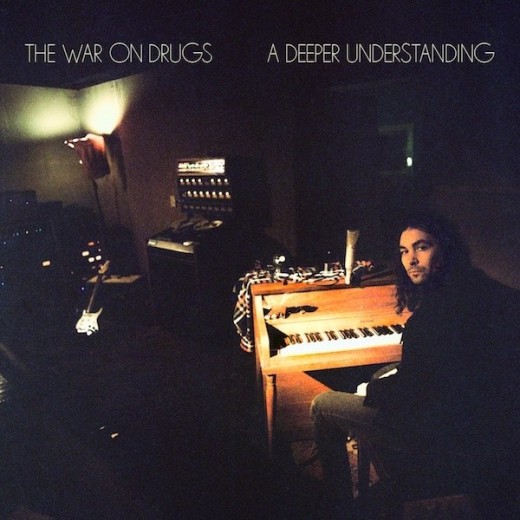 Sun Kil Moon miserabilist Mark Kazolek famously dismissed the The War on Drugs "beer commercial lead guitar shit" shortly after the release of 2014's instant-classic third LP Lost In The Dream. Despite being desperately unfair to the Philadelphia outfit – effectively a vehicle for frontman Adam Granduciel since the departures of founding members Kurt Vile and Steve Gunn – it does tap into the band's own internal paradox: their music is undoubtedly rooted in the stadium-filling giants of 80s rock, from Granduciel's Dylanesque purrs and Mark Knopfler-style lead guitar, while ambient flourishes recall U2's Eno lead pre-Joshua Tree experimentalism. The irony comes from Granuciel's lack of interest in their universalism, and instead of seeking arms-in-the-air arena anthems, he strives for the intimacy and introspection of the music, often burying potential hits under layers upon layers of distorted, even psychedelic instrumentation, in equal parts Bruce Springsteen and Kevin Shields.
Indeed it's Shields' perfectionist streak that Granduciel channels on the cover of new album A Deeper Understanding, which shows him alone, perched over a vintage piano in a dimly lit studio, guitars and vintage synths just out of reach. It becomes even more apparent from the opening cut 'Up All Night', in which layers of drum machines and guitar are coated over Granduciel's piano and vocals. It continues to build over the track's six and a half minutes, Granduciel's ethereal vocals guiding the song towards its hypnotic coda. Granduciel combines stacks traditional rock instruments over more left-field touches (like the New Order synth lines on 'Holding On') throughout. A Deeper Understanding marks The War on Drugs major label debut, having switched from to Atlantic from Secretly Canadian, and the bandleader has seemingly thrown everything at it.
Above all though, the real highlight of A Deeper Understanding is Granduciel's growth as a songwriter, with the concepts and ideas being more honed than ever. 'Pain' is a gorgeous mid-tempo ode to loneliness featuring a searing, fuzzed out guitar solo, and 'The Strangest Thing', which starts off slowly before erupting into a hugely cathartic chorus, given an extra dramatic heft by Granduciel's addition of glimmering synths. Where Lost In The Dream was seemingly inspired by the collapse of a romantic relationship, A Deeper Understanding lacks any clear theme, and is better for it: Granduciel may sing like Dylan, but his lyrics only offer snippets and half stories, more interested in creating a mood than any specific point.
Lost In The Dream had 'Red Eyes' as it's calling card single, a blast of guitar and warm keyboards over a propulsive, Krautrock beat. Although this record lacks a track quite as radio ready, 'Holding On' comes pretty close. Granduciel's voice soars above an ocean of synthesiser whirrs and duelling guitar licks, adding touches of glockenspiel to lend a fuzzy, FM radio feel. It's glorious stuff, the sort of speeding, windows down road trip anthem that are becoming a signature for the band. Five and half minute rock songs by career artists like The War On Drugs don't really get on commercial radio, something which makes finding a song this good that bit more special. Not that the band seemed interested in a hit in the first place, if the sprawling, 11-minute lead single 'Thinking Of A Place' is anything to go by. Released a 12" Record Store Day exclusive back in April, it's a slow-burning, low-key epic, drawing on nature, love and memories like a lost Neil Young classic. As the album's centrepiece, it proved a canny choice as an indicator of the album as a whole: its 10 tracks last well over an hour, each long and immaculately detailed, but never overwrought, always given room to breathe.
A Deeper Understanding is comfortably the War On Drugs best release, and possibly best rock album of the year so far. It's a testament to Granduciel's grand, almost obsessive vision, re-energising the sounds of late 80s rock into a deeply personal template. At 38, he's the same age as many of the baby boomers were when they made the albums he is referencing, and their Reagan-era disaffection seems an appropriate touchstone for the times we live in. There's every chance that your dad will love it, but so will anyone with an appreciation for song writing, musicianship and above all, craft. Caolán Coleman