Ahead of the release of his second album Blooming, Dublin's Michael Orange AKA Feather Beds has been kind enough to give us a track by track rundown of the record. Set for release this Friday 27 October on Montreal-based label Moderna Records, Blooming is a dreamy alt-folk venture written and recorded when the songwriter was living in Canada.
Following his debut LP in 2015, The Skeletal System, Blooming is mixed and co-produced by Stephen Shannon (Adrian Crowley, Strands) and is a dreamy, multi-layered a that evokes the likes of The Antlers and Mutual Benefit's Love's Crushing Diamond in its ambient folk atmosphere, but owes just as much to the hypnotic, minimal compositions of Steve Reich and to the best parts of shoegaze. This is an addictive, warm listen. Perfect to accompany blustery autumn walks as the evenings draw in, or to course through the room as you unwind by a fireplace.
So lift the slippered feet up, grab a cup of tea or whatever, and get acquainted with Blooming.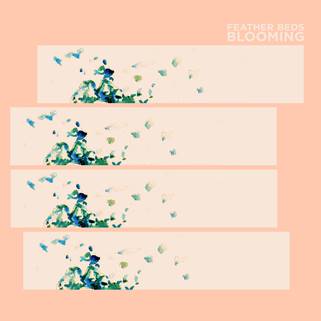 CLUSTER
I recorded lots of random, found sound stuff around the apartment and building I was living in at the time in Montreal and tried to really experiment with production. A lot of it found its way into this song and the album in general. I think I spent about three hours in the bathroom one night recording the sink, shower, toilet flushing, banging on things. My girlfriend probably thought I was having a breakdown. 'Point' by Cornelius is one of my favourite albums and stuff like Captain Beefheart and Faust, just reading about certain things they used to try with recording, experimenting with non-musical instruments, I just find it really interesting.
PLAY DEAD
It started on an acoustic guitar and I ended up making this really layered, multi-tracked guitar piece that ended up being the bedrock for the song. Maybe like seven or eight intertwining, counter-rhythmic, small pieces that I tried to stitch together. I think I was listening to a lot of Steve Reich at the time and I think that was maybe the vibe I was going for with this song. I've always been a bit of a time signature nerd, to be honest.
HEADACHE DREAMS
Stephen Shannon mixed and co-produced the album, and of all the songs, he had the biggest impact on this one. My initial mix had a totally different drum line, more of a two-step kind of thing. That was all changed, we multi-tracked about three or four different drum lines for this one and stitched them together. Now I just need three or four live drummers. Easy. He also added lots of lovely little arpeggiated synth parts here and there.  I think we mentioned Panda Bear quite a bit with this one. I don't know Animal Collective that well, but I really loved that Panda Bear album, Person Pitch.
SOFT YELLOW
This was another that changed quite a bit in feel compared to my initial mix. Stephen really cleaned it up and brought it somewhere else. Again, quite sample heavy, this one. Lots of homemade samples and found sounds buried in there. It was based around a loop I made on a sequencer and it came together quite quickly, actually. Recording live drums as well was a good idea, compared to the initial drum machine stuff I had on the early mix. Reminds me of autumn in Montreal. Good times.
DRIP FEED
This very nearly didn't make the album, purely because it's quite different to the other tracks. It's definitely a lot more straightforward, but I'm really happy I kept it in there. It's my homage to all those wonderful shoegaze bands that I love dearly – My Bloody Valentine, Cocteau Twins, Slowdive, Yo La Tengo, etc.
FEAR OF WATER
I was listening to 'Tundra' by Lakker quite a bit – a great album, really heavy, really interesting and dense production. I think maybe I was trying to capture something like that, but it ended up going off somewhere else and being a lot less experimental. I think the vocal line gave it a real melodic, immediate feel. I'm really happy with it. Stephen's mix is brilliant. I'm looking forward to the next album, where it'll be full-blown experimental, blow the doors off the barn. Latter-day Scott Walker. Animal carcasses and all.
MOOD SWINGS 
The oldest song on the album and an obvious album closer, with that extended outro. It took me a long time to finish this one. I kept leaving it and going back to it. I think it's quite a sad song, I remember it being a bit of a shambolic time. Listen out for the helicopter sample at the end. I recorded it on a Zoom out near Dublin airport and I remember the sound of it in real time just being so noisy and overbearing.