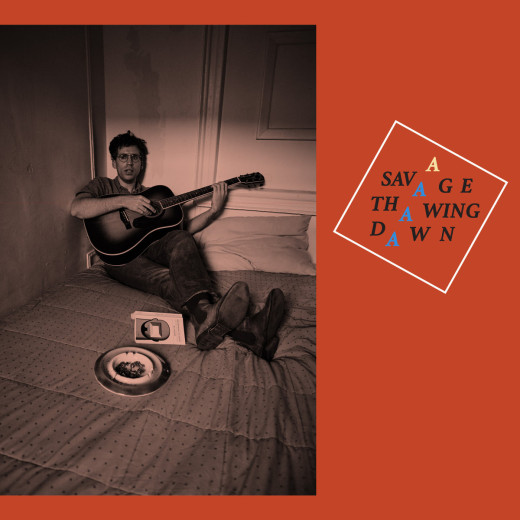 Andrew Savage has been ensconced in the music scene since his teenage years growing up in Denton, Texas. He played in bands, organised small-scale guerilla marketing campaigns – promotional bathroom band graffiti – and self-released lo-fi tapes until firmly establishing his position within the independent DIY realm with his band Parquet Courts following their debut in 2011. Their reputation has grown steadily and they have seamlessly become an act that figures into the same conversations that laud the likes of Ought and Black Lips. In a relatively short space of time they have become stalwarts of a scene of bands who have been unapologetically wailing and thrashing their way through material in the last decade. 
Now, in his early 30s and having enjoyed success with Parquet Courts and his independent label, Dull Tools, Savage has entered the inevitable solo-album stage in his career. Dare it be suggested, however, that he has embarked on this journey prematurely? When a musician goes from band to solo project – especially when they're the fore-figure, anyway – there are two possible outcomes: The music remains basically the same, making the venture seem unnecessary, or the arrangements veer towards rogue territories, for better or worse. Typically, you hope for a balance of both. You want familiarity but you also want to see where their unbridled outpour of musicality extends. Thawing Dawn is an enjoyable album and it's exactly what you would anticipate Andrew Savage's solo album to sound like. However, the balance between familiarity and experimentation is simultaneously problematic and rewarding. At times it feels as though Savage was restless, impatient even, in the time following last year's Human Performance. The songs on this solo album were given a home that, in Savage's opinion, didn't settle in easily with the rest of the band's output. Savage's reasoning for the project falls flat on the several occasions where he lulls into the safety of his established musical identity.
The majority of the songs are instantly accessible; catchy, memorable and ones that you can return to countlessly without growing bored. The first half of the record is strong from the introductory atmosphere of distant guitar strums in 'Buffalo Calf Road', which also boasts an emphatically alluring instrumental marriage between pedal-steel and organ. It sets a wonderful tone for the album, despite it struggling at times to maintain its captivating sound.
The softer, striped back arrangements heard on 'Wild, Wild, Wild, Horses' presents a shift in Savage as a songwriter and musician which perhaps could have been utilised more, notably on the songs that surpass the seven minute mark with no justification for their length.
Often in the process of listening to Thawing Dawn it is easy to forget that this is not a Parquet Courts record seeing as many of their hallmarks are heralded. The punchy guitar and drum of 'Eyeballs', which is recalled towards the outro of the title track, brings us back to Sunbathing Animal, Parquet Courts' 2014 record. Another obvious example of this album's influence is present on 'Indian Style' – the album's shimmering standout track – which unabashedly lifts a melody from 'Instant Disassembly'. Coincidentally, it was that song that made people open their ears to the band when it was released. It would be cynical to accuse Savage of being a one trick pony but when there are similarities so strikingly identical between the new and old material the listener cannot help but feel a little cheated. Another Parquet Courts sonic crossover comes in the form of unnecessary overwrought extensions on endings such as a chaotic cacophony of saxophone, guitar, drums and Savage's contained wail on 'What Do I Do'.
When you look beyond to distinguish the places where Savage is creating his own world outside of Parquet Courts' sound, it resides in the sonic geography. Everything by Parquet Courts boasts a distinct New York discordance where Thawing Dawn travels South.There's pedal steel, drum patterns that mimic the Hollywood bustling gallop of cowboys on horseback ('Winter in the South') and lyrically Savage recounts stories of leaving behind his old village in 'Phantom Limbo'. The narrative of the album is steeped in stories engrained in the Midwest and South. Moreover, with song titles like 'Wild, Wild, Wild Horses', 'Ladies From Houston' and 'Buffalo Calf Road', this stylistic appropriation is not exactly subtle.
While the sonic scenery has changed so slightly, New York still provides memories captured in a rustic melancholic soundscape. Thawing Dawn doesn't present a pause or reboot in Savage's career, if anything it just serves as a reminder of what he is capable of creating.  Zara Hedderman