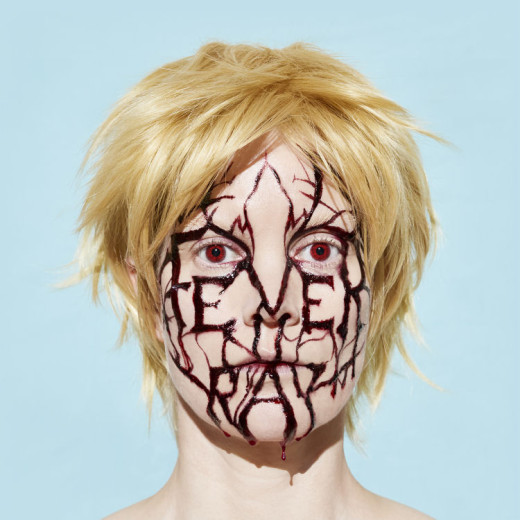 Artists can spend an entire career trying to forge a distinguished identity, but every now and again one arises and manages to do just that after one record. Karin Dreijer, AKA Fever Ray is one of those. Dark, distorted monochrome throbs and nuanced icy atmospheres helped her self titled debut reach critical acclaim back in 2009, revealing an ear for the organic compositions and textures that Dreijer couldn't express with her sibling as one half of The Knife. It's devilish that a surprise follow up album, Plunge, would be released digitally (physical release landing February 2018) in late October, arriving just a few days before a period synonymous with unrest, tension and dark energy: Halloween. But is Plunge a trick or treat?    
Opener 'Wanna Sip' takes little time to set the mood for Plunge, unleashing an hostile, snarled beat akin to Sleigh Bells' older work. There's an unhinged fury in Dreijer's distorted delivery, as she bemoans an unknown partner: "I wanna love you but it ain't easy". Tracks such as 'IDK About You', 'This Country' and 'An Itch' almost struggle to restrain an often raspy, despairing Fever Ray, with the majority of tracks centring round a grinding minimalist electro-twitch that can only just match Dreijer's energetic delivery. The album's title track provides a much needed halfway rest, and while it does little to turn down the energy, harshly distorted vocals are replaced with a full on electro-stomp progressive instrumental number. It's like finding smooth peanut butter hiding between layers of deeply seedy rye bread. Closer The delicate synth riff  of'Mama's Hand' draws parallels to Björk, and displays a vulnerable side of Dreijer that isn't exposed on the rest of the record. "Please stay stay stay with me" begs Dreijer, providing an intoxicating end to a record.
As its title suggests, Fever Ray gets low on Plunge. "Your lips, warm and fuzzy/I wanna run my fingers up your pussy" yearns Dreijer on 'To the Moon and Back', whilst 'This Country' tackles BDSM head on: 'gag me/awake my fighting spirit'. While Fever Ray was deservedly acclaimed for its use of poetic imagery, Plunge sees Dreijer examining the shackles she has since removed, and whilst the results might make some wince with puritan pain they are liberating, empowering and deeply refreshing.
However, what really makes Plunge stand out is Dreijer's clever lyrical blending, contrasting that raw sexuality with deeply political themes, often allowing the two to collide into one another. 'This Country' demands free abortions, clean water and the destruction of all nuclear arms, before lamenting how "this house makes it hard to fuck". Whether that's a statement on the cheap building materials utilised throughout the housing crisis or not we'll never know, but until then the evidence suggests that Dreijer cuts a distressed figure both politically and romantically.
Plunge is a rich and rewarding listen. It's full of trademark trickster characteristics; an omnipresent dark energy, crude language and sharp edges, but ultimately, Fever Ray has delivered a Halloween treat. It's akin to having your house badly pelted with eggs, but finding out you actually enjoy the look of it and subsequently refusing to wash it. Plunge is a deeply personal but entirely relatable album, written for the thick skinned during the small hours, and will continue to compel you ever further into it's twisted spirit. Whatever Dreijer serves up next is almost guaranteed to be great on the previous evidence – let's just hope it's not a nine year wait again. Dominic Edge