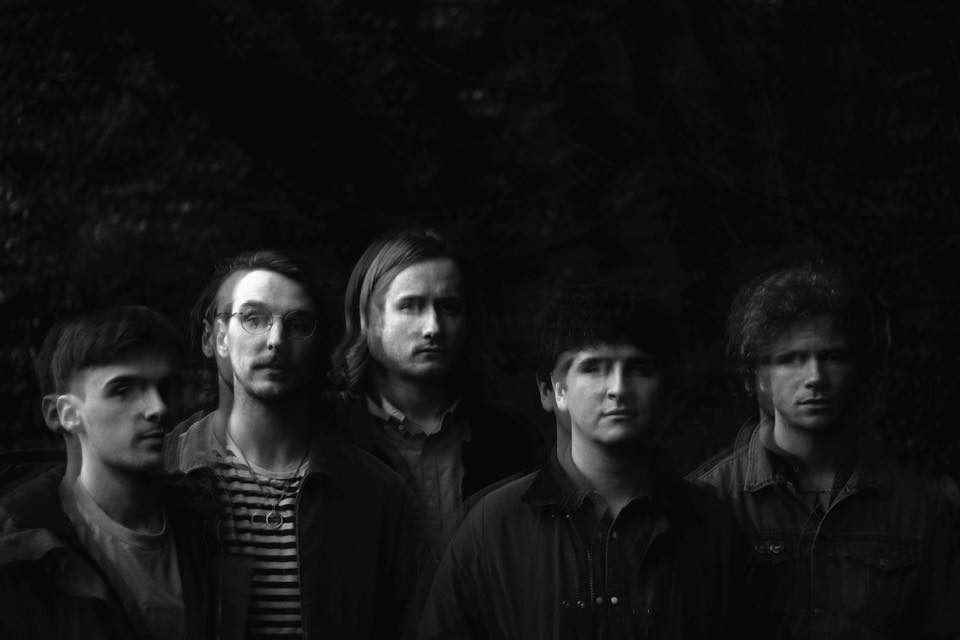 Ahead of the launch of their stellar new EP, Cruelest Animal, at Crane Lane on November 30, we talk to Jack Horgan and Mark Waldron-Hyden from Cork neo-psych five-piece

The Sunshine Factory

about influence, releasing via their own DIY label, Cork's thriving scene at the minute, their plans for 2018 and more.
Your forthcoming EP, Cruelest Animal collects some of your earlier recordings. A lot of bands would never dream to reveal their earlier trial-and-error. How did you come to the decision to compile and release the EP?
Mark Waldron-Hyden (drums): Basically, since then and now we have recorded and written so much stuff that we decided to show our progression and give contexts to our later releases.
Jack Horgan (vocals/guitar): The majority of artists we listen to have a wealth of material available. Take the Brian Jonestown Massacre for example. They have released demos to full-length albums. We want to show the foundations of our work, to show the evolution and development of the sound.
You can hear some influences hinting at throughout the release but none too explicit. But artists do you think have made an imprint on your sound to date?
M: I think between the five of us, we all have different interests and influences, but still common ground with all of us, even if it's just general genres or bands. Our songs' influences can vary from shoegaze and krautrock to elements of electronic and post-punk styles of music.
J: My Bloody Valentine, Joy Division, The Brian Jonestown Massacre and Spacemen 3 to name a few. These are all artists that have left a serious imprint on the structure and atmosphere in our music.
Tell us a little about your songwriting process. Do you normally get together and jam things out, piecing things together along the way, or do you take a more methodical approach?
J: Usually it's a mixture of both. We started the band by just jamming out ideas and have kept to this approach methodically. Everybody writes their own parts to the song, from there we refine the song down to what works and what doesn't.
M: Yeah it really depends on songs, some songs we've written just inside the practice room and others where a member brings some sort of idea to the table, and we all add parts what we think would suit it, and go from there. It can start anywhere from a bass or guitar line to a synth sound or drumbeat.
You've shared stages with the likes of K-X-P and the Orange Kyte. Do you hope to tour further afield in foreseeable future?
M: Yeah, we love playing live so we'd love to be able to play with as many great bands and in as many great places as we can.
J: So far we have played only a handful of venues in a few counties. Getting abroad is a goal, but we are focused on getting further afield in Ireland too before travelling.
Cork has always really delivered on the psych-leaning front. Why do you think that is?
M: Cork has such a long history of bringing out highly influential music, I think when there's so many people around you making amazing music, it makes it a lot easier to be inspired to do it yourself.
J: Music in cork has always been a home to left field leaning arts spaces. I think. There's a huge history here of not just psych but all genres, from punk to house. The city is quite small too, meaning venues are in short supply. On any night of the week you can see various genres of music. Experiencing varying live music is essential I believe as a musician. For me personally, being able to see artists like The Altered Hours and Elastic Sleep regularly live have had a lasting impact on me.
The EP will be released via your own imprint, Sunshine Cult Records. When did your form the label and what are your plans for it over the coming months?
J: I pitched the idea during the summer. After some thought, I think we gravitated to keeping everything as independent as possible. For now, it is an avenue to give us the flexibility of releasing material whenever we want to. I'd like to build it as a platform to give bands in Cork and beyond the opportunity to put out music.
M: We formed the label mainly to give us the opportunity to put out whatever material we want. We want to have as much freedom musically as we can. Plus I'd like to be able to share other music that we appreciate with other people, so starting a label is our means of doing this. With regards to plans for the future, we're gearing up for a double-A side in February, with probably another one soon after. In between this we plan on putting out some music from another great band too, but there'll be more on that later on, probably closer to the end of December/January.
You release the Cruelest Animal at Crane Lane on November 30. What can we expect from the night?
J: We've formed the show around the EP and a majority of new material.
M: Yeah it'll be a nice amount of new stuff. I'm really looking forward to having Exploding Eyes down too, they're gonna be great.
Finally, looking forward to next year, what can we expect for The Sunshine Factory? Any talk of a full-length?
M: We're focusing on getting the A-sides out first, we'll cross the full-length bridge when we come to it.
J: Yeah, hopefully to get a double A side released in February, then ideally another EP following it up after.
Go here for the Cruelest Animal EP launch FB event page