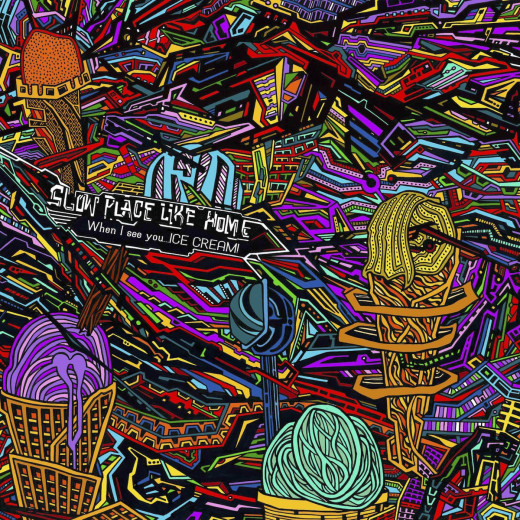 If you've had your finger anywhere near the pulse over the past half decade you'd be aware of chill. Everything can, and most probably will, be described as "chill" in 2017. Your boyfriend is chill. Your dog is chill. Even your boss can be "pretty chill" sometimes. For once, this term doesn't feel like a gross understatement when describing Slow Place Like Home; he's an artist so chill it will make your weekend on Inishmaan look like a four day bender in Marbella.
Keith Mannion has been making music under the moniker of Slow Place Like Home for nearly six years now. Based in Donegal, the producer has been cooking up beats from his farmhouse cabin and slowly releasing them into the ether. Four EPs seeped out early in the decade before his first full length release Romola in 2015. It was an album steeped in the tradition of the North West but didn't cause too much of a stir further afield. Mannion didn't panic though. Slowly he's been honing his craft and distilling his sound. The result of this process is When I See You … Ice Cream! – an album filled with as many delicious pop melodies as its name might suggest.
SPLH's brand of laid-back electro pop manages to feel both party and after-party at the same time. Mannion croons over these 11 tracks in such a relaxed manner that he almost sounds horizontal at times. When I See You… boasts many different styles but all of them retain a certain lightness of touch. 'Office Dancers' shows off Mannion's relaxed charm; 'Bats' a more intense, darker side to his character and 'Phoenix' hints at lingering experimental roots. None of it strays far from the point though – this is infectious pop dressed in sophisticated synth clothing.
Mannion's control of the process is obvious. He has that rare intuitive sense of how to arrange a pop song: When to take the bass out, when to bring the snare back in and where the bridge should land. This craft is most obvious on 'Echoes' and the titular 'When I See You … Ice Cream!'. The former is so relaxed it's best enjoyed over frozen cocktails in an ice bar and the latter is the kind of perfect pop tune that would catch in any decade. Mannion also has a great sense of groove that's obvious throughout this record. The brilliantly titled 'Model Spies with Turquoise Eyes' is the most prominent example of this. The bass walks up and down the octaves behind the ubiquitous clap track and synth combo. It's a beautiful piece of 90s songwriting that is at times Jamiroquai and at others X-Press 2.
Not all the tracks on this sophomore effort are as successful however. The penultimate 'Cooper Kinetic' is a largely forgettable and 'Monocles & Ribbons' sounds like what the Gallagher brothers might produce if locked in a room with 808s for a week while heavily sedated. But this doesn't detract from the record's overall charm. It's a great danceable album with the kind of cultured roots that could induce involuntary head-bopping from even the most reluctant scrooge. Cal Byrne