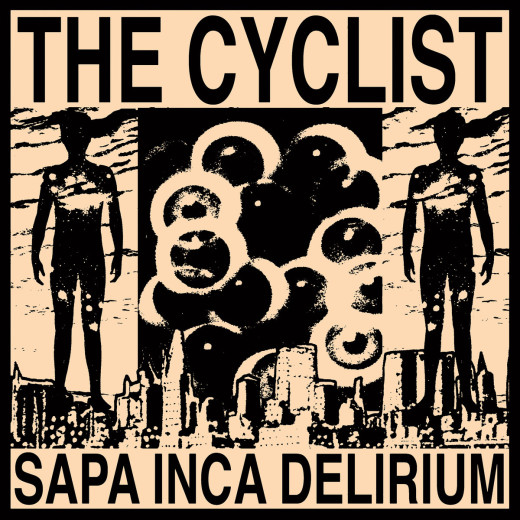 Derry's Andy Morrison AKA The Cyclist has produced some of the most compelling home-grown club-ready cuts in recent memory and it's arguably down to the fact that he's so singularly focused. "Tape Throb", a line of peculiar yet inviting analogue elements that Morrison has applied to his output since 2013's Bones in Motion, typically exhibits a crackling warmth in tone and dulled melodic sheen. For the most part, this transformative "filter" morphs dance-floor orientated releases into sub-sonic grooves that bury themselves in your ear and refuse to leave – see 2014's wildly unshakeable Flourish. With Sapa Inca Delirium, his first album proper for Hyperdub, Morrison expands and builds on 2016's teaser 12" 'Pressing Matters' to affirm his trajectory of wobbly tribal house that's steeped in rave nostalgia and psychedelia.
Throughout its 11 tracks, Morrison more or less sticks to what he knows – shimmering synths, rounded and grizzly basslines, and hefty rhythms, but it's the unexpected treats thrown in here and there that considerably raise the bar. The addition of vocals, for example – 'When We All Break Down ft. Joni' and 'Mirrors ft. Tanaya Harper', shine brightly as Morrison ploughs an unfamiliar furrow, illustrating the wider scope he's determined to engage with. The former track setting a breakneck pace but restraining itself to soothing house-like status before ramping up the energy once more; the latter an oscillating angular show of strength standing out as the highlight of the entire collection.
The LP is suitably chopped into meandering exercises in non-uniform percussion (you couldn't expect anything less, really), featuring an array of familiar tropes and some more sequestered in his earlier Buz Ludzha work. But what's interesting is that the more substantial productions are interspersed with vignettes of atmospheric soundscapes – an arrangement decision only somewhat hinted at during previous efforts. It's this dedication to the wonky off-cuts like 'Inti' and 'A Blind Girl Drinks Ayawaska' that leave you wondering if these soundbites should have been something much more expansive, but ultimately, credit goes to Morrison for this sublime game of carrot and stick. It propels you deeper into the record, eager to hear where the melodies end up.
'Peruvian Gold', or 'Skateboarding In The Jungle' are beautifully nonchalant, but, crescendo into the left-field, with moments of fury juxtaposed by heady samples and trembling lead lines. That being said, there are moments of conventional wisdom to be found here. 'Forest Surge', as an example, pulses forward upon its alien techno foundation, confirming that while Morrison's steady grasp of unorthodox tempos and time structures are astute, he's just as comfortable creating ye olde classic bangers that wouldn't be amiss in a Perc set. The inherent tonal focus, far-reaching and integral to the core of the record, is why, as a whole, Sapa Inca Delirium works so well.
Every track drips with atmosphere because Morrison, in a sense, is a stubborn producer, creating staunchly esoteric music. The beauty is that he hits the mark in a most uncompromising fashion, ultimately rendering this critic's score nothing more than an arbitrary indicator of whether or not you should spend money on Sapa Inca Delirium. Undoubtedly, you absolutely should. Aaron Drain