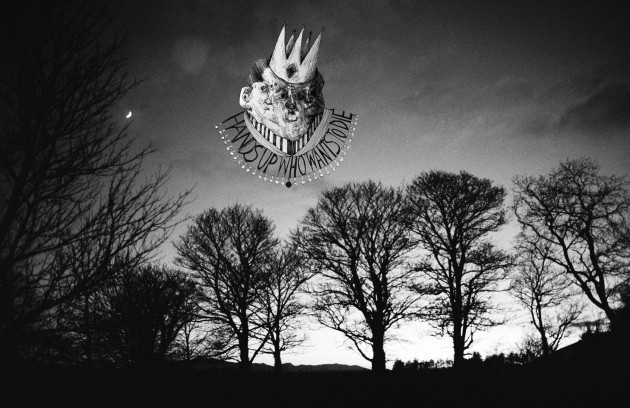 For several years, arguably Ireland's finest noise rock outfit, Dublin's Hands Up Who Wants To Die have devastated rooms across Ireland & Europe, led by the singular stage presence of one Barry Lennon. His ominous presence read death knells over the unified metallic discord conjured by Paul Clynes, Matt Hedigan and John Breslin – known for respected DIY-spirited acts like No Spill Blood, Wild Rocket and Vatican II. Two spectacular records rose out of that particular alchemy: Buffalo buffalo buffalo Buffalo buffalo, and Vega In The Lyre.
The band have announced Lennon's unfortunate departure from the band with the following statement:
"It's been a quiet couple of years but our frontman's decision to stop playing with the band has led to us getting back to writing our third album. We'd like to thank Barry for years of unnerring service. His poetry, on/off-stage antics and van giggles will be sorely missed."
But fortunately, in a late offering, the band have made available two previously-unheard tracks recorded in the south of France several years back by Mouffi – intended as part of a split with B.O.B. – which have been mixed & mastered by 'Spud' Murphy. 
Stream 'Manon' & 'Cave Canem' below:
There's also a fairly consolatory major note from the nihilistic outfit, in that they're set to make their return performance with a brand new, curiously unnamed permanent frontperson on January 13. Taking place upstairs at Whelan's, it all conveniently kicks off after their Richter Collective/Sargent House labelmates The Redneck Manifesto's earlier performance in the main room of the venue.
Sharing the bill are HUWWTD's regular gigging partners, English post-hardcore/noise rock outfit Silent Front – who we strongly encourage you to catch if you're in any way into Unwound or a similarly discordant strain of noise, in what will be SF's final Irish date ever, coming as part of the band's final tour. More details here.