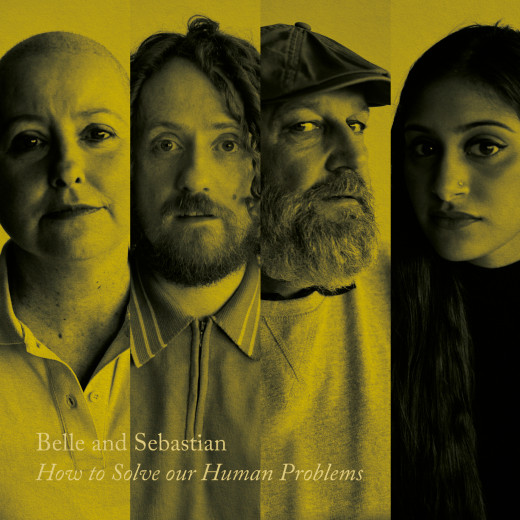 In 1996, Belle & Sebastian recorded, mixed and released two albums; Tigermilk in June and If You're Feeling Sinister in November. Both highly acclaimed releases from the band which remain as firm favourites amongst their fans, they were both made within the confines of a week long period. On each occasion, Stuart Murdoch came to the studio with a notebook full of lyrics inspired by the lives of ordinary people and introduced us to an array of characters in different scenarios. Along the way, we acquire intimate details about their circumstances, reflecting the dreary backdrop of the time and town they belonged to. We're told about a girl named Chelsea that was being abused; Mary Jo, a loner waiting for anyone to come along to save her from her solitude; the few final anxious days of Anthony and Hilary are recounted, humanising them before their eventual suicides.
These are fictional characters, but they were drawn from Murdoch's observations of Glasgow in the mid-1990s. Following a period of chronic fatigue, he assumed the role of flâneur; absorbing the world around him and, more importantly, the people that inhabited it. He wrote about grievances and dilemmas, desires and small victories. Although, the latter was a rarity in early Belle & Sebastian songs. The dreamlike guitar gleams, samples of school children playing and flourishing piano lines were the only glimmers of hope in those early songs. Murdoch's lyrics were anchored by nostalgia in 1996 and they remain earthed by memories today.
22 years later and Belle & Sebastian return to a relentless release schedule, reminiscent of their early days. Last December, the band shared new material for the first time in two years with How to Solve Our Human Problems Pt.1 being the first in a series of three EPs due from the Scottish chamber-pop group. The second imaginatively titled instalment, How to Solve Our Human Problems Pt.2 is a coherent continuation of its counterpart. It serves its role as a sort of "middle child" figure within this sonic triptych, the 15 songs of which are set to be compiled as a full album later on this year. One has to wonder about the reasoning behind fragmenting these songs in such quick succession, especially when they are ready to be shared in one swoop. One logical stream of thought though is that it reflects a sort of unnecessary disorder relating to contemporary culture and society.
Thus far, in both Human Problems EPs there are characters and situations that try to make sense of past relationships. The intimacy of these songs is felt in a myriad of ways, with each instrument at the fore, the vocals clear and commanding despite times when the softness of delivery lulls you into a complacent haze ('The Same Star' and 'I'll Be Your Pilot'). The flow of Part Two is hindered by those tender tracks, creating a problematic middle-pause that many albums fall to.
In Part Two, as with Part One, the lyrics are shrouded with images of nature; mostly up in the air amongst the sun and the stars. There is more than one pointed reference to global political turmoil, aimed mostly at Trump ("People are good and walls are madness"). Murdoch's lyrics are renowned for their striking visual qualities. They're vivid and immediate, intended to come to life in the listener's ear and eye. With the constant references to the sky, namely the song 'I'll Be Your Pilot', it is easy to visualise the consternation and flux as a balloon is pulled up into the clouds, its ascent as uncertain as what is to come as Murdoch tries to solve our human problems.
The arrangements to Part Two see Belle & Sebastian incorporating melodic shifts in ways that the listener will feel familiar with, in some regards. Opener, 'Show Me The Sun' sets a riotous tone of collective chanting vocals that immediately transition into quick paced drums, sparked by distorted guitar interjections. The tone flows steadily for the first minute until the arrangement ventures momentarily into soundscapes like those of Tame Impala before moving into a slumbersome 1970s style akin to Foxygen's 'Shuggie',  two bands that typically one wouldn't enter the same vernacular as Belle & Sebastian. The expansion heard in that introductory track is present, also, in 'Cornflakes' and closer 'A Plague On Other Boys.' Musically, those are the three most interesting songs on this EP.
The second installment of Belle & Sebastian's return makes for easy and pleasant listening. These are the kind of songs you can listen to while fulfilling various everyday tasks like cradling the ingredients for the night's dinner in the supermarket. The things that adults are obligated to do, everyday human things. Zara Hedderman