Features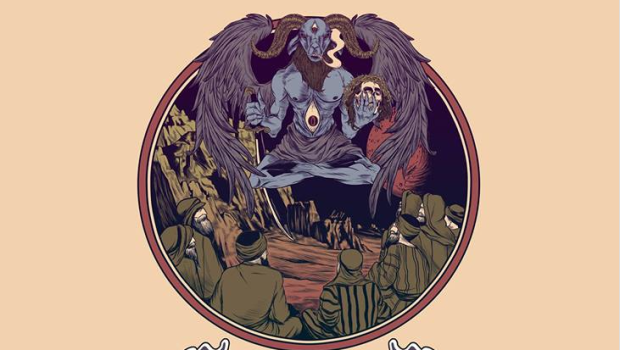 Published on January 8th, 2018 | by Stevie Lennox
0
Plain Living & High Thinking: An Interview With Belfast's Latest Promotion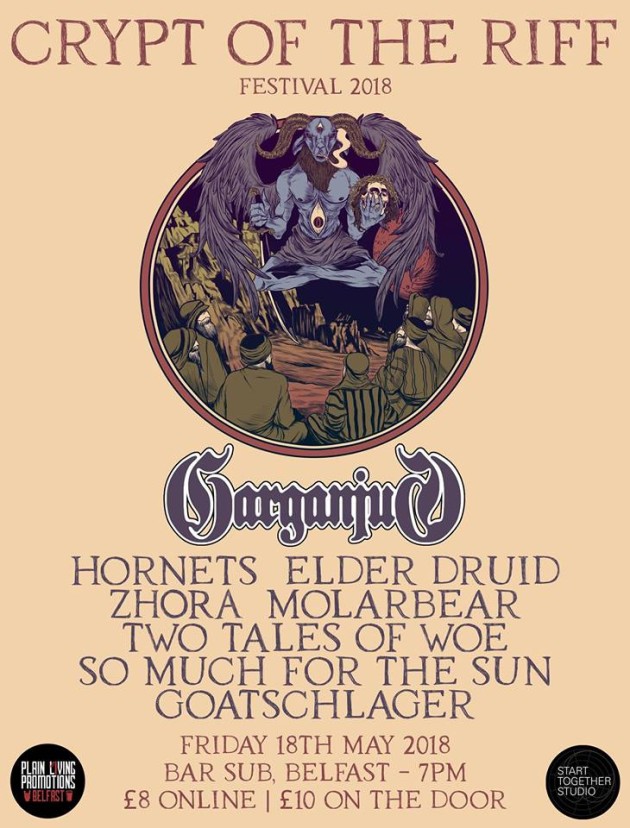 If you've been keeping track of the Belfast live music scene lately, you might have noticed – despite well-intentioned pockets and open-minded promoters – that it's somewhat fractured and currently lacking the infrastructure to cultivate a strong grassroots music community beyond those looked after by management and the likes. Two bands who have organically harnessed their substantial following in a very short space of time are the groove-strewn, endlessly soulful jam trio Electric Octopus – having toured the UK, look to extensively traipse across Europe in Spring following the release of their latest album – and stoner-doom outfit Elder Druid, who released their debut album in 2017 alongside several jaunts to the mainland UK.
Spearheaded by guitarists Tyrell Black of the former act, and Jake Wallace of the latter, Plain Living Promotions is the latest in a city that's heavily relied on the still-excellent Distortion Project to cater for the riff-inclined masses. So, rather than wait around for something to happen, the pair are leading by example. With a full cast of sludgy Irish riffers in Tipperary progressive sludge quartet zhOra, Jake's own Elder Druid, the incredible blackened sludge-crust of Hornets, Dublin's Two Tales of Woe, Lisburn stoner-doom trio So Much For The Sun, noise-punk quintet Molarbear, and Ballymena's Goatschlager, they come in large on May 18 at Bar Sub to kick their Promotions off with a bong; by which we mean a literal riff-fest, Crypt of the Riff. Christmas Eve saw the addition of Leicestershire progressive doom outfit Garganjua as headliners, to round off what was already a gratifying, unmissable bill for fans of due heft.
Stevie Lennox had a chat with Jake & Tyrell about what caused Plain Living's inception, and their plans for the future.
Aside from Shizznigh Promotions and the Distortion Project, Belfast is somewhat lacking in well-known regular gig nights to gain exposure to predominantly live acts. Do you feel Belfast has a gap in the market?
Tyrell: From our experiences in playing and going to gigs & festivals over in England, where these styles of music are prevalent at the moment, we realised there was nothing like this in Belfast. Most local promoters have a varied repertoire of bands and we found that foreign doom/sludge/stoner/psych bands find it very difficult to get gigs in Belfast. Also, with the success of the inaugural Emerald Haze Festival in Dublin a few months back, there's clearly a very strong scene.
Where did the Plain Living moniker originate?
Jake: Basically, the term 'plain living' has been mildly adapted from a line of a Wordsworth poem from 1802, where he says "plain living and high thinking are no more". My lifestyle became described as 'plain living' mostly as a piss-take because I smoke, drink and don't eat many vegetables, so everything looks plain to me. We've both been playing and putting on gigs ourselves over the past few years and realised we could easily start doing it under a name and organise whatever we want.
What kind of music do you plan to cover?
J: Predominantly fuzzed-out heavy rock/metal. The likes of doom, sludge, stoner, psych are all incorporated into what we play and what we enjoy.
It's a bold statement to kick things off with an all-day event was the inspiration behind Crypt of the Riff – what prompted the decision to go big?
J: Like we'd mentioned, events like Emerald Haze and Desertfest were the main inspiration for doing Crypt of the Riff. We just wanted to be able to set the whole thing up ourselves and hand-pick who we'd want to see. It's going to be in Bar Sub in the Queen's Students' Union on Friday 18th May 2018 and there'll be 8-9 bands on the final line-up. Hopefully we'll be able to continue doing this every year and maybe expand to a full weekend as the interest so far has been great and a load of bands have contacted us about the next one.
T: We really wanted to make our first announcement a pretty big one and start things off with a small festival rather than just another gig. It'll be interesting to see how well-received it'll be and whether Belfast would benefit from having a slew of fuzz pedal-wielding maniacs blasting sounds in their general vicinity!
Do you have any plans going forward, and is the addition of an internation band an indicator of more ambitious things to come?
J: We have a few plans in the pipeline for later in 2018. We definitely want to try to put on a more psych-heavy event as opposed to doom & the likes, as Crypt of the Riff's lineup is mainly the heavy stuff, and we'd like to target both ends of the spectrum.
We definitely have a few ambitious ideas and over time, it will become clear if these things are achievable with the right contacts and support. Crypt Of The Riff is going to be the main trial stage of this whole endeavour, so time will tell.
Crypt of the Riff takes place on Friday, May 18, 2018. Tickets are available for £8 from Evensi, or £10 on the door. More details here.