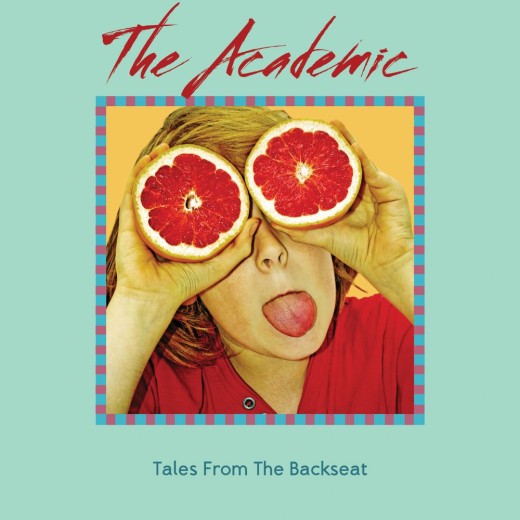 One of the most hotly tipped young indie-bands in Ireland,The Academic have released their debut album; a ten-track LP so radio friendly that you have probably heard most of the tracks already after months of extensive airplay. These four lads – all still in their early 20s – appear to have have risen from the rubble of the bygone era of rock boybands (The Vamps, 5SOS) with a charming debut that holds its own amid waves of similarly inclined young bands. Tales from the Backseat thrives on its own simplicity, along with their precocious gift for creating infectious earworms.
The Academic's debut album feels like a tribute to the ever changing Irish youth, taking snippets of that modern character and presenting it with an American teen-drama gloss. With classic topics of love and rebellion being observed in their most idealistic form, they attempt to repaint a classic Irish identity with its newfound cultures. This leads to plenty of attempts to portray fleeting emotion and complexity of character. In doing so, four-piece have targeted a specific audience, and crafted and album specifically toward an Irish teen market.
This young Irish character shines through in tracks like 'Fake ID' and the all too familiar image of being left in the cold because you were born with the eternal face of a 12-year old. Later we're presented with more fictitious tracks like 'Girlfriend'; showing desperate longing for the American teenage dream, driving Bentleys and running away with your partner to escape those suffocating hardships of adolescence. Tales From The Backseat constantly switches between this unrealistic, John Hughes imagery of 'Girlfriend', and the less romantic Irish reality of being far too polite to call people out on their bullshit in 'Bite My Tongue'. The idealistic and realistic play alongside each other, often intertwining as a near mockery of the teen rock genre.
The album starts strong with three leading singles one after the other, easing listeners in with songs they are probably already familiar with. 'Permanent Vacation', 'Bear Claws' and 'Different' push the album to a great start with three feel-good ballads. The album is constantly changing and jumping from tone to tone and yet never strays too far from fun, love and heartbreak; three of the most vital pillars of adolescence. One could call it inconsistent, but it could also be considered tactful. It's putting an egg in every basket. Note also the lack of lulls in this album, even the slow-set, 'Northern Boy' picks up a bit of viguor after the first chorus to keep the energy up. It draws listeners in and leaves little room for boredom; a cheap, but effective trick on The Academic's part.
Tracks like 'Bite My Tongue', 'Television' and 'Why Can't We Be Friends' pay homage to their indie progenitors with blatant influence from the sounds of Neon Trees and Vampire Weekend. Following the solid groundwork put in place by the three staple singles at the beginning, The Academic grant themselves the freedom to explore and expand in these final tracks. After playing it safe, The Academic take this new found liberty and implant a promise of greater things to come, a taster of their maturing sound.
As a debut, the album can stand proud alongside its contemporaries, at points even overshadowing the old-guard of Irish rock who long ago began to go stale. Tales from the Backseat has a sort of simple brilliance; a clash of realities, wrapped up in the allure of adolescence. Christine Costello