Features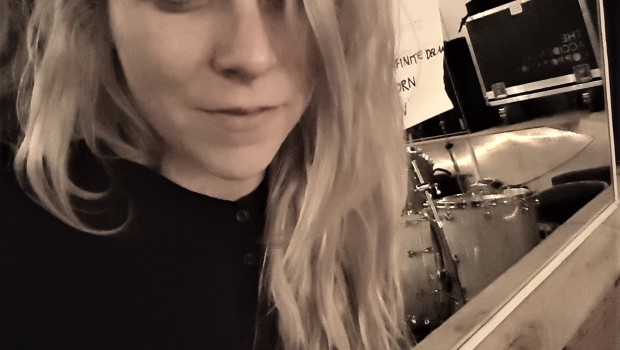 Published on March 6th, 2018 | by Loreana Rushe
0
Caroline Cawley – A Promoter's Perspective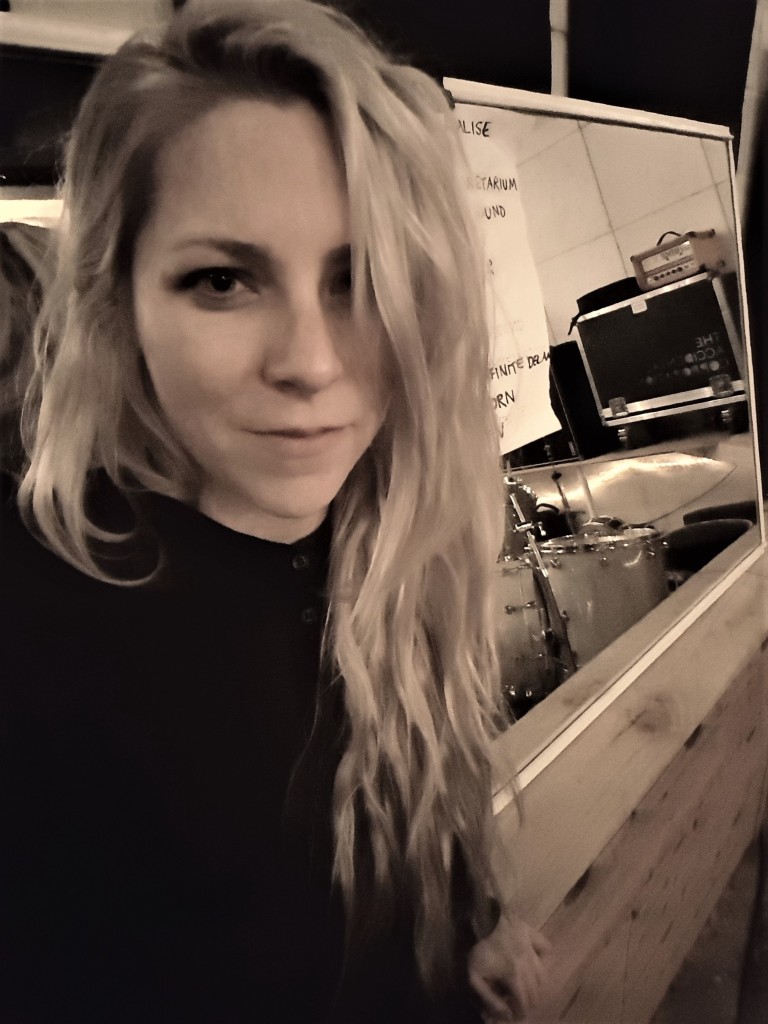 Caroline Cawley reflects on her time working as a promoter for Club AC10 and DJing in Dublin. She currently lives in the UK and plays in two bands, Dystopian Future Movies and Church of the Cosmic Skull. 
Whilst holed up in my room (one ear of my Walkman secretly inserted), gazing out across the rolling Sligo fields and 'studying' for my Leaving Cert at the turn of the millennium, the idea of playing my favourite slightly left-of-field alternative rock tunes to a bopping audience would have seemed like an unattainable dream. But ask and you shall receive. After leaving university and settling into our day jobs, it didn't take long for me and my partner in obscure but hummable noise David Flynn to decide that our music needs were not being met by the traditional entertainment that Dublin provided. So we embarked on a run of club nights in 2006 at Thomas Read (now The Oak) on Dame Street and Pravda (now The Grand Social) under the banner of Analog DJs, playing an alternative to the alternative.
As it turned out, we weren't alone. As word spread, our Thursday nights became popular, we collected an ever-growing mailing list of like-minded music nerds, compiled our playlists each week and laboriously submitted them to our Myspace feed. It was a fairly unusual sight to see anyone, never mind a female, mixing Metric with Deftones on a Thursday night around Dublin, so it felt good to be messing with the punters' expectations. Encouraged further by then entertainment gurus for the Thomas Read Group, John and Kieran, you may also have seen us shuffling with slight embarrassment whilst gingerly dispensing 'After Show Party' flyers outside the Olympia after the REM or Arcade Fire run of dates around that time. At these after shows, we tried to give punters on a post-show high somewhere to continue the party with songs they will have heard only hours before, mixed with our own brand of what we (pre-Spotify algorithm!) thought people might like. Analog DJs; serving the music community. We even accepted requests, well, some. Of course a Lucozade dependency (orange flavour) beckoned, as I DJ-ed until 3am while contemplating a few hours' sleep before the early rise for my day job as a primary school teacher next morning. That 4 hour sleep ahead of a day with 30 kids is these days wholly unimaginable as I fill my hot water bottle for a 9:30pm check out!
After a couple of successful years increasing the cd sales of some of Tower Records' more obscure underground rock genres from a sweaty, beer-soaked basement on Dame St, we figured that the next logical step would be to facilitate our favourite bands on the live circuit.
Dublin has always had a great reputation for getting the bigger bands on their arena tours but we wanted to find a way of securing mid-sized touring bands across the water and around the country for the city. We were dead set on promoting the hell out of the burgeoning rock sub-genres we loved the most; post-rock, shoegaze, math-rock and the variations of experimental music that was being ignored up and down the country. London-based label and champions of the above genres, Club AC30, was the first obvious port of call. Dave sent an enquiry to head honchos Robin and Duncan and to our surprise they responded. We were free to use the Club AC30 name to head up our own live music night in Dublin espousing the sort of stuff we played as Analog DJs week after week. Dream come true.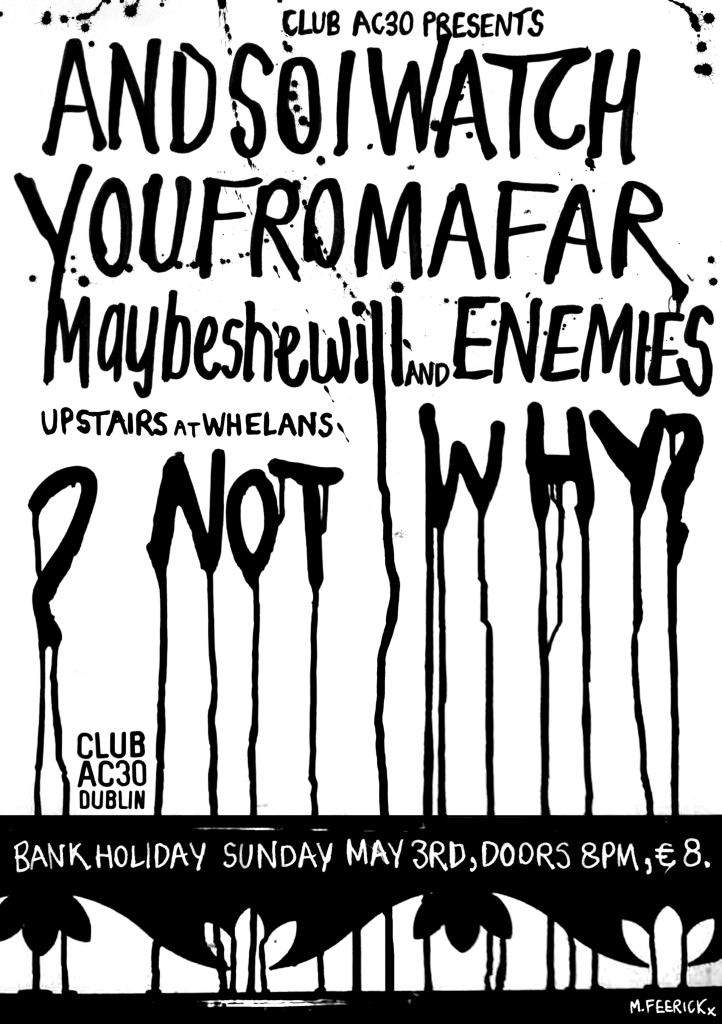 With absolutely zero experience in the field of music promotion but a sufficiency of common sense, Dave and I set about finding those lesser known bands and offering them a way to get to the capital city with the hope of the exposure that comes inherent in a larger audience. After a while, we became known as the Dublin promoters facilitating these niche genres and demand was high. But we started small, using venues like the Boom Boom Room above Conway's bar off Parnell St which then moved to below Murray's on O' Connell St, Radio City on Store St and Twister Pepper, Abbey St for the likes of Twin Kranes, This Is How It Ends, Enemies, Tracer AMC and a then little known alternative rock outfit, And So I Watch You From Afar.
Everyone that we encountered was up for it. Perhaps it was due to the financial buoyancy of the time but venues seemed keen to diversify, keen to take us on and try something new. By the time we were working with Whelan's on Wexford St, we had a few sell out shows under our belts. Despite our then lack of knowledge around the specifics of a touring band's backline, I felt it was a really inclusive learning environment for both of us, regardless of gender. We would arrive to facilitate early load in and sound checks for bands who had travelled far, local bands always shared their drum shells and cabs and through our attempt at good organisation and being there to answer questions as best we could, things always ran smoothly. Except for this one time when one of the support bands ran into Amusement Parks on Fire's sound check to exclaim that someone had just set alight an unoccupied van that was parked up outside of the venue! On fire indeed.
Soon we began to branch out, working with UK bands and bigger touring artists. And So I Watch You From Afar returned to us many times before their nomination for the Choice Music Prize in 2010 just before they signed to international label Sargent House. They were once supported for our show by now defunct British post-rock overlords, Maybeshewill. Dream-pop heavy weights, Cranes, even played our last ever show in 2010 before I relocated to the UK.
One of the best things about running Club AC30 Dublin was discovering and working with a wealth of incredibly hard-working and talented Irish bands. Irish artists now flying the flag internationally, Le Galaxie and Sleep Thieves, each played proudly before our homemade AC30 banner. We had our day jobs so we embarked on this not as a business venture but as a way of promoting our favourite bands and making sure they were well paid. At a time when pubs and clubs seemed to have no shortage of cash, small touring bands were still lowest in the pecking order so any revenue we made was spent on printing the posters that Dave designed for us and the rest divided between the bands. That was something we were really proud of. A community was formed. A disparate group converged around the love of these genres of music and people would come to each show because they trusted our bookings, a reliable way of discovering new music.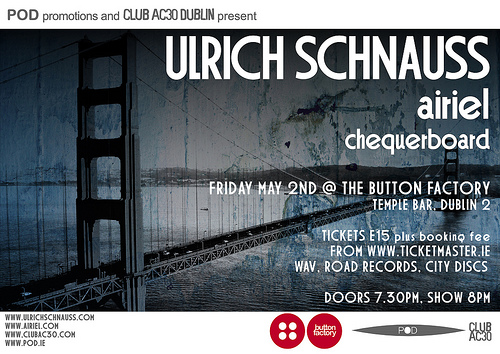 Highlights of our Club AC30 days were Butterfly Explosion's album launch, not since the early days of My Bloody Valentine had Dublin seen a sell-out show for a shoegaze band! Being asked to DJ for Club AC30 at the Explosions in the Sky All Tomorrow's Parties event in Minehead, UK in 2008. Putting on our biggest show for Ulrich Schnauss to a huge audience in the plush surrounds of The Button Factory. My first foray into booking a tour was with Amusement Parks on Fire for a short stint around Ireland. A steep learning curve and one which has taken me to Nottingham where I now book shows and tour manage across the UK and Europe for my own bands; Dystopian Future Movies and Church of the Cosmic Skull (and yes, I've still got the day job!)
Perhaps it was a foolhardy naivety that lead me to brazenly foist demo DJ CDs on unsuspecting barmen in the hope of getting my very own club night slot despite no experience whatsoever. Perhaps it was a youthful and head-strong exuberance that lead me to email bookers in Whelan's and suggest that us, total novices, could put on a show on Paddy's weekend, the busiest of the year and pack the place out. Perhaps it was a 'fake-it-'til-you-make-it' attitude that encouraged me to persevere with difficult bookings despite being plagued by huge anxieties around our initial shows, reaching far beyond my comfort and knowledge zones. Whatever it was, it worked and I felt in no way hindered by or conscious of being a woman in an industry traditionally dominated by men, maybe a testament to our innate Irish inclusivity. What did I learn? Believe in yourself and the depths of your passions, the rest will come easy.