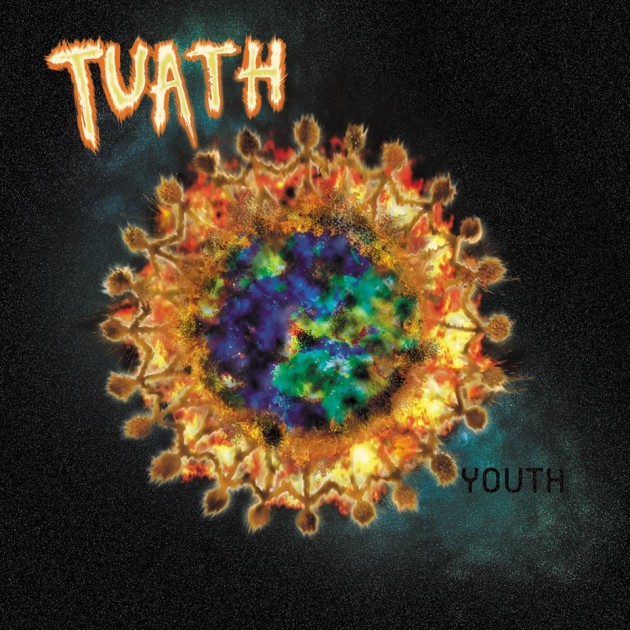 As we've said before, Letterkenny's Tuath are one of the most genuine purveyors of hepped-up psychedelia on this island, with band leader Robert Mulhern having, as we've said before, drawing a consistent thematic throughline throughout the band's extensive output; one that's about questioning accepted ideals, organised ideology, and what it means to be, if anything. Once more, they effuse their worldview with a half-maniacal cackle, half-nihilistic-shrug, helped along by its kitchen sink absurdist imagery.
Since midway through last year, they've been drip-feeding singles from their latest EP, Youth, which we're delighted to exclusively premiere here today, on its day of release. It's launched upstairs at Galway's Roisin Dubh tonight, with support from Any Anything and New Pope. More details here. They're also set to play Dublin's DBD Venue on March 30 alongside Wild Rocket & Percolator.
Youth was recorded by Tuath & Scott Carlin, and produced by Shammen Delly and the band. While it broadens Tuath's horizon with its dalliances with somnambulant post-punk, vaporwave and riffery, their blood very much remains loyal to the psychedelic trip-hop for which they're beloved. Here are some words from the band for context:
"Youth" is a reflection on growing older and wiser in the same world in which "You can be whatever you want to be" was uttered to you by your parents as a kid, only for you to realize far too late that this was a bullshit statement that doomed you for your entire life thus far. This EP is about picking up the pieces from that, and apologizing to the little child inside of you for all the fuck ups you have made in life that are contrary to all the plans you made together way back before you were disenfranchised. It is also about wanting to kill said child to shut them up from the back of your mind but being unable to… so you give in and just apologize instead".
Stream it here:
While you're at it, watch the video for new single and EP closer 'I'm Sorry Young Man', made by New Pope. Described above, it's a watershed moment for Tuath that cranks the tension between insular music that's doused in regret & dread, while simultaneously functioning as a very real anthem of empowering solidarity that basks in its reluctant acceptance of the difficult truths of coming-of-age. , that ultimately unifies and underscores the personal significance of Youth. All in no more than one phrase.