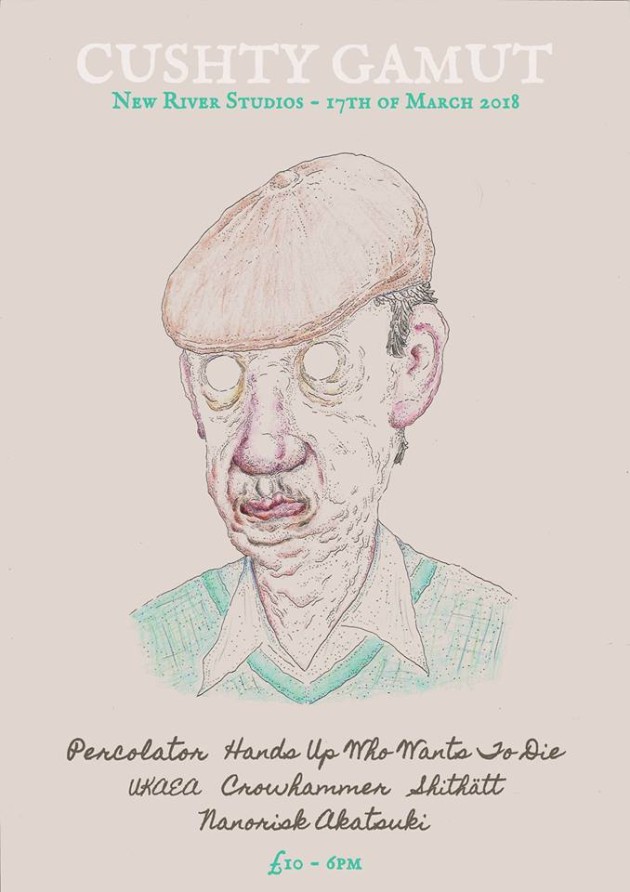 In the kind of lineup we'd kill for back home, London is lucky enough to bear witness to a St. Patrick's Day celebration that we'd hold our watch to, packed with fiercely singular hibernophiles & noteable outsiders. It's the first edition of the national stereotype-subverting Cushty Gamut, and takes place at New River Studios, Ground Floor Unit E on the Eade Road.
Five live acts perform in the main venue, comprising four of our own who've made the trip across the pond. They are:
Cork cosmische, drone voyagers Percolator – who released our Irish album of the 2017, Sestra.
Dublin noise rock quartet Hands Up Who Wants To Die, who've returned recently with new frontman Rory O'Brien – listen to them on Bandcamp.
Fantastical, narrative-driven Dublin sci-fi/fantasy stoner krautrock act Crowhammer – check their Bandcamp.
Ballina post-punks SHITHäTT, who've recently released their debut EP.
Rounding out the live act bill is modular-based French drum-led one man band, Nanorisk Akatsuki – check out some of his live footage here. Solo drone & noise sets come from Sam Edwards and D'Angelus in the barroom, followed by live techno from UKAEA and Blayd 'n Jay-ziz.
Admission costs £10, with tickets available here or on the door. Doors open at 6pm.