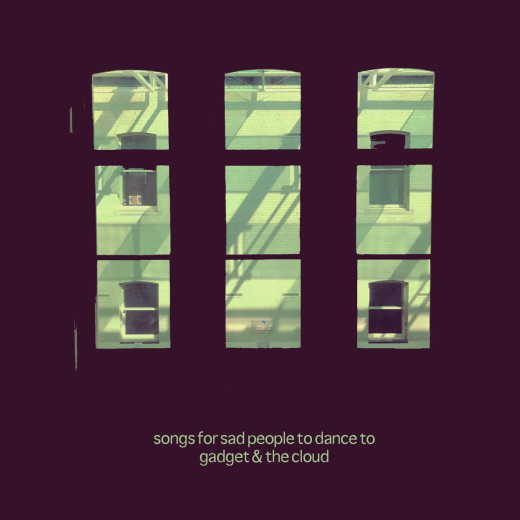 The night is over. The pub is closing, the lights are turned on and the bartenders are ushering you out. Hopefully, you have friends in tow. It can be a welcome relief, the nearing prospect of sleep after a long night on the booze, on the floor, dancing to the sounds played at decibels too high to be comfortable on the ears. For others, the end of the night – after the afterparty is fizzled out – brings with it a stunted sadness of sorts, a sort of melancholy spurred on by the early whisper of a hangover.
This particular sadness is largely the inspiration for Cork-based producer Kelly Doherty's Gadget and the Cloud, whose debut album Songs for Sad People to Dance to feels dedicated to this very feeling. How does one arrive at the stance of creating music for this purpose? Let's reflect.
Gadget and the Cloud released her debut EP October 31st in late 2015. It was a minimal, subdued affair which focussed on atmospheric layering and delicate sounds. Her latest release builds on the core elements of that debut, expanding into a body of work that is more melodic and complex than its predecessor. A collection of thoughtfully curated tracks, Songs For Sad People To Dance To carries itself on a wave of chilled out, understated beats.
Opener, '3600 Seconds' softly coaxes the album into play. A distinctly modular and repetitive riff becomes more dense and layered until a lulling percussion emerges, giving the track greater substance and a steady beat. A recurring motif imitates the abrupt strumming of strings played over and over until the halfway point, when the song is driven further by a noticeable presence of bass. The track winds down slowly with a distorted, echo-like sound fading it out, rolling into the next cut, 'Melting'.
Much of the songs on the album have the same components, which binds them together and give the album a recognisable consistency. It is ambient and electronic, laden with samples of everyday sounds combined with airy yet subtly complex arrangements. The stronger tracks on the album, '3600 Seconds', 'Always' and 'Continue', carry the weaker numbers. Would the stand-out tracks on the album have made a stronger EP, rather than diluting them with a larger listing of songs? Perhaps. But then, the album's length allows the special moments a greater space to breathe, which is certainly welcome.
Where October 31st was a tantalising introduction to Gadget and the Cloud, it set the foundation on which to grow and to expand. Well grow and expand Doherty did with this album. The songs are fuller with sound and more detailed in nature. There's a more apparent presence of percussion, which grounds the album and gives it structure. With this added experience, this album reflects the artistry displayed in her EP with much greater clarity.
Self-described as "sad music" and "sad beats" on her social channels, the word "sad" surrounds Gadget and the Cloud's output. While Songs For Sad People To Dance To is sombre and reflective though, it is uplifting and bright in parts too, proving that while it may be branded as "sad", that does not mean it is without hope. Shannon McNamee