News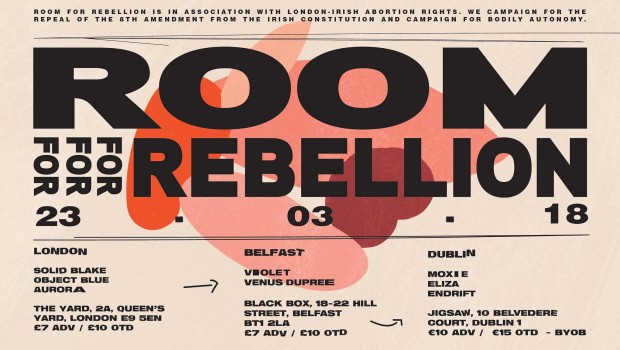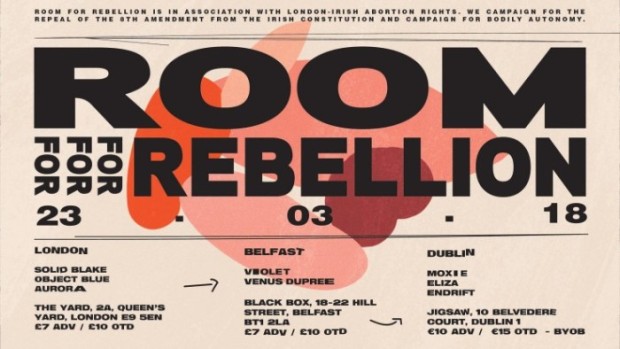 Published on March 20th, 2018 | by Eoin Murray
0
Room For Rebellion will host parties in three cities this Friday in aid of reproductive rights campaign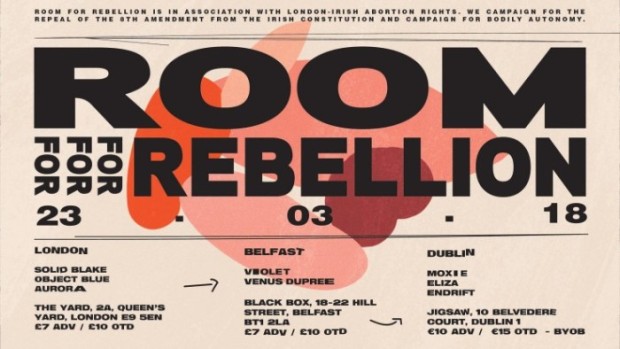 Irish "Political Party" Room For Rebellion will return this Friday 23rd March for three parties spread across three cities, all in aid of the Irish reproductive rights campaign.
The parties will be held in The Black Box in Belfast, Jigwaw in Dublin and The Yard, Hackney Wick in London respectively, with each event featuring a superb line-up of female DJs. In Belfast, local DJ Venus Dupree will join Lisbon's Violet in providing music all night long while at Dublin's BYOB party in Jigsaw proceedings will be in the hands of Endrift, Eliza and NTS resident Moxie.
For London's party in Hackney Wick music will come courtesy of Solid Blake, Object Blue and Aurora.
As the referendum regarding repealing the 8th amendment draws closer (it's expected to take place in May), the pro-choice movement continues to champion the importance of bodily autonomy and the right for women to access access free, safe and legal abortion care. Groups such as Room For Rebellion, whose events in the past year have helped to raise money for pro-choice initiatives, are increasingly vital in encouraging people both home and abroad to become actively involved in fighting for reproductive rights in Ireland and Northern Ireland.
To learn more about Room For Rebellion, read our interview with the collective here.
Room For Rebellion work in association with the London-Irish Abortion Rights Campaign.
For more information on the parties this Friday visit the Facebook event here. Tickets for each can be bought here (Belfast), here (Dublin) and here (London).