Features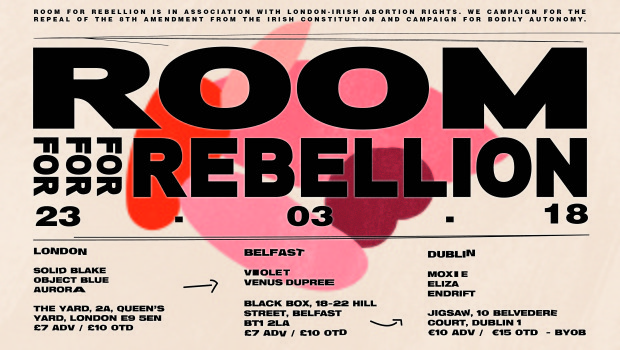 Published on March 8th, 2018 | by The Thin Air
0
Political Partying: An Interview with Room For Rebellion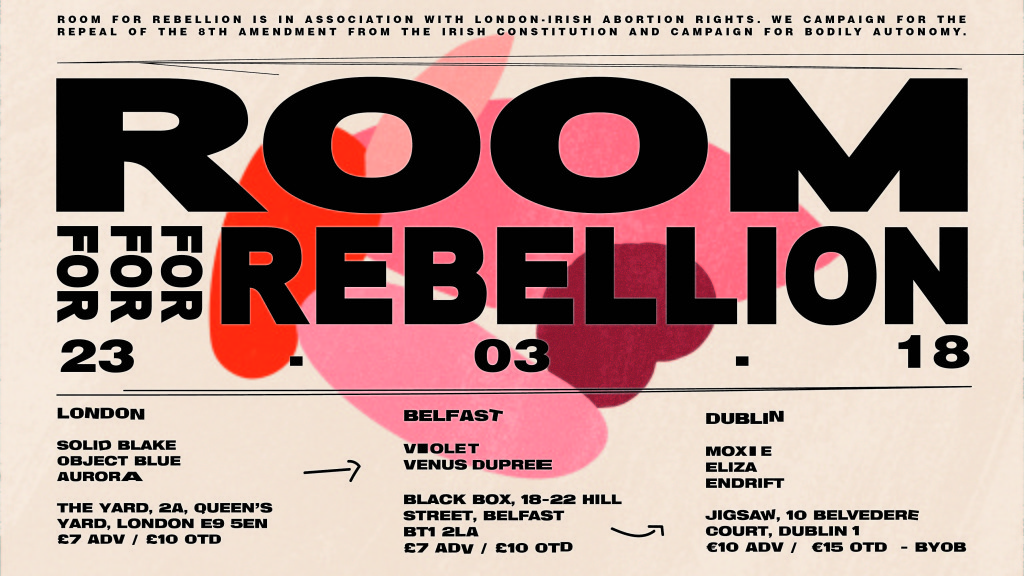 Ahead of its next takeover in London, Belfast and Dublin on March 23, we talk awareness, action and momentum with Jess Brien, Anna Cafolla, Isis O'Regan, Hollie Boston and Cait Fahey of Room For Rebellion, a "political party" who host synchronised events in aid of Abortion Support Network.
Go here to buy tickets for Room for Rebellion
Hi guys. Take us back to the roots of Room for Rebellion. When and how did it come about?
Room For Rebellion was first set up by Isis who felt implored to do something about the state of women's healthcare in Ireland. Anna and Jess then kickstarted things in Northern Ireland, where it is in theory life imprisonment for women who have an abortion. What really brought our laws to light was the death of Savita in 2012, and later, when the two housemates in Belfast reported a women procuring and using abortion pills for her own termination to the police. Women still face court this year for using and distributing abortion pills. People are continuing to suffer under outdated laws and practices.
We're inspired by lots of local groups and campaigns – LIARC, ARC, Alliance for Choice, the Repeal Project. The conversation needs to be as big and vibrant as possible to reach as many people as possible. We felt Room For Rebellion's ethos of political partying was a really good way of creating more spaces where people can talk and learn and party with shared values about body autonomy.
We've worked together on several nights now raising money for abortion rights, we've done radio, DJ-ed, and added to the dialogue for body autonomy as much as we can. For us, the dancefloor is somewhere that can spark activism, go out into the world and do more from there!

How many of you are directly involved in the running of Room For Rebellion?
Isis O'Regan and Hollie Boston boss the London nights, whilst Anna Cafolla and Jess Brien look after Belfast along with Cait Fahey in Dublin. So in total there are five of us running the show across London, Dublin, and Belfast.

You're based in different parks of the UK and Ireland, but one assumes that rather than a hindrance, this has helped in terms of organising?
Jess Brien: We have worked our long distance relationship well! Like any long distance it's all about communications, so we have a lot of whatsapps, google docs, facebook messages, emails daily! Isis is awesome at keeping us all in shape and ensuring that we are on schedule. But it's a lot of phone time to ensure we are all on the same page, with some trips to London where we all meet together. Those are always pretty great. We also all come from different parts of the creative industry – music, PR, journalism, communication, so we've quite a similar way of thinking and wavelength.
You're hosting a triple event spanning London, Dublin and Belfast on March 23. But before getting on to that, tell us more about your outings to date and how they went down.
Isis O'Regan: I set out the nights to create a community and support network and they've really grown from the first sister parties in London and Dublin. Live streaming the events into each other, the idea was for the rooms to be extensions of one another – I wanted everyone to see and feel the solidarity in real time. It was a real blast and wouldn't be possible without the guys at Keep Hush who headed up the streaming. It was really powerful to see the dance floor in Dublin going off and at the same time in London too.
From there the party really stepped up with London and Belfast next, the crowds were bigger as the word spread about what we were doing. Since then we've had a solo night in London too and it was absolutely rammed, Clair killed it – when the lights came on no one would budge from the floor. The atmosphere has always been class – vibrant, inclusive and determined to enact change.

You've a stellar bill organised for March 23. Tell us about the Irish line-ups and what we can expect from Black Box and Jigsaw on the night.
Anna Cafolla: We have Lisbon's best, Violet, making her Irish debut with us in the Black Box. She smashed it with last year's jungle-inspired 'Togetherness' EP. Violet has a wonderfully politically-charged vision of dance music that plays out in and out of the club, so we're very excited to have her on a night that supports women's reproductive rights and body autonomy. Support comes from GIRL, amazing local heroes that have supported us from the beginning and do inspiring work to represent women, queerness, and the best of beats on the NI scene. We hope to bring people together for a night that celebrates liberation and bodily freedom.

All funds raised on March 23 will be going towards fighting for the reproductive rights of Irish women. With the Irish referendum expected in late May, what do you think are now the main challenges in fully achieving your goal, and that of everyone who supports the Repeal cause?
Cait Fahey: First of all it's great news that finally, a referendum will be held on this embarrassingly out of date part of our constituency.
Mostly I feel very positive about the outcome. I believe that Irish people want change and that we are a compassionate nation that will decide to provide the healthcare that women need in their own country.
I think the main challenges would be making sure that as many people as possible come out and vote. Our parties fundraise for the fight for a woman's reproductive rights but we also generate awareness. In the UK perhaps not so many people are aware of the different laws that apply to women in The Republic of and Northern Ireland.  
After the outcome we still need to fight for the rights of women in Northern Ireland! So the party is not over!

Fundraisers such as R4R have played a huge part in galvanizing momentum for the Repeal movement. Of course, people will want to support you. Apart from showing up on the night, how else can they do that?
Hollie Boston: With the referendum coming up in May, this is a particularly important time for people to support the Repeal campaign, not just at home but educating and pushing the message in the UK too. The London Irish Abortion Rights group have started a campaign #HomeToVote to encourage those able to, to travel back to Ireland to vote in the referendum, and if they can't travel home or are ineligible to vote, how they can campaign for people who can. It sounds basic, but talking to people about the Repeal movement is vital too. On a practical level, people can donate to the Repeal Coalition, a growing alliance of over 100 organisations, who, among other areas raise awareness of why and how the Eighth Amendment should be repealed, people can donate €8 a month to ensure they can do this successfully.
Keep up to date with all things Room For Rebellion here