Features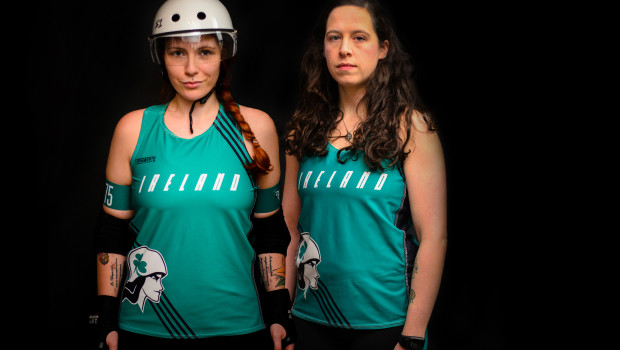 Published on March 6th, 2018 | by Loreana Rushe
0
Smells Like Team Spirit: Roller Derby Ireland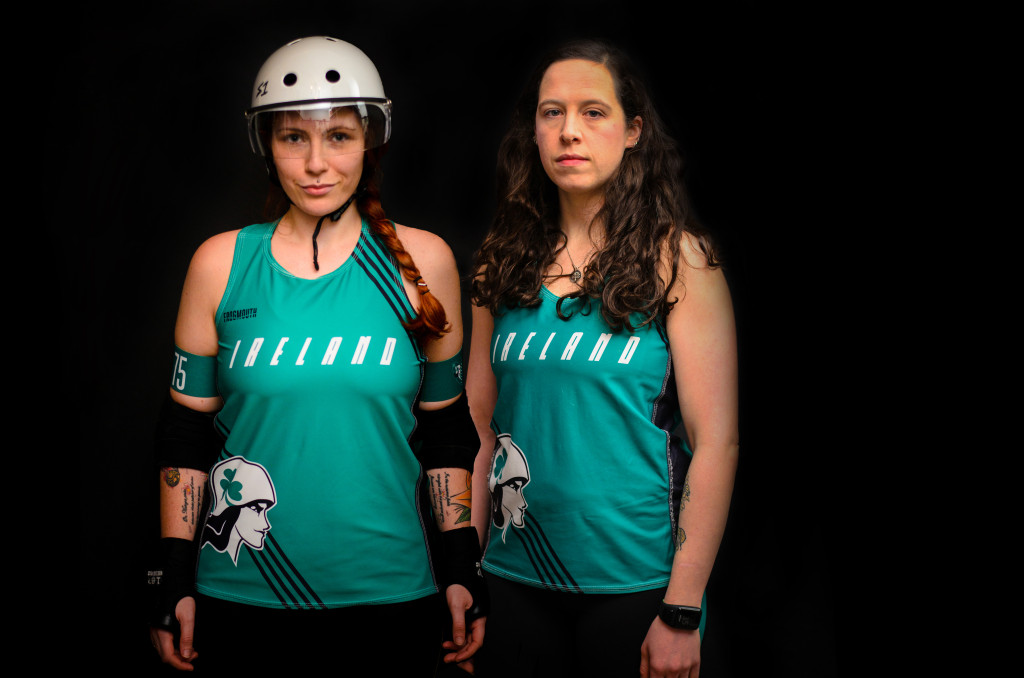 Roller Derby has long evolved from fishnet tights and elbows in the face to a well respected fast paced game of endurance, skill, strength and smarts. Barbara Robinson and Oonagh 'Mauler' O'Flaherty of Team Ireland share their experiences fresh off the track from the roller derby World Cup in Manchester. Photos by Sara Marsden.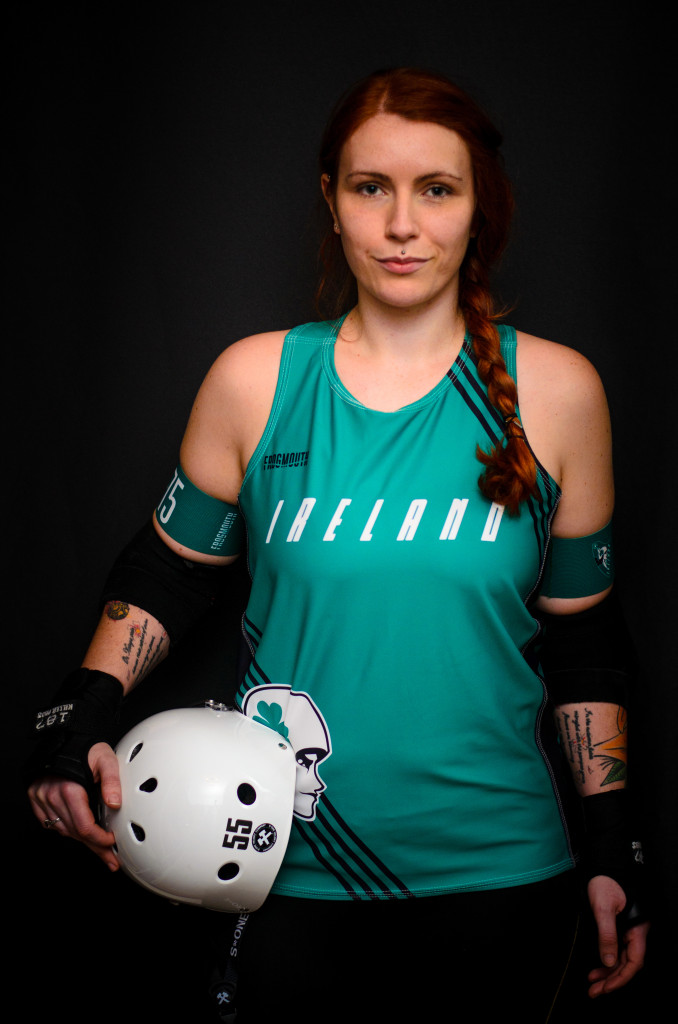 Barbara Robinson
When I joined the Belfast roller derby team 7 years ago it was just for a fun new way to keep fit and learn how to skate. Before roller derby, I was very shy and had very little confidence. I had no idea how much I would grow to love the sport, especially the physicality of it. Some hear about the sport or see a game and, although they appreciate the abilities of those playing, they maybe think it is too aggressive. When I've mentioned this is one of my main reasons for enjoying it as much as I do, they seem surprised, yet if I was a man this wouldn't necessarily be the case. It is this aspect of roller derby that has made me feel strong and learn to love the body I'm in. Although there is always a risk of injury in contact sports, that's usually the last thing on your mind. Taking ownership and having tenacity on track has led me to become more confident overall, bringing that assertiveness into all other aspects of my day to day life.  Being part of a strong, diverse group of women has been very empowering. Seeing people from all backgrounds working together with the same passion, lifting each other up when they need the extra support, and facing new challenges together as a team has been one of my favourite sides to roller derby.
It is very unique compared to other sports. Sadly, in majority of cases, men seem to dominate and are taken more seriously. Women led the way in roller derby, but all genders seem to have an equal role and are treated with the same level of respect. No one cares what you're wearing or what body you were born with. You don't have to cover yourself in makeup or wear ridiculous outfits to make it more appealing to the spectators, but if you do want to it doesn't matter either. You should only be judged by your athletic performance. You should be able to do whatever makes you feel confident in yourself and not for others. Celebrating women's achievements is incredible, and right now the awareness is needed, but I can't wait until equality is so part of our everyday lives that we celebrate human achievements and not have to make a point of separating genders as much as we do now, or stereotyping them, so that everyone gets the recognition they deserve.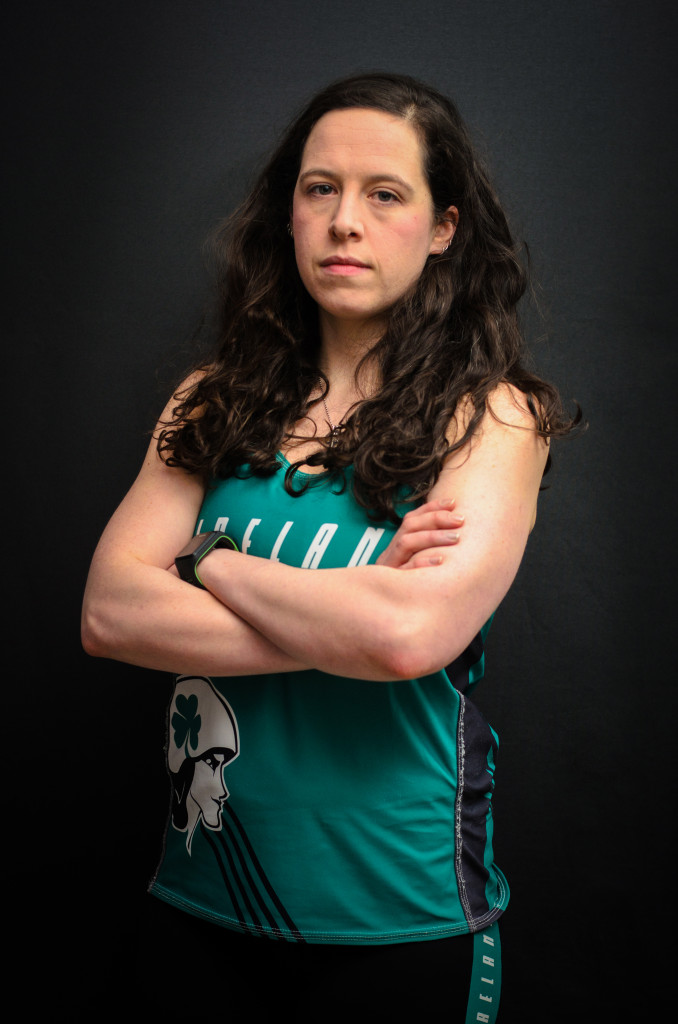 Oonagh O'Flaherty
For me, being a female in the sport world is an exciting experience at the moment, especially in the current climate of female equality being a hot topic. I got into derby after a friend from Manchester suggested I might like it and should keep an eye out for a Belfast league, the rest is history. I started with Belfast Roller Derby in 2012 and represented Ireland in the Roller Derby World Cup in 2014 and 2018. My world cup training is where I really learnt about the hard work involved in being fit, healthy and ready for anything. It has been an incredibly rewarding experience. The Roller Derby World Cup in Manchester (UK) in February this year was the largest attended roller derby event in the world ever. The event was streamed in the UK on BBC online which is an incredible boon for our sport. There were many, many, celebrations at the event; celebrations of indigenous women, celebrations of strong women, celebrations of independent women, celebrations of tall and small women, celebrations of intelligent women and I get goose bumps just thinking about having been a part of it.
My journey in roller derby has been amazing so far and I would recommend getting involved in your local club in any capacity, even if you don't want to skate! I am often asked if the sport is rough and if I get hurt a lot. Roller derby is much like any other contact sport though and injuries do happen. Roller derby has empowered me to look after myself and to know how to do that and in turn I've been less prone to injury and I've completely changed how I feel about my body and what it means to be a strong female. The most recent incarnation of roller derby has strong foundations in female empowerment so in a way I've been spoilt since I started playing because I've always had support from anyone involved the roller derby community. I can understand how frustrating it must be for my peers in what are considered the more 'legitimate sports' to be recognised for all their hard work and dedication. I see positive steps towards there being more equality in women's sport but there's still a lot of work to be done.