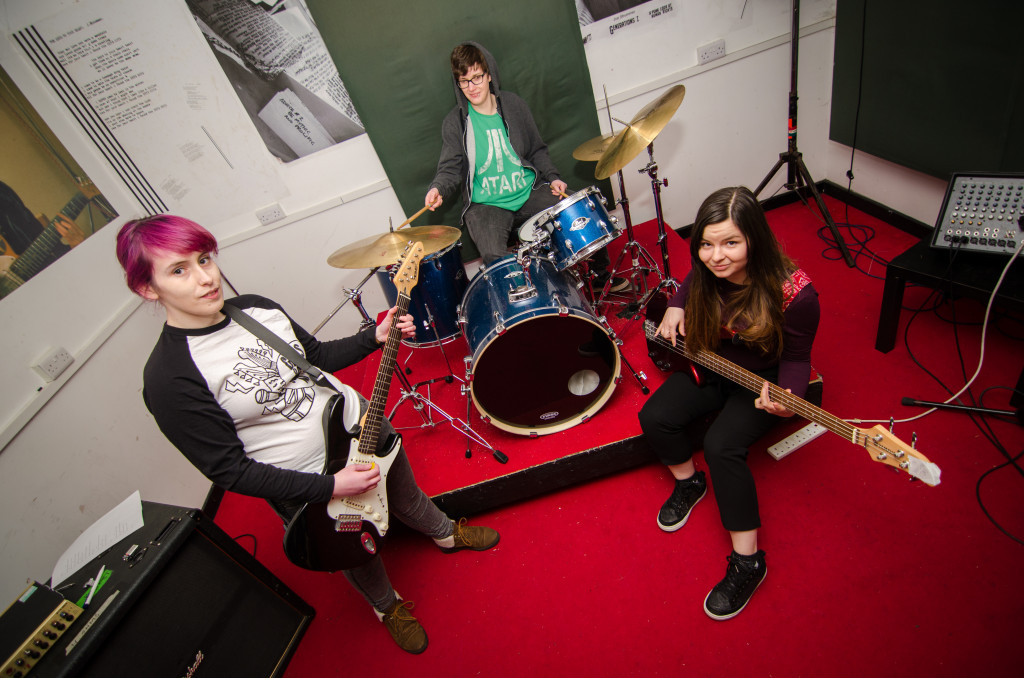 Established in March 2016, Girls Rock School Northern Ireland offers workshops and mentoring in electric guitar, bass, drums and vocals to women and girls of all ages. Taking inspiration and mentorship from it's sister school Girls Rock School Edinburgh, it was the very first collective of its kind in the whole of Ireland. Since then, there is now also Girls Rock Dublin; just as Girls Rock camps and schools have been popping up across the world since the very first camp was held in Portland in 2001. GRSNI welcomes participants who self-identify as female, trans and/or gender non-conforming; they are a part of a global movement that is united by the common desire for gender equality in the music industry.  They are a volunteer collective, with each of the tutors giving their time all in the name of "empowering girls and women of all ages to riff, rock and roll!"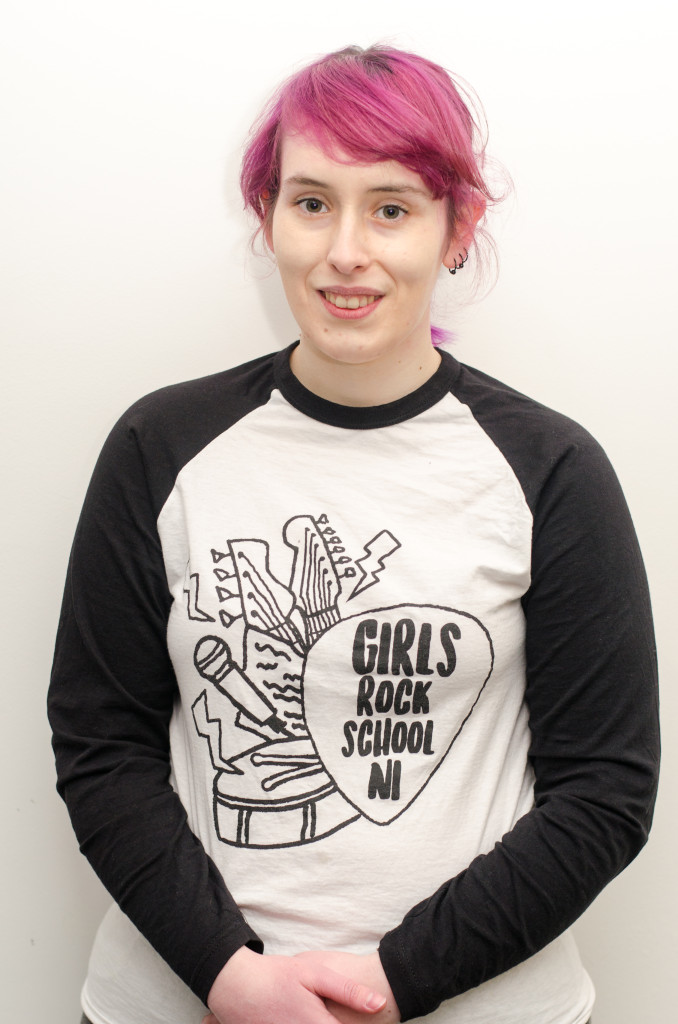 Shannon Delores O'Neill (founder and co-ordinator/guitar tutor):
When people ask me about why I wanted to set up something like GRSNI, I usually joke that I saw Richard Linklater's School of Rock at an impressionable age but really my mind always goes back to two memories from my teenage years. The first was in Spring 2009; I was in a guitar class with around twenty other players, two tutors, and I was the only female in the room. I'm 25 now and I was 15 then, and I knew it was silly; there was no valid reason in my mind to suggest why such a difference in numbers should exist. After all, I didn't load up on my body's oestrogen in order to play hammer-ons (and I was sure the boys didn't have to tap into their testosterone supplies to bend strings either)!
The second memory is from early Summer 2011 when I was waiting anxiously in a room at a music school, about to sit a Rockschool electric guitar exam. The door opened and in walked the examiner. Here was something I hadn't experienced in my six years of playing; a woman in a position of authority regarding the electric guitar. I was a 17-year old girl and finally I'd encountered, not just another admirable male role model, but an example of a possible future-(female!) self. Even if she didn't give me the distinction grade, I was inspired.
Throughout my school years as a 'girl who played guitar' I remember feeling the sense of difference and while it was sometimes a lonely experience (bar a few other girls I met who played guitar, bass and drums), I wasn't put off by it. I wasn't put off because I loved the instrument and how playing made me feel, the friends and bands it brought me and I saw my own future possibilities through role models from the adults (especially the women) I saw playing or teaching.
GRSNI provides the opportunity for girls and women to learn, improve (or even just reawaken) their instrument or singing skills in a non-pressured or prejudiced environment of female peers. We place just as much importance on expression, confidence-building and enjoyment as we would on musical skill. With this environment and ethos – and additional aspects such as the reduction of financial barriers (for example, participants always have the option to pay what they can afford) –  we really believe that GRSNI is helping to increase the presence and confidence of women in the music scene here. This increase in presence should lead to a reduction in tokenism and help to normalise the 'non-male' in music; that it doesn't need to be comment-worthy that a band has only non-male members, or that a band has a kickass lead guitarist who isn't male, and so on.
Ultimately, I like to think of the 'Girls Rock' idea as being as simple as this: You're more likely to stick with something if you at least try it out first. If you try and at the same time you are actively encouraged and reassured during the process you're more likely to stick with it and actively pursue something with it. The additional element of females learning from other females is an incredible and empowering bonus.
I'm thrilled that GRSNI is growing with each month and I want to thank all those who help us in any way; your support and passion is key to helping us do what we do. I look forward to what we have planned for 2018, especially our first ever Girls Rock Camp in April (which you can apply to here).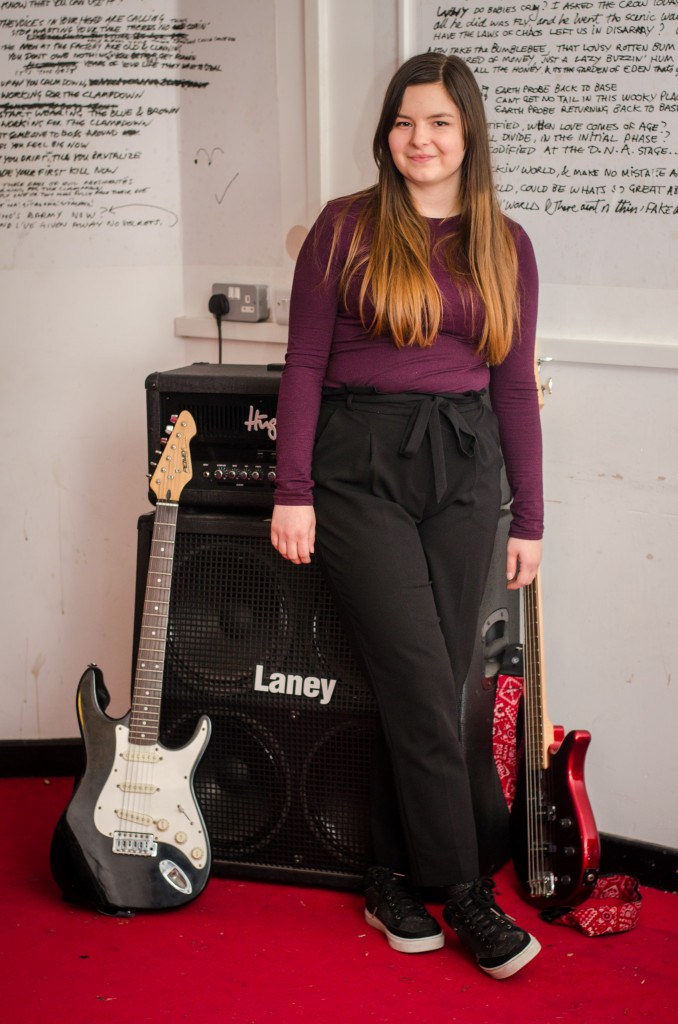 Beverley Boal (graduate/guitar tutor/treasurer): I signed up for GRSNI as an excuse to pick up my long-neglected electric guitar, and I'm so glad I did! I learned so much, gained confidence, performed in front of people (scary!) and had so much fun. The tutors are encouraging and help us celebrate our own and each others' progress. This creates a wonderful community of women supporting each other, in which you can try new things without worrying about making mistakes or looking stupid.
It has been so important; I think sometimes all we need is a little push and encouragement from friends to do amazing things. I'm so excited to see GRSNI and its community get bigger and do bigger things!
Bethany Crooks (graduate/drum tutor): I joined as a student first and thought it would be an opportunity to meet women with similar tastes to me. Organisations that encourage women to get involved in music are important now when we're constantly seeing musical festivals with a handful of women on the line-up and those women are still objectified. We spend an hour each week with everyone making noise in an environment where all the girls are encouraged. Every week I saw girls surprise themselves playing songs by No Doubt and Bikini Kill, which they said "I could never play that!" It's just a blast!
Kate Cannon (bass tutor):
For me, Girl's Rock School has highlighted the importance of not only learning an instrument but nurturing the confidence and momentum to keep at it! I've seen this empowerment go beyond music where women from different ages and backgrounds have found a common passion to share and create together. I'm really excited for the camp in April because the opportunity to teach and provide young women with the tools they need to continue their musical adventure and add to the next generation of musicians is really important to me.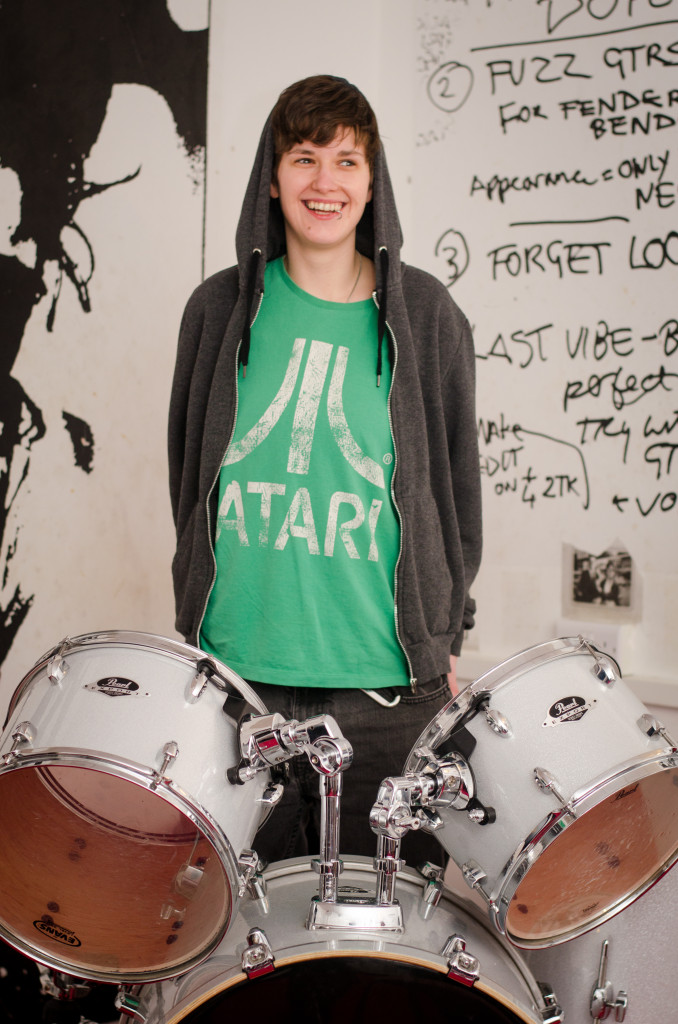 Kerilee Hunter (drum tutor):
I first heard about GRS from my friend Kate, one of the bass tutors. I loved the concept and jumped at the chance to get involved. I think GRS is important on a lot of levels because each person who comes along gets something different out of the experience. Some want to take their playing to a new level and for some it's about gaining confidence and trying something new. I can only hope the students are having somewhere close to as much fun as we are!
Alanah Smith (zine-maker/vocal tutor/fundraising and social media): I was involved in the very first GRSNI session at Women's Work '16. GRSNI for me is all about building confidence- not just for our students, but the tutors as well! It has helped me grow so much personally. I've loved seeing our graduates perform, and even become tutors themselves. The main focus of GRSNI is participation, and that no matter if you've never even played before, you can do it too.