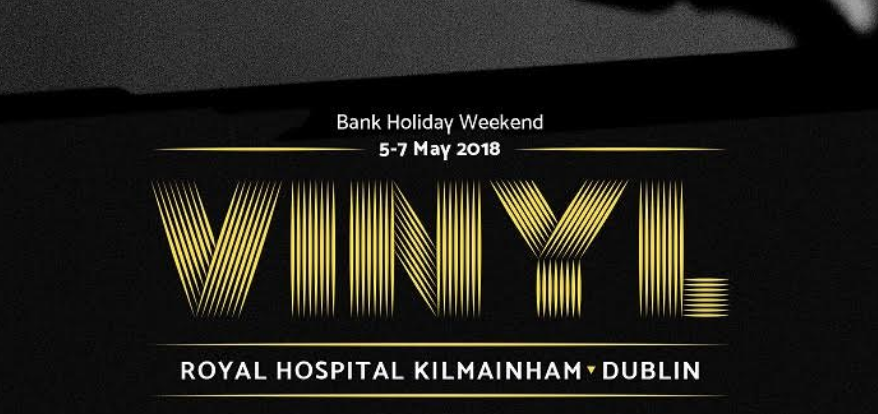 Billed as a unique music culture event, VINYL is a brand new, three-day event set to be held on the May Bank Holiday weekend at the Royal Hospital Kilmainham in Dublin.
A self-proclaimed salute to all things vinyl, it will present "an immersive theatre of the mind comprising musicians, producers, designers and filmmakers specially convened to celebrate the rich history and enduring legacy of vinyl, its landmark recordings and key personnel, the groundbreaking labels and studios that fostered such talent, with contributions and insights from some of its most perceptive champions."
Revolved around specially-programmed talks, panel discussions, curated collections, music performances, album playbacks, art exhibits, pop-up stores, signings and equipment showcases, the inaugural showcase will play host to the following:
Snow Patrol, who will present an exclusive playback of select tracks from their forthcoming album Wildness with Edith Bowman.
Shane MacGowan, in conversation with Stiff Records' Dave Robinson, will consider his favourite records and how they have shaped him as one of the great chroniclers of our age.
Chrissie Hynde will chat with Pete Paphides about The Pretenders some forty years on, whilst Bob Geldof will discuss the early days of the Boomtown Rats, punk/pop success, international fame, and why he will always be a musician.
Geoff Barrow, in conversation with Cillian Murphy to discuss his career in music, from assisting Massive Attack during the making of Blue Lines to forming Portishead, and subsequently soundtracking films for Ben Wheatley (Free Fire) and Alex Garland (Ex Machina).
Tracey Thorn will discuss her music and writing career in the wake of her latest critically acclaimed album, Record.
Tim Burgess of The Charlatans will wax lyrical about the nature of vinyl and music with his good friend Sharon Horgan.
Noel Hogan (co-songwriter with Dolores O'Riordan of The Cranberries) will reunite with producer Stephen Street to reminisce about the making of the band's debut Everybody Else Is Doing It, So Why Can't We?
Aslan will reflect on their own debut album, Feel No Shame, released some thirty years ago, whilst legendary guitarist Scott Gorham will discuss Thin Lizzy's meteoric rise to prominence, the band's abiding legacy, and their charismatic lead singer Phil Lynott.
James Lavelle will discuss Mo'Wax Records and his time in the UNKLE collective, while DJ, producer, and remixer Andrew Weatherall will discuss his groundbreaking work with Happy Mondays, Primal Scream, New Order and My Bloody Valentine.
Ed Piller (Acid Jazz Records) and the actor Martin Freeman (Fargo, The Hobbit) will discuss their mutual love of mod subculture, its range of influences, its music, and how it informs their lives, not to mention their recent collaboration, Jazz On The Corner.
Simon Raymonde, bass guitarist and keyboard player with Cocteau Twins, will discuss the history and development of his Bella Union record label, as well as the musicians associated with it.
Singer-songwriter and political activist, Billy Bragg, will outline his primary influences in both fields in a career that has spanned over four decades.
Peggy Seeger will draw from her 2017 memoir First Time Ever to speak of a childhood immersed in music and politics and featuring some of the most influential names in popular culture, from Woody Guthrie and Jackson Pollock, to Pete Seeger and Ewan MacColl.
Welsh musician, author, filmmaker, producer and composer, Gruff Rhys of Super Furry Animals will chat to fellow countryman Huw Stephens (co-host of Other Voices) about his search for cultural roots.
Irmin Schmidt, one of the great pioneers of ambient and experimental music, will discuss the history and legacy of Can with the writer Rob Young (Electric Eden: Unearthing Britain's Visionary Music).
Musician, performance artist and writer, Cosey Fanni Tutti will recount tales from her critically acclaimed memoir Art Sex Music, whilst Vaughan Oliver, arguably the most iconic graphic designer of our times (working with the likes of The Breeders, Pixies and Cocteau Twins), will present 'Walking Backwards', a selective exhibition taken from his extensive design archive.
Elsewhere, exhibitions at VINYL will include James Lavelle's 'Daydreaming With UNKLE', Vaughan Oliver's 'Walking Backwards', Peter Boettcher's 'Photographing Kraftwerk', and Rory Gallagher's vinyl collection as assembled by the guitarist's brother, Donal.
And across the three days of VINYL there will also be a Tower Records pop-up store stocked with the back catalogues of our various attendees along with hard-to-source special editions and books, whilst long established Irish hi-fi store,Cloney Audio, will be onsite showcasing their specialist audiophile systems.
Tickets for the three-day event cost 119 and go on sale this Thursday at 9am