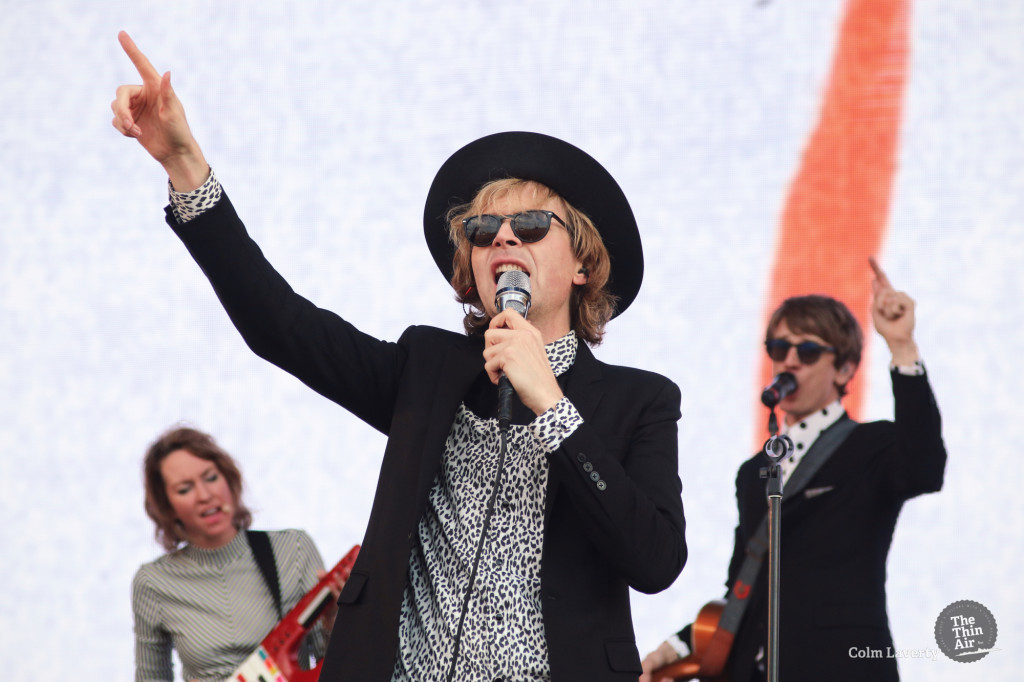 The first signs of 6 Music's leg of the Biggest Weekender have been appearing at venues all over Belfast this last week. Gigs, seminars, panels and outside broadcasts cropping up daily, heralding the 2 days at Titanic Slipways. For day 1 of festivities, the city, bathed in uncharacteristically glorious weather, conspires to show off just when everyone happens to be paying attention. As the flow of people moving through the city and over the Lagan grows, a Cup Final atmosphere begins to build, smiles and easy conversation with anyone willing to respond are the order of the day, and in a happy mob someone always will respond. Tourists telling locals how beautiful the city looks; locals telling tourists where to get good food in return. Tales of those who had made a pilgrimage to cast their vote in Ireland before making the journey north mixed with snatches of Yes supporters – present in large numbers, wearing their hearts on their sleeves, chests, hats and badges – speaking instinctively to other supporters of hope and occasional concern about the result to come. Hugs between relative strangers were not an uncommon sight.
The first performance of the day on the main stage falls to Father John Misty accompanied by the Ulster Orchestra. Josh Tillman and his band cut a very comfortable, almost casual profile on stage; the set builds slowly, barely engaging the crowd as he opens with newer material while the arena continues to fill. He and the band have a good solid sound which sadly seems to overpower the gentler aspects of what the orchestra brings. It isn't until we're three songs deep that the crowd really starts to warm up and feel like a proper audience as material from the back catalogue emerges. By the time he's flirted with the entire ("very attractive") orchestra and played the wonderfully heartfelt and brass-laden 'Chateau Lobby #4' the deal's sealed, the crowd are settled and more than happy to enjoy themselves and Tillman seems more than happy to oblige once it's clear they're on board. Another new song 'Please Don't Die" is a touch downbeat in contrast to its predecessor but well received before the big gun is brought to bear. Finally given room to make a mark with just a voice and piano to contend with, Ulster Orchestra help to deliver a breath taking rendition of 'Pure Comedy' to close the set.
The 6 Music Recommends Stage sits alongside the Main Stage, dwarfed in size by its monstrously big sister stage. Derry three-piece Touts are introduced to a healthy crowd keen to see a band from just up the road. Touts attack, determined to seize such an opportunity in much the same way they grabbed 2017 by the back of the neck. Their pace, verve and boundless energy is infectious. Machine gun drums and a proper twangy, almost ratty bass sound drives everything forwards, the guitars and vocals have a heavy vibe of old-fashioned punk cut with a kind of rockabilly sensibility and are just as loud and ferocious as the rhythm section. In this heat, they are exhausting to watch.
Many are obviously grateful of shelter from the sun in the shadow of the Main Stage, awaiting Public Service Broadcasting and the debut of their four part tribute to the Titanic, the people who built her and those who perished in her sinking. The suite of songs as a whole piece are by turns warm, triumphant, urgent and mournful, a tough sell to a crowd in the blazing sun, the arc and drama of the narrative and accompanying projected archive footage seemed like it could have been perfect for dusk. One can't help but feel an opportunity for something really magic was squandered.  All nerve-wracking debuts dispensed with, the band visibly relaxed as they eased into a sequence of their established body of work, when it comes to bands with heavy prog tendencies who score national treasures as a career, they are the only game in this or any other town. Despite the lack of competition in their particular niche this performance shows they continue to do this very, very well despite struggling to fill the acres of space afforded them by stage even with the game assistance of the Brassy Gents horn section to taking centre stage to engage with the crowd. PSB have a gift for making music not only entertaining but just even a little bit educational, 'Spitfire' and 'Go' being the obvious highlights of a very strong set.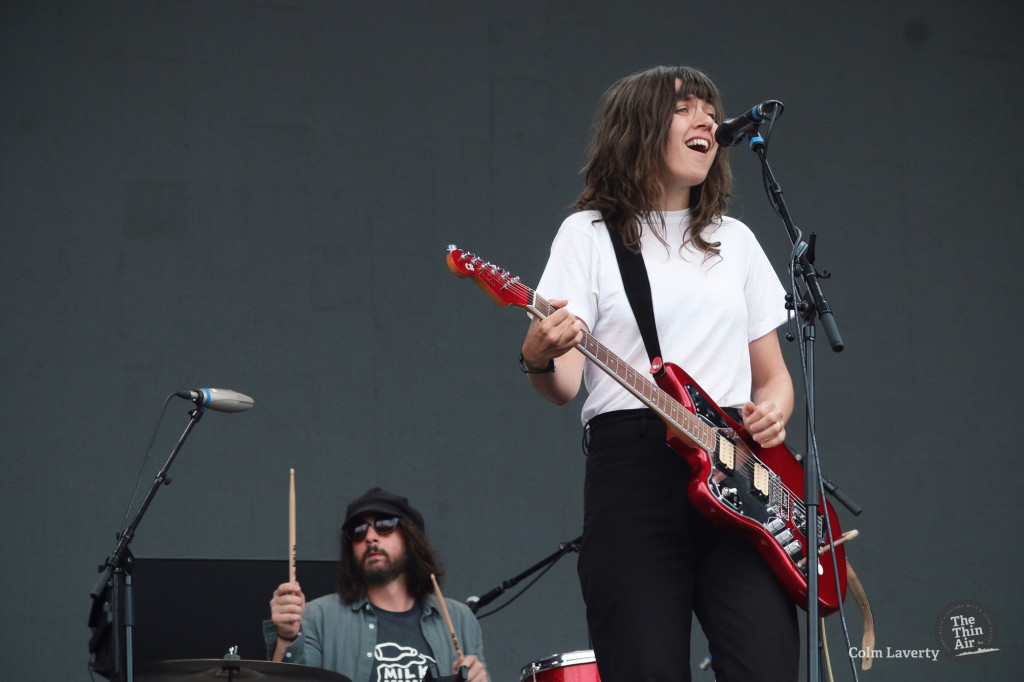 Clouds have begun to appear on the horizon as both Courtney Barnett (above) takes to the Main Stage but there's no pathetic fallacy here. Courtney Barnett always looks and acts like she genuinely doesn't give a stuff what anyone thinks, with good reason it feels. Her confidence when performing makes everything she does look easy and natural which is only underscored by the tendency of her Melbourne accent to make itself known even when singing and despite being fewer in numbers, she and her band comfortably inhabit the cavernous space onstage. Joined by Kim and Kelley Deal on backing vocals for 'Nameless, Faceless', it is becoming obvious that she and the crowd (and the Deals) are really enjoying all this. The set is perfectly rounded off by a driven and noisy rendition of 'Pedestrian at best', and the line "Put me on a pedestal and I'll only disappoint you" makes a liar of Courtney Barnett before giving the jubilant crowd a cheers and departing.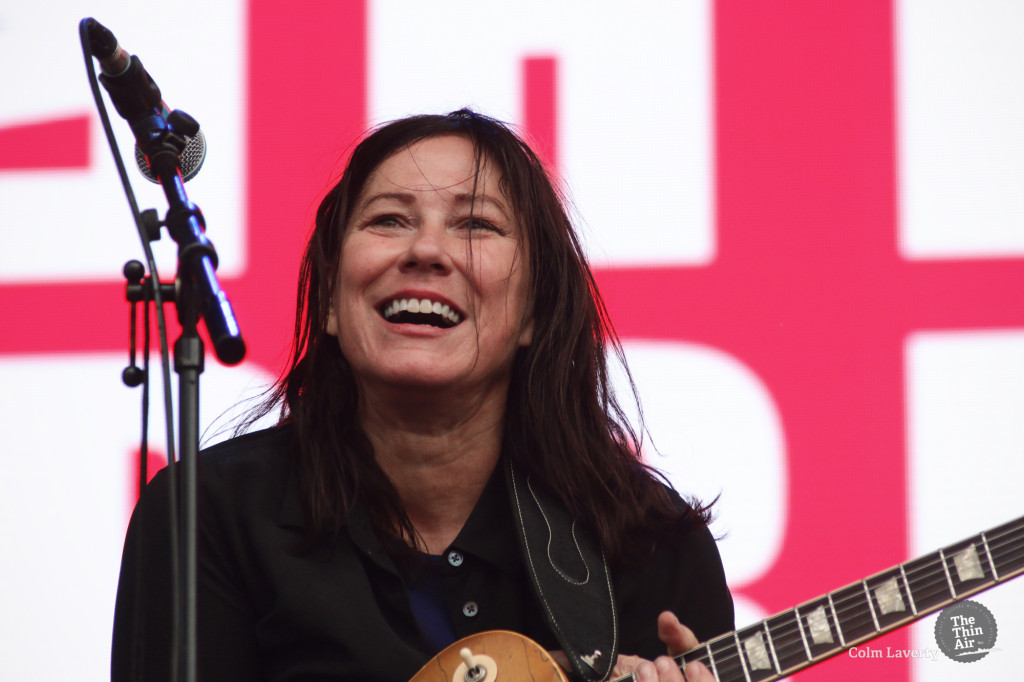 As word that the bars have run out of cider begins to circulate, Kim and Kelley return to the stage along with the rest of The Breeders. It finally feels like everyone with a ticket is now on site and the crowd has become perceptibly larger and noisier. In the 25 years since the release of their classic sophomore album Last Splash, little has changed in the style of their performance; they're all older and possibly even wiser and bounce a little less, but a lot can happen to knees in 25 years. Even that seems to fall away once they start to play, obviously aware of their limited time they rattle through a tight set, alternating between much loved tracks from Last Splash and newer material throughout most of the set. As you'd expect the more famous material is more warmly received but a boisterous crowd is very pleased to see them and more than one man of a certain age is heard declaring/bellowing his undying love for Kim Deal (above) between songs. Courtney Barnett and co are recalled to return the favour of providing backing vocals, reprising their role on the original recording of 'Howl at the Summit', even managing to get badges in support of the Yes vote onstage and in front of cameras, the only example to make it past tight BBC editorial controls all day. A boisterous delivery of 'Cannonball' caps their set wonderfully, welcomed and seen off joyfully by all in attendance.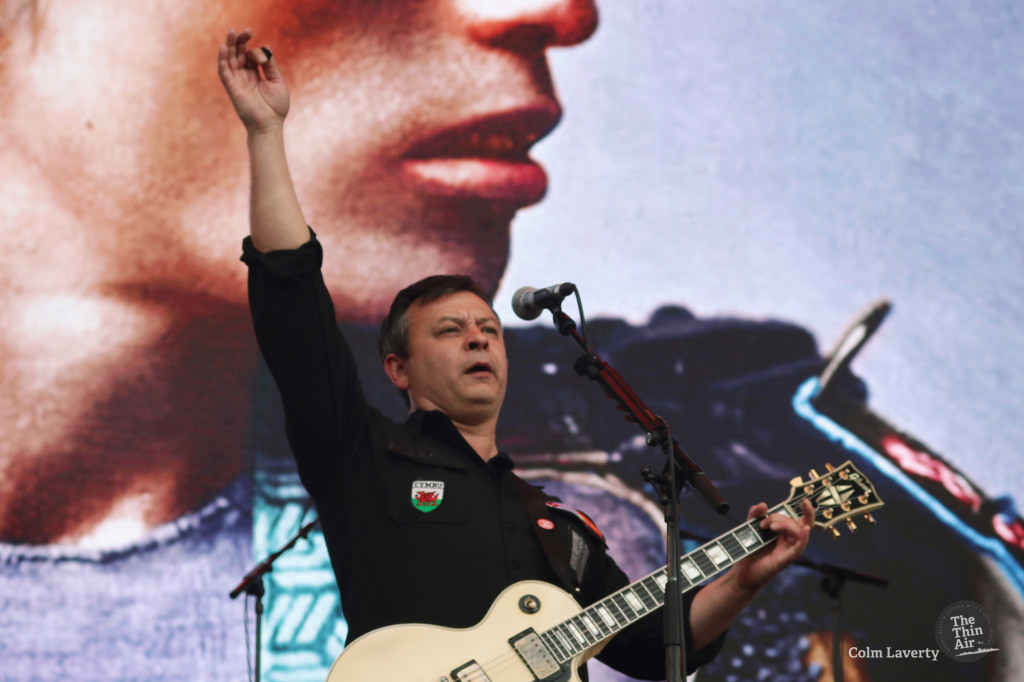 Queues for loos and refreshment seem to have become everyone's biggest concern as the wait for the arrival of the Manic Street Preachers on the Main Stage goes on. On the eve of the festival, their bassist Nicky Wire had been forced to pull out of the performance due to "a serious family illness" but the show would be going ahead, a stand-in being pulled from their road crew. The reduced Manics arrived to an enthusiastic reception from the largest crowd of the day thus far. They are a band which often divides opinion, some simply can't seem forgive them for not sticking to their promise of releasing one album and splitting up all those years ago. Their ability to effortlessly pen songs bearing a truly anthemic quality has always been their greatest strength and it serves them better in a live setting than it ever will on record. Today they brought their biggest and boldest to complement a small handful of tracks from their new album Resistance is Futile. Despite Nicky Wire's absence, an assured performance bringing the crowd together. While Nicky's traditional whirling and twirling presence is obviously missed, the show they put on is engaging and at times electrifying, their older material still sounding fresh and newer efforts not sounding at all out of place alongside them. Saving their very best for last they round off their performance with a majestic delivery of 'A Design for Life' the throng in full song with them. As they depart the first cool evening wind blows in from the direction of the docks.
As the day wears on Yes supporters continue to look to each other for support and reassurance. Seeing people passing each other, noticing a supporting slogan or badge and holding up their crossed fingers to each other is far from an uncommon sight.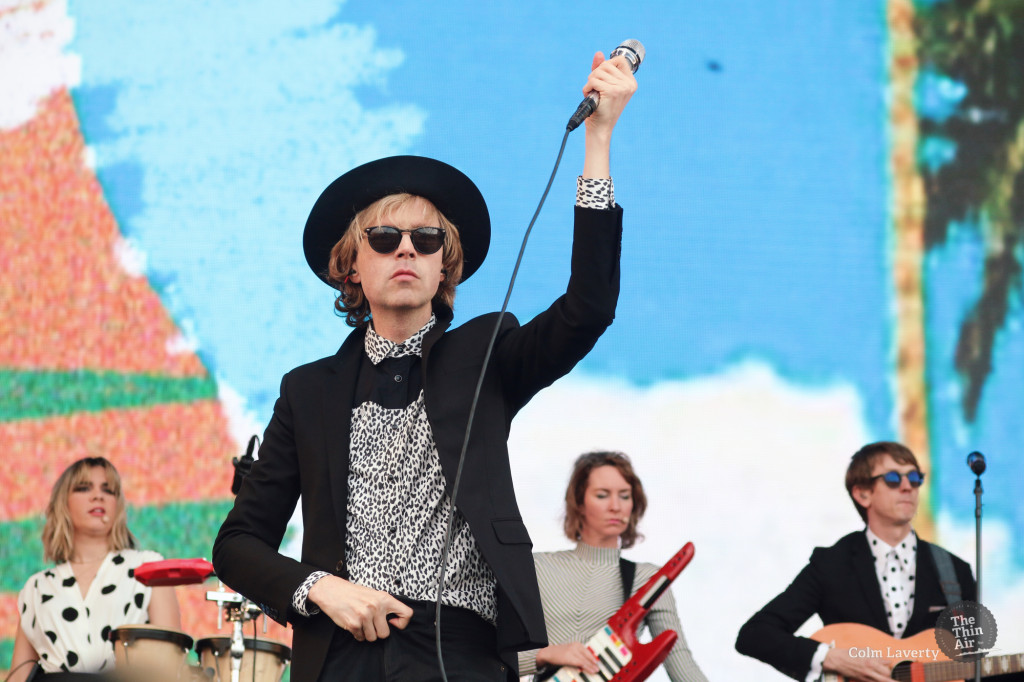 Beck (above) was one of the big draws to the festival. Now everyone is finally thoroughly warmed up and actually need to dance and sing to keep out the evening chill, his appearance is even more keenly anticipated. His set is a blur of hits, bookended by 'Devil's Haircut' and "Where It's At'. Joined on stage by a colourful cast of characters Beck is the first act of the day to really try and engage and work the crowd, it really doesn't take much to get them them singing, clapping and dancing when you can fall back on songs like 'Loser' or 'Summer Girl', the relentless deep south harmonica of the foot-stomping 'One Foot in the Grave' and a cover of 'Raspberry Beret' from the late, great Prince even manage to coax a smile or two from even the most curmudgeonly viewer. It's all over much too quickly.
As Beck bids his farewells, scores of people flood towards the sounds of David Holmes delivering a set on the 6 Music Recommends Stage to close proceedings there for the day. Too many for all to get anywhere near to the actual stage, a backlog of revellers spills over into to the main thoroughfare and sets up camp there, grooving away until Mr Holmes is finished.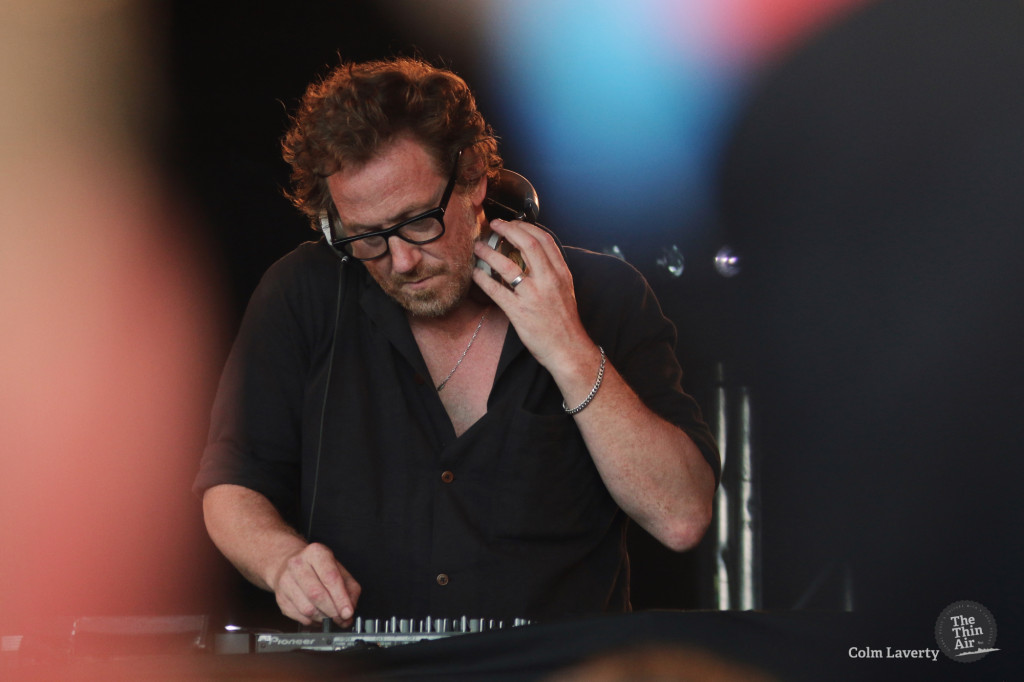 Only one act remains to see out the day on the main stage, Orbital (below). They've openly declared their love for the city and the people of Belfast countless times over the years, always referring back to their first formative experiences when encouraged to come to the city by David Holmes in 1990, and most notably in the naming of their song 'Belfast' in tribute to their experiences during that visit to the city. As the chill really starts to bite, the kids in attendance are starting to shiver and many are just too tired from the excitement of the day. Families are beginning to drift home as the Hartnoll Brothers take to the stage; flowing the other way, a wave of reinforcements are arriving to the site just to see Orbital deliver their set and bring the day to a close.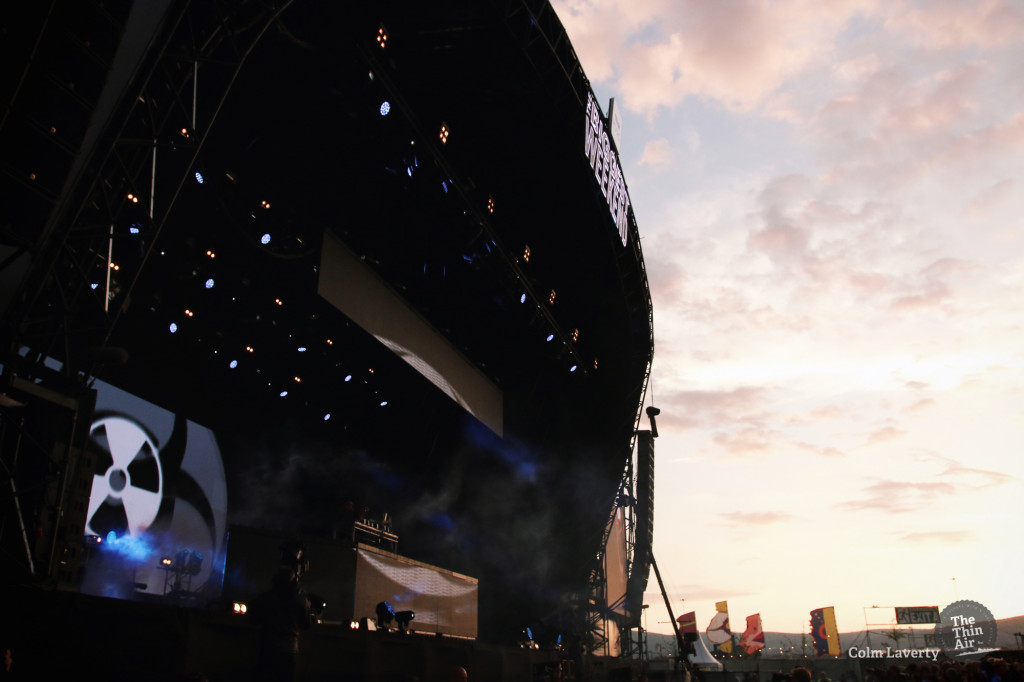 As they take their place on the raised platform on stage, the Hartnoll brothers look very pleased to be given the chance to see off the sun and welcome the oncoming darkness as it creeps over the venue on this first night of the festivities. The crowd is more than ready for them: opening with 'Lush 3', their set steadily ramps up. Paul is all business, but Phil is in his element, an almost lunatic smile permanently plastered beneath his horseshoe moustache. Looking like a maniacal Victorian bare knuckle fighter, blowing kisses, waving and punching the air, he cajoles and coaxes the crowd ever forward, deeper into their music. 'Wonky' and 'Satan' are rapturously received. The sample of Belinda Carlisle's 'Heaven is a Place on Earth' in 'Halcyon' unites the whole audience in song. In a brief pause a song is dedicated by Phil to everyone in Belfast just as the first notes of piano finally herald the arrival of 'Belfast' and a huge cheer goes up, the crowd dancing and grinning while the two brothers headlights bob in time in before their hypnotic light show. Belfast receives 'Belfast' ecstatically. Before long one of the true club anthems 'Chyme' is upon us. No one is still, thousands of arms in the air, the crowd collectively losing themselves in the beat, the big screen providing a montage of euphoric dancers and beatific smiles in the crowd. The end finally comes with 'Doctor?' a universally familiar choice to close a memorable and emotional day.
After the music has finally faded and the long troop back to the city centre is beginning, cheers start to go up again. People checking their phones are seeing news that the exit polls of the referendum suggest a big win for yes, a tangible sense of relief can be seen in the eyes and smiles of a significant majority of departing revellers; people crying with happiness and just holding each other is not an uncommon sight. For many, the perfect end to pretty perfect day. Stu Fletcher
Photos by Colm Laverty