Live Reviews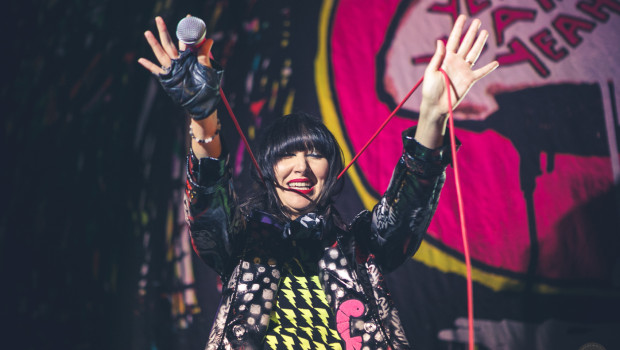 Published on May 24th, 2018 | by Zara Hedderman
0
Beck & Yeah Yeah Yeahs @ 3Arena, Dublin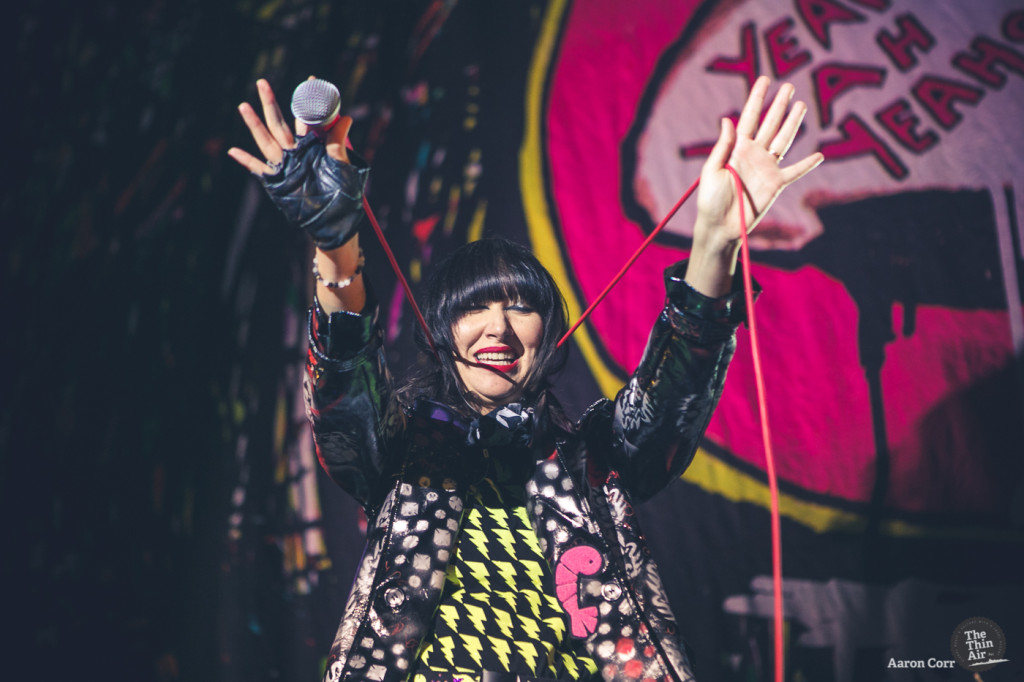 Both the Yeah Yeah Yeahs and Beck have crafted careers built on distinct sonic styles. Their music captured time and place; Beck encapsulates an era within the 90s pushing towards innovation by blending genres within one record, whilst Yeah Yeah Yeahs defined the New York dance-punk sound of the early 2000s. Their cult statuses, born from albums like Odelay and Fever To Tell, respectively, gives them mass-appeal to a myriad of music fans. The pairing of these artists for this one off joint headline arena gig, then, feels appropriate given the impact their music has made on an incalculable number of people over the last decade, and more.
It's been a while since Yeah Yeah Yeahs released new material to fill the void since Mosquito which came out in 2013. That album didn't do much to bolster their name which was, at the time, morphing from far-reaching yelps to hushed whispers. Only two songs ('Sacrilege' and 'Under The Earth') from that record made the cut in their set in Dublin's 3Arena, the rest shaped into a confetti filled night of their greatest hits.
Opening their set with 'Shake It' which progressed into 'Rich', Fever To Tell (which, as Karen O pointed out during their encore turned fifteen last month) and it's follow-up, 2006's Show Your Bones were responsible for conjuring the most reaction from the crowd. After 'Gold Lion', they glide smoothly through 'Zero', 'Soft Shock' and 'Heads Will Roll.' All tracks exuded the same intensity and freshness as they did a decade ago.
Their set is a frantically energetic and nostalgic undertaking. So frantic, in-fact, that Karen O wore knee-pads to shield her bones from sudden drops and jumps on-and-off the stage. One instance of her venturing from her platform came after a gorgeous rendition of 'Maps', which she dedicated to all the lovers, non-lovers and drummer Brian Chase's wife Erin, who celebrated her birthday on the day of the show. That song was followed by an equally satisfying performance of 'Cheated Hearts', another one from their esteemed archive. If you can remember the video for that song, the band invited loads fans to send footage of them singing along to the song. The home-movies were pieced together with clips of the band playing against a white backdrop. A similar sense of inclusiveness was displayed during the gig when Karen walked along the front row of the crowd, getting individuals to sing-a-long to the pre-chorus chant of "ooooh." It's an extremely endearing moment demonstrating the communal enjoyment and celebration of the band.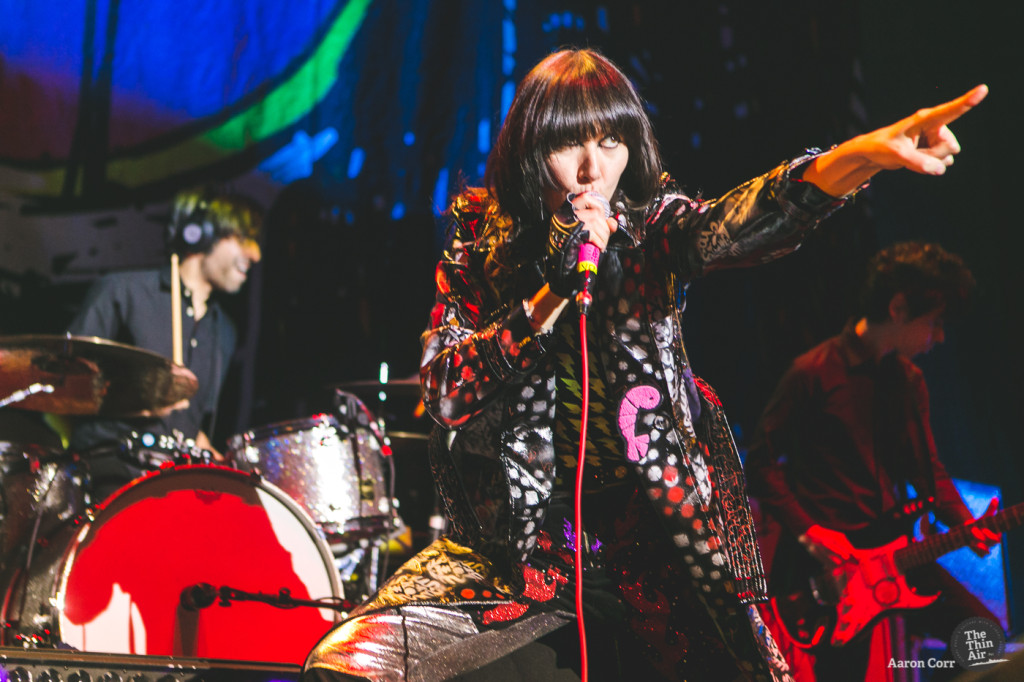 Their encore consists of 'Poor Song', a deep cut from Fever To Tell and also, 'Y Control.' The final barrels of confetti were been set off towards the end of an extended version of 'Date With The Night', which garnered a rapturous applause.
Twenty-minutes elapsed from the scheduled stage time set for the American to arrive, rather casually and without much explanation to his prolonged delay. All is forgotten, however, as he launched into a quartet of  'Loser', 'Devil's Haircut', 'Mixed Bizness' and 'E-Pro'. These songs are synonymous to Beck's musical career which spans twenty-five years and thirteen albums and the elation was evident across the arena. Other highlights happened early in his set, after Beck lassoed his way through those opening songs, included the infectious 'Quo-Onda Guero' and Sea Change's introspective 'Lost Cause.' Ironically, that is how the latter part of his performance felt.
It was strange that Colors, Beck's current album and the reason he's touring, received no mention until the seventh song of the set with 'Wow', followed immediately by 'Colors', to which Beck concluded, "I want you to feel the motherfucking colours!" The reception to Colors when it was released in October of last year was mixed, the reaction is mirrored across the audience in the 3Arena. At one point, after playing 'I'm So Free', almost apologetically, Beck informed the crowd that that song came from his latest album, one he described as something that sounded like "Michael Jackson, if he had a psychedelic phase." The statement is met with little reaction from fans.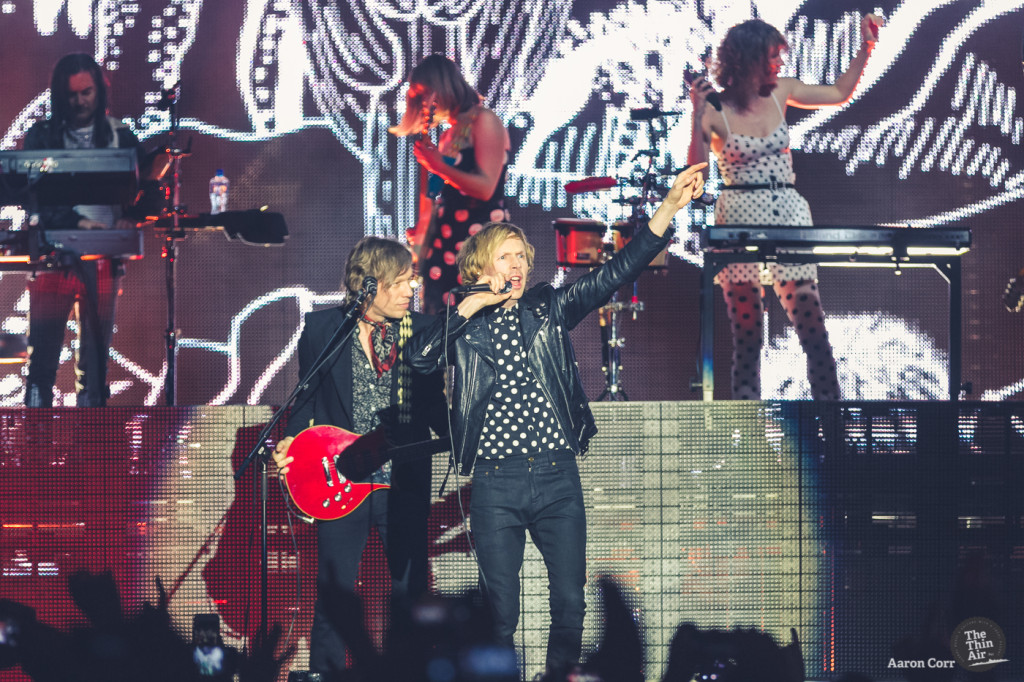 There were a few acoustic intervals between songs amplified by a full band (which in itself contained a band jokingly going by the name The B-53s). Entering the midsection of the set, Beck, guitar in to,  engaged with the crowd. Moving past pleasantries, he started to strum the melody of 'Debra', which turned into a combination of song and sprawling story tailored specifically for the Irish crowd. Between telling the crowd about his trip to Powerscourt Gardens, Beck sang, "Lady, step inside my Hyundai", and proceeded to enquire if that make of car exists in Ireland. The verse shifted into a dialogue about driving on the other side of the road, using a clutch, burning the clutch out and smoking up the fresh air of the gardens. He continued, "I said Lady, do you want to go to a waterfall?" before straying briefly into Prince's 'Raspberry Beret', a cover that Beck regularly includes in his shows.
The momentary deviation ceased with hurried performances of 'Dreams', 'Girl', and 'One Foot In The Grave.' With little time for an encore, Beck remained onstage to introduce each member of his band. This act of pageantry sees each musician briefly covering hits by Rollings Stones, Talking Heads, Gary Numan, Chic and Phil Collins, it ate massively into time that he didn't have to spare and as a result his set missed some of his best loved tracks that have made previous shows on this tour such as 'The New Pollution' and 'Blackbird Chain.'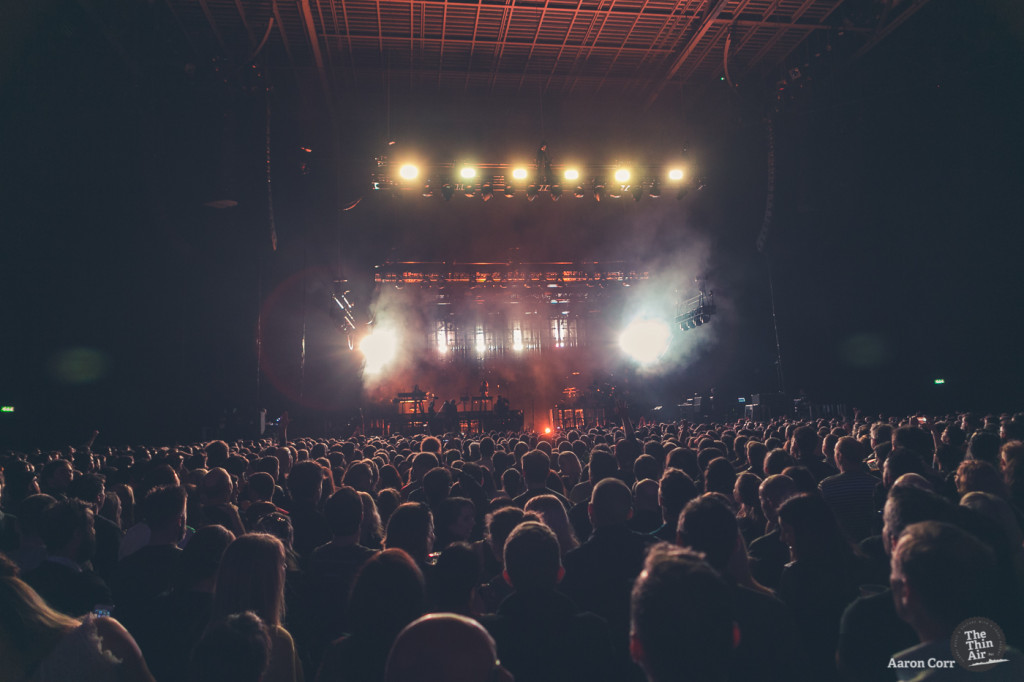 'Where It's At' closed the set, which was broken-up by the introduction of the band, after a questionable reference to R. Kelly ("I want to believe I can fly like R. Kelly did") Beck finished one of Odelay's most celebrated tracks and waves his way off the stage. It's a lacklustre end to what began as an enjoyable trip down memory lane, experiencing songs that were – for the majority of the crowd – vital in the foundations of paving a path of musical taste and preferences, lost momentum at the hand of poor punctuation, divisive new material and unbalanced sound it wasn't Beck's finest performance. It's a shame as he has previously provided some of the most memorable and fun live shows in recent years. Zara Hedderman
Photos by Aaron Corr