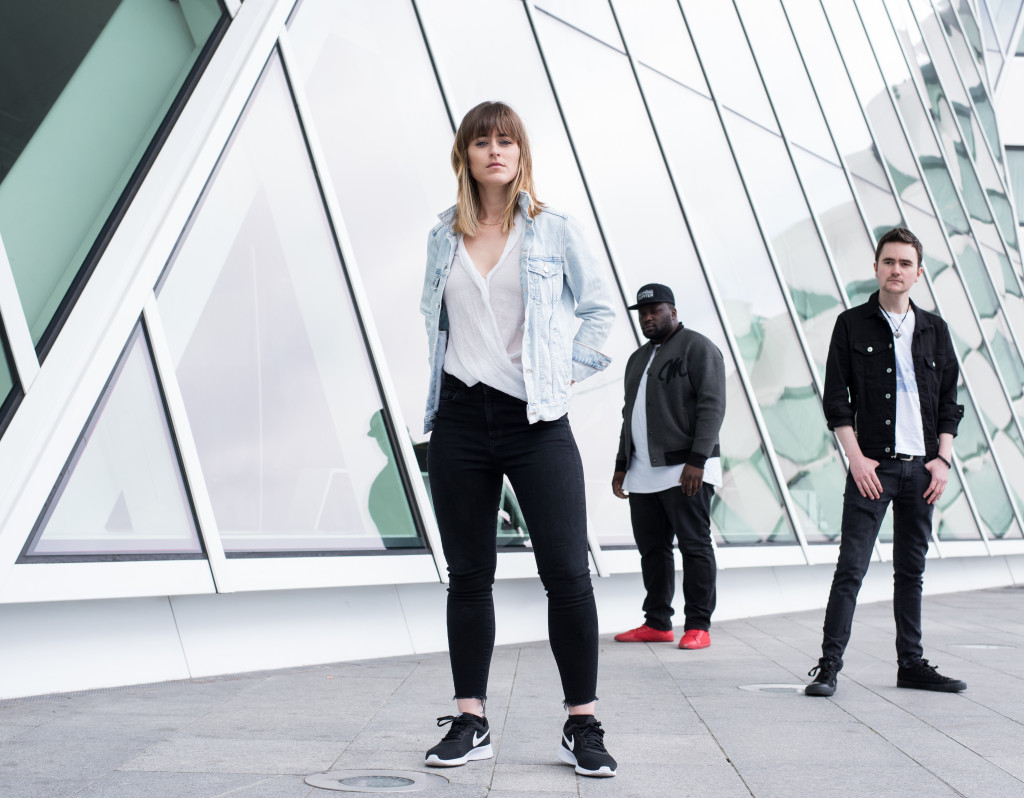 Ahead of a busy year that will see the release of their debut EP, we talk to hotly-tipped Dublin trio

Dreaming of Jupiter

about what defines their sound, milestones to date, their summer festival-conjuring new single, their favourite Irish music, and what the rest of 2018 holds.
You've just released 'Right Kind of Love'. It's a real earworming gem evoking straight-up summer festival vibes. Tell us about the writing and recording of this track.
We are really happy to have put this track out into the world. We have a writing process which we have developed over time. We pre-produce everything at home to a point where the track is complete structurally and sonically, but we keep an open mind about textural changes etc. We play around as much as we feel we need to, we get a good idea of the kind of mix we want and the emotion and vibe of the song is all very clear before we take anything to the studio. With this track 'Right Kind of Love', we wanted to capture the essence of the anticipation and positive energy that comes with the approaching Summer season. The song is about enjoying this anticipation, and allowing oneself to become lost in this feeling a little bit. This is a feeling we can all relate to in one way or another. We created a real Summer palette for the track to enhance this vibe and bring some life to it. We also felt it followed our previous single 'Let Me Down' quite well, as the more chilled groove that fits the Spring season contrasts nicely from the upbeat Summer vibe of 'Right Kind Of Love'.
You call yourselves an ambi-groove trio. Is it important for you as a band to feel that you're offering up something unique, musically?
It is definitely something very important to us when we are writing. Each of us comes from a different musical background and so all of our influences lend different flavors to our writing style. We like to create ambient soundscapes that have a fresh and interesting vibe, and then combine them with a strong groove element to really bring life to our sound. As players, each of us are groovers at heart, we all have a strong background in funk and soul music, so it's really important to us that our songs have a tight rhythmic element, but equally we love to explore new sonic palettes and textures. Creating something that sounds fresh, exciting and fuses elements of different genres is always the goal. We want our music to sound like us you know? Like, when people hear it, we hope they say 'Oh yeah…that's got that 'Jupiter' vibe to it'.
Your sound incorporates various genres and sub-genres. But which artists do you think have mainly made an imprint on your sound?
We have such a wide range of influences as you can probably hear! We listen to all kinds of genres and styles. We like to keep in touch with what is current on the music scene right now globally, but equally we love to choose older material to help inspire us. Right now, we are so inspired by the textures and moods of tracks from the likes of Bonobo, Tycho, Little Dragon, Submotion Orchestra, the soulfulness, grooves and harmony of the likes of The Internet, Sinead Harnett and Nao, and and the pop aesthetics of Jessie Ware, John Bellion and Emile Sande to name but a few. Honestly, there are so many amazing artists out there to discover and this is such an incredible time for musicians to be alive! We love discovering new and old music and learning from it as much as we can.
Your debut EP is in the pipeline for the coming months. Tell us more about that and what we can expect from the release.
It is the next milestone for the band. We have now released two singles from this EP that we feel give a strong sonic representation of what's coming. The songs represent a shift in direction for the band as we feel we have now really found our own unique sound. Each of the tracks we have selected for this piece of work represent a very different emotion and create a mood all of their own. There is a darkness to it for sure, but we feel our new single 'Right Kind of Love' offers some light to contrast that nicely. The songs are sincere and tell very true stories. While each track works nicely alone, we feel the EP really comes to life when listened to in its entirety. There is a sense of flow and continuity that is very important to us, and each track leads nicely to the next providing a smooth listening experience when listened to as a complete piece.
You've played some notable shows over the last while, including Musikmesse in Frankfurt and supporting Chic's Ralph Rolle at the Button Factory. Which stands out and why?
Musikmesse was great for Dreaming Of Jupiter. The fact that we were selected to represent new Irish music at a show of this calibre was a real honour for the band. The audience in Germany was so enthusiastic and we cannot wait to go back! Performing at home in Dublin's Button Factory to support Ralph Rolle's 'Funk Patrol' was also a great show! Chic have always been an inspiration for us and the energy and vibe at the show that night was totally electric. Another standout show for us recently was our performance in the 02 Academy in Islington. We love performing in the UK – there is a scene happening there where we feel very at home.
Ireland is, of course, booming at the minute with great new artists. Are there any in Dublin that are particularly catching your ear?
Ireland has always been a hub of musical activity. Some upcoming artists that really jump out to us right now are artists such as Ryan Vail, Talos, Tanjier, Damola and Saint Sister. The scene is incredible and there is such a melting pot of music and culture here in Dublin – we feel privileged to be a part of this.
Lastly, what's on the horizon for Dreaming of Jupiter this summer and throughout 2018?
Finally, Summer is here! We are performing at several festivals this year including Bloom in the Park, Vantastival, Body and Soul, Sunflowerfest and a headline performance at The Secret Village Festival. We do have some shows planned for Europe also for later in the year. Of course, we will also be releasing our debut EP. 2018 is shaping up to be a great year for Dreaming Of Jupiter.
Keep track of Dreaming of Jupiter here