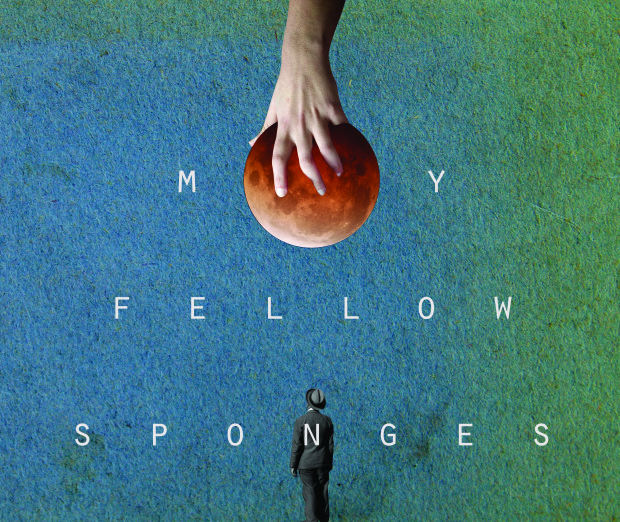 Having met through performing drama in university, Anna Mullarkey and Donal McConnon are the creative forces behind Galway act My Fellow Sponges. It's no surprise then, that among the influences of jazz, folk, pop and rock in their music, one finds a wealth of theatrical experience. Accompanied by David Shaughnessy on drums, Sam Wright on bass and a flurry of instruments, this often unusual, yet carefully constructed combination is the band's unique selling point.
Following success in both music and theatre shows in the time since their last record, the Galwegians have now released their self-titled outing. Where 2015's debut Bonne Nuit was a collection of upbeat, quirky folk songs, the act have broadened their musical palate this time round to include more genres and sounds, all the while hanging onto their folk roots. My Fellow Sponges is an assemblage of grand episodic tracks, folk tunes and catchy pop choruses, weaving genres and moods to tremendous effect
The first track 'Monkfruit Salad' sets the tone of departure from their previous work. A syncopated hook on the piano is repeated throughout and forms the basis for the piece before, towards the end, there's an interlude with Mullarkey delivering an animated, wordless vocal, resonating like a chorus performance in a musical.
Similarly, 'Family Circus' points directly the quartet's theatrical know-how. "Come in and join the family around the table" McConnon croons, while a looping hook on synth and guitar accompany him to create a sound conjuring images of circus music, or a travelling band. Layered with McConnon's vocals as they flit between soft and annunciated to powerful and projected, the song certainly does embody its name.
There are few acts in Ireland who so actively push the boundaries between the artforms of theatre and music, and it has left them standing as beguiling outliers not only in Galway, but countrywide. One need only look at their upcoming show at the Galway Theatre Festival, Fuzzy Air, to see this, Said to be a creative collaboration between performers across music, theatre, dance, circus and visuals, it's not hard to appreciate My Fellow Sponges as a multi-faceted entity. And while each track on My Fellow Sponges wields those elements of theatre wonderfully, some showcase that animation in more apparent ways. Melodic ditty 'Leaving Town' and episodic closing number 'Without You', for example.
The album's highlight is the upbeat 'Ear Piercing'. It's fun and catchy, with repetitive riffs on piano and a rare guitar solo. However, what is particularly captivating about this piece is the vocals and lyrics and their interplay. McConnon sings with Mullarkey on backing vocals in the chorus: "I am so ear piercing, that you're going to need new ear rings". The vocals, particularly Mullarkey's, are sharp and concisely pronounced as high pitched and, indeed, somewhat piercing – playfully interacting with the very meaning of the lyrics.
In the second verse McConnon sings: "Been to Connemara, all the way from Guatemala and no one plays guitar quite like Kevin McNamara". It's here we find the band brandishing their Galway identity, allowing it to shine like the jewel in their crown. Not only are they regulars in all the usual venues in the West, but their very attitude and musically explosive style resonates with everything the creative city embodies – theatre, festival, busking and performance.
My Fellow Sponges' brilliance lives in its animated and outlandish songwriting, combined with concise, constructed instrumentation. Their multidisciplinary influences has enabled them to craft a sound which is odd yet elegant. One of the most exciting acts in the West, one of the most exciting acts in Ireland. They're not for the faint hearted, but who cares about that? Shannon McNamee