Live Reviews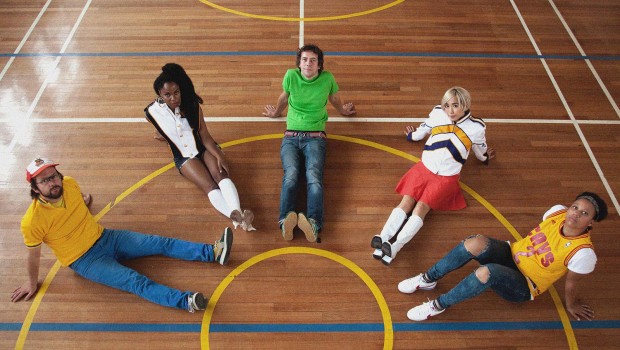 Published on May 11th, 2018 | by James Cox
0
The Go! Team @ Custom House Square, Belfast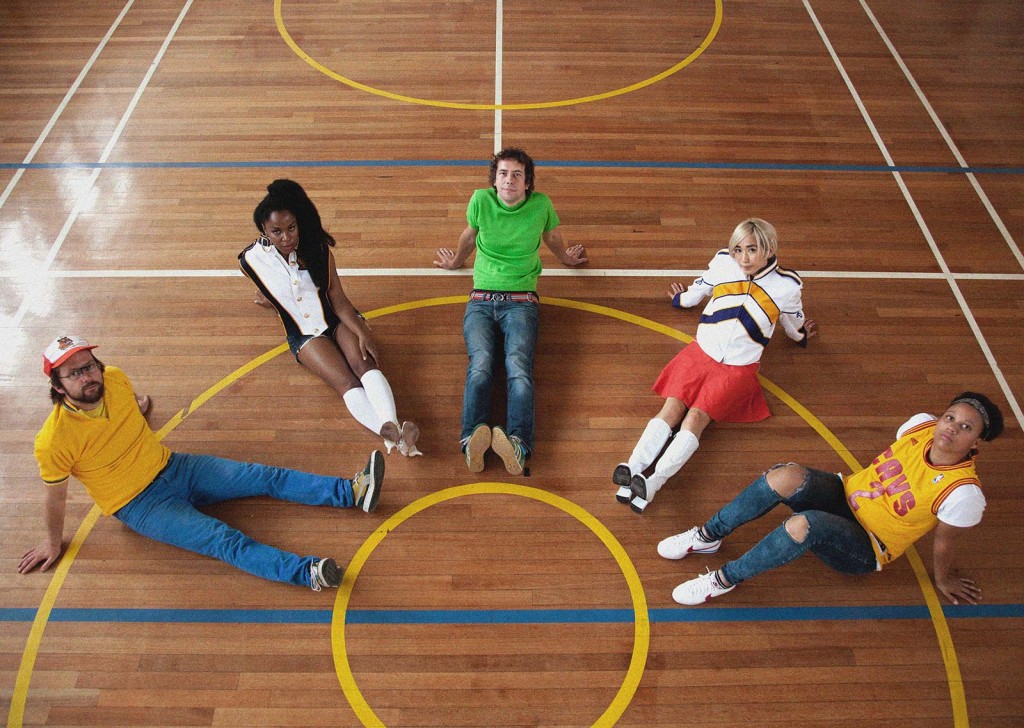 This evening sees Brighton based musical magpies The Go! Team bring their kaleidoscopic, crate digging pop to Custom House Square as part of the Cathedral Quarter Arts Festival. With a stellar archive of hits at their disposal, a crack nine piece band and high energy support from dance pop chameleons The Correspondents, tonight's performance promises to kick the weekend off with an amphetamine rush of sound and colour.
Purveyors of the much-maligned dance subgenre 'electro swing', The Correspondents are prone to mixing campy cabaret stylings and big band samples with pummelling drum and bass work outs which could well make the band a marmite prospect.  However, the cult London duo's unholy genre splicing, high octane beats and hypomanic stage presence ensure that the performance is never less than entertaining. Theatrical front man Mr. Bruce, bespectacled and clad in a form fitting taupe tracksuit, flails himself around the stage with the unnatural elasticity of a human Cheese String, exhibiting a dance style best described as Zumba meets weaponised semaphore while band mate DJ Chucks spins a dizzying tapestry of funk, house and early noughties style R&B.
The support slot hits all the right notes, setting the steadily growing crowd's feet a tapping and amply warming up the audience for the main event.  With only moments left in their set, Mr. Bruce breathlessly proclaims that we'll be treated to "two and a half minutes of as much fucking hard core jungle as we can fit in!" Who in their right mind could argue with such a proposition?
As The Go! Team's extensive membership files on stage, Ninja, the bands perennially bouncing front woman and devoted fan of day glow active wear, greets the crowd and introduces opening number 'May Day'. The lead single from the band's latest opus SEMICIRCLE builds on a stuttering hip hop break beat and franticly tapped Morse code sample while the band's myriad of guitars and mini brass section flesh proceedings out into a bonafide garage rock dance party.
Maintaining momentum after such a hugely kinetic number would be a challenge for many bands but such gargantuan multi-coloured tracks are the Go! Team's bread and butter and they follow on blithely with 'Lady Flash' from the band's 2004 debut  Thunder, Lightning, Strike.  Even after more than a decade 'Lady Flash' still leaves the crowd in raptures, a summery anthem which manages to sound at once strangely familiar and like nothing else on earth; an alien approximation of a Motown classic.
On record, The Go! Team festoon their fizzy concoctions with samples from sources as far flung and off kilter as 70's children's TV shows, playground chants and Bollywood soundtracks and it is intriguing to watch how the band manage to translate this sample heavy sound to a live rock arrangement. That these songs remain so vibrant and three dimensional divested of some of their album version's (often literal) bells and whistles is a testament to the bands singularly hooky song writing and world class live chops.
As undeniable as The Go! Team's song craft may be, musicianship is not the only magic at work here and the tangible energy and charisma of the band (and Ninja in particular) fill the fairy lit marquee. Acting as a sort of warped high school pep rally, the band's crazed dance moves, call and response vocals and audience singalongs all work to make this a truly interactive experience without tipping things over into cloying pantomime territory.
As the set progresses The Go! Team explore the many sides of the their deceptively varied sound with songs ranging from the thrilling spy guitar and air raid siren war cry of 'Grip like a Vice' to the primary school recorders of 'Get it Together'  and the countrified Fred Neil sampling  banjo and harmonica instrumental  'Everyone's a V.I.P. To Someone'.
Bringing the set to an end with a killer encore, Ninja rallies the crowd with chanted motivational mantras over the G-Funk groove and hopscotching Parliament style synth's of 'She's Got the Guns' before the band bid their frenzied public farewell with the double Dutch rhymes and stirring brass swells of 'The Power is On', a fitting finale to a truly massive show.
Tonight, The Go! Team have taken us on a uniquely effervescent odyssey through the dizzying highlights of their 14 year career. Their fizzing retrofit songs act as a restorative Sherbet Dib Dab for the soul. James Cox