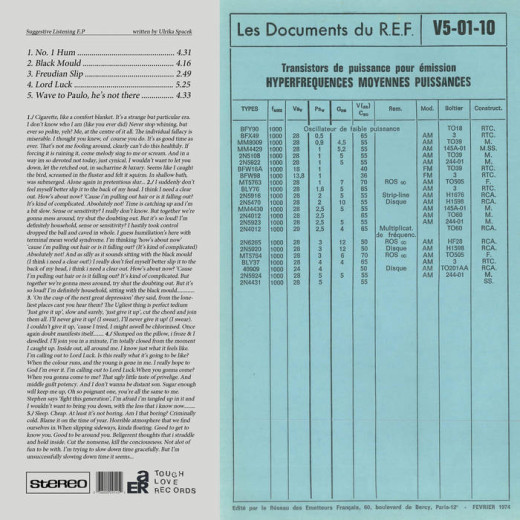 For most bands, the EP format proves a useful starting point, a way of getting their earliest tracks out there when not in possession of enough money, time or material for a full LP, while also functioning as a low stakes release while they find their feet, not yet ready to commit to that ultimate statement of "the album".

Others though, like Ulrika Spacek, arrived so fully formed that work on an album was the first port of call, and indeed their 2016 debut release The Album Paranoia is still their strongest work to date. After last year's quick follow up Modern English Decoration, the band have momentarily put aside their "strong belief in a long play format when it comes to making records" to have their first go at a five track EP, allowing themselves to leave a bit of breathing space around the first two LPs before they resume full speed forward motion.
Released with a limited edition of 1,000 copies for Record Store Day but more widely available digitally, the band state that they consciously set out to "make something that killed the three-part interweaving guitar characteristic that partly defined Modern English Decoration", and to "deconstruct the standard three guitar, bass and drums line-up used on the first two albums". In truth, however they went about this, you wouldn't really notice such a deconstruction as a listener – Suggestive Listening is easily recognisable as the same band that made that first and especially second record (albeit with a new bassist, Syd Kemp, in tow, who fits into the lineup seamlessly). They have discarded the louder guitar fuzz of much of their earlier work, as well as the more drawn out psych/krautrock elements particularly present on the first LP (a shame as this was often the band's strongest suit), but their usual guitar interplay is still present throughout, albeit with a breathier approach and some more prominent woozy keyboards, the pattering drum machines and bubbling guitars of 'Freudian Slip' being the closest they come to a real diversion.
Not that more of the same is a bad thing. Their sense of melody is as strong as ever on tracks like 'Lord Luck' and the opening 'No. 1 Hum', and there's an addictively breezy quality to their still wiry, post-punk guitars. Suggestive Listening provides only the subtlest of shifts from Modern English Decoration but may prove to be a useful bridge to wherever they take things next, and as is often the case with an EP, may find good use as a handy bite-sized intro for newcomers. Cathal McBride