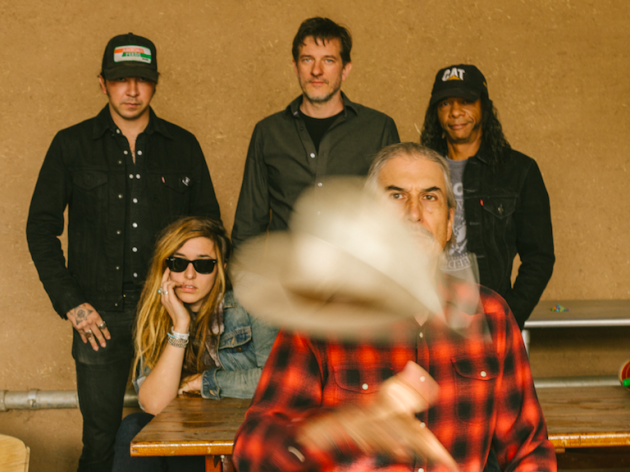 No word in the English language sums up Howe Gelb's ever-mutating life's work Giant Sand more than idiosyncratic. Threaded through by just one man and his broad-ranging – oft. cowpunk – plays on the idioms of Americana and the topics he's always held dear: love, death, humour & wanderlust, never straying too far from wryly homespun existentialism. Despite a few of indefinite hiatuses in the last few years, Giant Sand's original lineup were reconvened for a complete rerecording of their debut LP, a scattershot snapshot of 35 years ago accompanied by members of Gelb's LA & Tuscon circles at the time.
Valley of Rain is probably their most well-known album, if not the most acclaimed or representative of their entirety, nestled amongst an often tucked away discography that's among rock's most prolific and staunchly singular. Its original recording was marred by lost tapes and technical inexperience, meaning they were forced to release scratchy, colder mixes due to a lack of valve amps and know-how. Undergoing a gargantuan number of lineup overhauls over the years, never really reaching the public eye, they've remained a just-about-existent peripheral concept, and that's just how Gelb wants it. In his own words, "Right until another night or album happens, this was the last one". So, for something to compel the 62 year old Gelb to revisit and cast new light on things he did in his twenties once more, there must be some deeper reason. Giant Sand is unsentimental about the industry; after all, we're talking about an album that's now up to three different tracklistings, none of which will be recreated tonight. We're talking about a man who said no to teaching Keanu Reeves & Alex Winter their guitar parts for Bill & Ted because his kid had a fever.
The 'headliner's child tour support' trope, generally speaking, is a tightrope plummet waiting to happen, and accompanying Giant Sand throughout their European trek are Patsy's Rats. Fuelled by the vocal-guitar interplay between Gelb's daughter/band namesake and her partner Christian Blunda, they're not at all what one might expect sonically from their decidedly smokey gentleman's lounge name, but are fully deserving of their slot. Featuring Giant Sand guitarists Annie Dolan & Gabe Sullivan on bass and drums here, their tightly-woven incisive, economical, pristinely written power-pop music holds up strongly alongside the likes of Sheer Mag & Dublin's The Number Ones in the wave of bands re-evaluating the timelessness of good guitar pop – with a tough of that stilted Breeders counterpoint. Irish heads nod that little bit more than the average city with the emergence of a dual lead guitar line, followed by Blunda's exclamation of delight at their opportunity to finally visit the Phil Lynott statue. We were good to trust Howe with this, and with just a couple of excellent singles & EPs under their belt, all they're seemingly in need of is one strong galvanising movement.
Mid-bar orders, Howe Gelb, bassist Thøder Lund and the familiar face of drummer Winston Watson – who, reprising his role from the original Valley of Rain, would ultimately go on to drum with Bob Dylan, Alice Cooper & Warren Zevon – arrive onstage with no fanfare and launch into the title track as both side guitarists set up. Gelb, giving nothing away under his trademark trucker cap, fights head-down through a murky, gradually improving mix. Leaving no chance for breath between openers, while guitarists switch microphones, the fear this towering, dark, self-described "hard to figure" guy may not be pleased with numbers, or just not up to it. Vocals start to emerge from behind the wall of organic saturation courtesy of a Fender amplification trifecta, and after a few numbers, his grin widens, eyes starting to show from under the shadow of his brim.
As the support act deliver five pints of Guinness to the stage, Gelb's stature starts to grow into endearing loucheness. Looking his drink up and down, the one and only sincere discussion of the night is of geographical integrity – the correlation between Guinness' quality and its proximity to Dublin. "Cheers!" an attendee shouts. "No. Not cheers." says Gelb. "Sláinte." His respect for location burrows deep – there isn't a Giant Sand release that gives no weight to it. They've long lived in a world where time and distance are just obstacles in the way of getting where you want to be.
Returns To Valley of Rain is chunkier, more loose-knit even, sitting comfortably as their heaviest record since grunge-era Centre of the Universe – only that its yelps have turned to drawls give away any erosion. Echoing the Our Band Could Be Your Life sentiment, 'Tumble and Tear' is the chunky Black Flag-esque ripper it's always threatened to be, due in no small part to the fact producer Gabriel Sullivan managed to record it the same day-and-a-half timeframe and with the same $400 budget as the original. The sweat of that small room now seeps through into a warmer, more natural-sounding, if cluttered, record. Watson reprises his role with glee, his fluidity matching and adapting to the Gelb's spontaneous whims and dynamic curveballs with the energy of a man much younger, whether it's vibing things out or rocking with the firm constancy of a Steven Adler when needed.
'Barrio''s desperate portrait of life in broken transience life have evolved since the previous rendition while its bullish, half-assed guitar lines typifying the album. It, like many of these songs, meet halfway between original takes and their rerecording – and despite the air of wistfulness the band have conveyed for three decades, they're unbeholden to any one interpretation – "Erosion rock", he calls it. Everything is mutable. 'Death, Dying and Channel 5' retains the life-grabbing ragged glory it always had – "Today is a good day to die…or so says that actor on Channel 5" – eventually giving way to hope ("maybe we're just waking up to try").
Gelb has always had the romantic, world-building vision of a Waits, Cohen or Cave, yet consistently placed the same emphasis on trusting the alchemy of the collective & and embracing imperfectionism as a Neil Young, ("I adore rough mixes, often favouring them over final mixes"). They're too cool and limber for country, and they're never going to be a Rock & Roll Hall of Fame band. They'll lean into whatever drives the spirit, and they'll do it well.
"Love is no answer to anything/Just maybe to war and hell and all the trouble we bring" the broad stroke is drawn on 'Down On Town', another example of the philosophical consistency with which they've written. You're never too far from some levity either, no matter the tune – 'October Anywhere' acts a playground for Gelb's sense of humour, chucking in a quick 'Smoke On The Water' riff amidst its dissonant swagger as they grin broadly. Everyone gets their spot – it both is and isn't the Howe Gelb Experience – there are too many variations of that, and they're all dependent on those who surround him.
Whelan's should really have been busier tonight, but the absence of claustrophobia leaves the crowd here nicely lubricated, brought together by cultish devotion, willing to make enthusiastic noise. It's one of the most genuine, tight-knit crowds and receptions this writer has experienced, and following the raucous closure to those 11 tracks Valley of Rain, those in attendance start to stamp feet, with no rhythm whatsoever – no "One more tune" tonight. Tonight, it's a primal "More!", as firm stomps gains momentum. "More!" the shouts continue. It's not the forced absences from the usual big 90 minute sets. No-one's leaving, and there's a genuine fear that it might be all the band have agreed to deliver as the wait goes on. Mercifully, it's not so.
"Pats, come join me for a number" he asks of his daughter. It's fairly evident that this is a holiday for the band; he hands the guitar to Christian before standing aside to watch stageside as his daughter's fiance jumps into the crowd, soloing until the music finally draws to a close. Really, Gelb is just the enabler for a greater, abstract, peripheral idea that is Giant Sand. Each band member is covered in sweat, despite each being younger than Gelb's 62 years. He briefly raises his trademark cap to give his hair some breathing room, before settling down for an encore. "Any more questions?" he asks, but sincerity would kill the buzz.
In spite of Gelb & co's growing age, and perhaps thanks to the injection of youthfulness in the form of guitarist 23 year old Annie Dolan, who, as Gelb proudly exclaims "plays the guitar like I used to hear it when I was 14", the band's essence feels restored to where it once was. It's likely we'll see a few more last albums from the band that time pays no heed to. "It's been a pleasure reliving, re…visiting…re…uh, defining. And now I have ripened."  Stevie Lennox