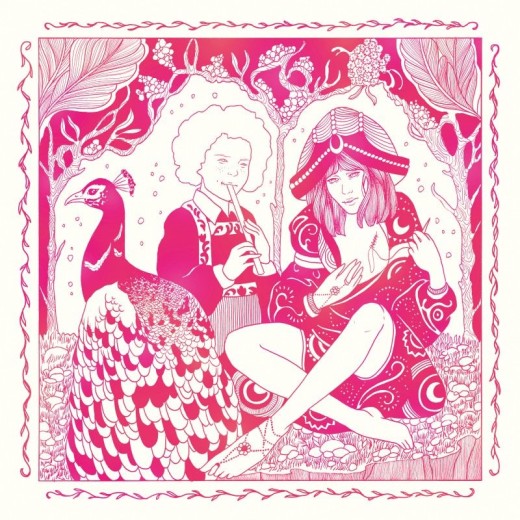 Melody Prochet delivers her sophomore record, Bon Voyage, after a lengthy six period, refueling her psychedelic-pop ensemble Melody's Echo Chamber. It follows a decent debut that made somewhat of an impression among critics and fans. For Melody's Echo Chamber's  self-titled debut, Prochet had enlisted her former-partner and Tame Impala frontman, Kevin Parker to build a wall of psychedelic sounds. On that release, the Australian held both production and co-writing credits and his distinct style is unmissable throughout that album, particularly on 'I Follow You', 'Crystallized' and 'Bisou Magique' and instrumentally it all sounded as though it could have featured on a Tame Impala EP, such is Parker's indelible mark throughout.
Soon after their collaboration the pair broke-up, with Tame Impala's 2015 LP Currents acting as Parker's break-up album. Now, Melody shares her catharsis across seven songs sung in three languages; French, English and Swedish. On this occasion, Prochet worked with members of Dungen (Reine Fiske, Gustav Esjtes and Johan Holmegaard) and Pond (Nicholas Allbrook) and, for the first time, took to the drums on 'Breathe In, Breathe Out'. Prochet wanted this album to be amplified by experimentation and therefore sought for all participants, herself included, to be taken out of their comfort zone. Unfortunately, enforced displacement resulted in an album that's painfully directionless, pastiche and in dire need of editing despite its mere 33 minute duration.
Bon Voyage is a muddle of influences; a confused sound lacking commitment to either a contemporary soundscape or the 1960s styles brushed upon, from the cadences of chanteuses Francoise Hardy or Jane Birkin to cool psychedelia à la Jefferson Airplane's seminal Surrealistic Pillow. Instead, we are presented with songs that are clutching to retain some semblances of the sound that had been shaped for the band half a decade ago.
Let's begin with opener, 'Cross My Heart', a melting pot of Tame Impala-esque percussion with  Kurt Vile guitar arpeggios, string arrangements evoking The Last Shadow Puppet's decade-old debut and a Ron Burgundy flute solo. All of these elements are showcased over a sprawling seven minute period which feels like a lifetime. Instead of presenting a warm welcome to the listener, we're subjected to a composition akin to background lobby music in a trendy hotel. This faceless aesthetic means that any sentiment in the lyrics – "This is the promise to my heart / I can't keep falling from so high' – feels insincere. Another example of too many layers spoiling any chance of a solid hook is 'Desert Horse'. Here, the listener wades through futuristic synth lines, varied percussive patterns, wailing distortion and out of place auto-tuned vocals atop Prochet's tired, breathy style.
The extreme build-ups of bombast subsides, momentarily, for 'Var Har Du Vart', which translates to 'where have you been?.' It's a quiet arrangement comprised of far-away lo-fi guitar strumming to forge an image of this being a moment of bedroom-pop mastery. It isn't. Instead we find ourselves back in that soulless hotel lobby. Elsewhere, 'Quand Les larmes D'un Ange Font Danser La Niege' is another exasperating seven-minute long-form of self-indulgence that meanders from a somewhat warm pop song only to become lost in the scramble of a strange soliloquy recounting memories of making love to then engage in one final swell of guitar solos lasting three minutes.
There is little appeal to Bon Voyage, which, upon repeated listens, starts to feel like nothing more than a pointless exercise of musical self-indulgence. It serves only to bring us to the unfortunate realisation that Melody's Echo Chamber would have been better off entering the "one and done" album club along with Life Without Buildings and The Postal Service, in this guise at any rate. Zara Hedderman