Galleries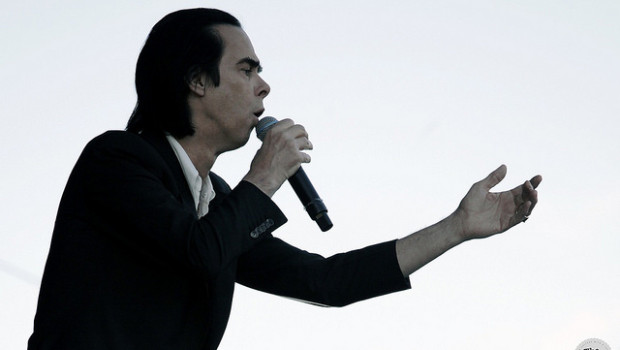 Published on June 8th, 2018 | by Will Murphy
0
Nick Cave and the Bad Seeds w/ Patti Smith @ Royal Hospital, Kilmainham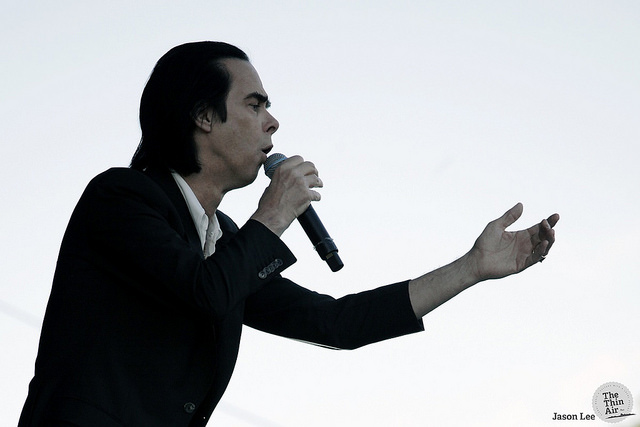 In this hyperbolic age, the phrase "gig of the year" gets tossed about far too flippantly. Every experience must be the best as anything less than perfection is worthless. The thing is though, most concerts couldn't lay claim to that title. But very occasionally, there is a lineup that makes your jaw drop and forces you to question whether or not this could be the one. On 6 June 2018, Kilmainham played host to one of those shows: Patti Smith supporting Nick Cave. Either of these artists could have been the headliner and no one would be disappointed. They each carry with them a back catalog of unmatched quality and live presence to match. The fact that some wonderful human being managed to give Dublin the gift of both of these titans in one night is something we should be all deeply thankful for. As a pair, one couldn't ask for more as the power and confidence of Patti Smith's proud stance perfectly offsetting Nick Cave's chaotic, emotionally devastating and elating odyssey. Simply put, there's little doubt that this will go down as the year's finest evening; a night of lightning captured in a bottle.
In the early evening, Patti Smith and her backing band walk across the sun-drenched stage. After a fiery poetic start, the band launches into a wonderful rendition of 'Power to the People'. In spite of how incendiary her presence and performance is, what comes across most here is how unassuming and low key everything is. There's nothing on the stage except for Smith and her band. No backdrop, no lights, no gimmicks. This is what rock and roll can be when you strip away the bells and whistles and distill it down to its basic elements. Cuts 'Because The Night' and 'Pissing In A River' are a testament to this fact.
While the show may be low key, it packs a mighty wallop. With no theatrics to lean on, the songs are forced to stand up to scrutiny on their own. Fortunately, punk's greatest poet has one of the strongest discographies in the genre. The sound mixing works in beautiful tandem with Patti to ensure that her greatest strength, her words, are crisp and coherent. Being able that final legendary refrain of 'Gloria' which such clarity is a seminal moment. The heft of which is only expanded on by the sheer majesty of the frontwoman's voice. She's 71 years old yet can still wail like someone fifty years her junior, demonstrated by the veracity with which she spits out 'Horses'. By the time, she's finished the crowd is thoroughly convinced that they witnessed something special. While there is a hint of expectation, no one knows what they're in for next.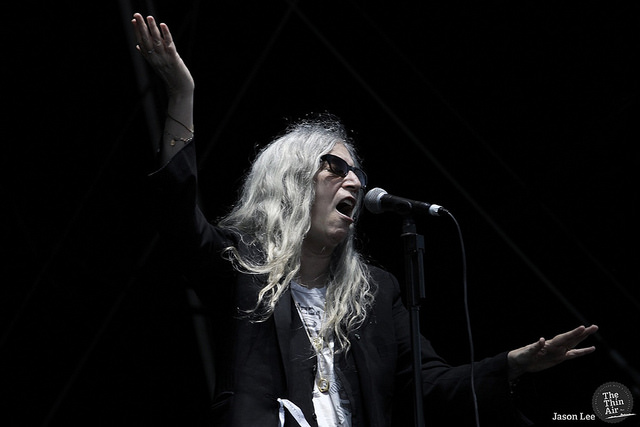 As Cave and his bad seeds walk out, it becomes very clear that is a performance for Nick Cave only. He'll involve the crowd and make sure that we're all part of the evening. But he is in the one in command. He doesn't care what we want to hear, he has a message that he needs to express and he's taking us along for the ride. As the evening hits the beginnings of a gorgeous June dusk and the vibe in the crowd is one of positivity and anticipation, the Aussie launches into the bleak, desperate 'Jesus Alone'. This is his show, so everyone better buckle up this is about to get very intense. This opener lands a knockout blow without breaking a sweat. There is so much pain and beauty on display that you can resist and as that final chilling wail rings out, everyone is on board. You see this in the reverential silence that comes with 'Magneto'. You could hear a pin drop as the band strip back the song to almost nothing. While the piece does get more luscious as it proceeds, any comfort they might provide is immediately dispelled by the devastating recitation of the church lyric: "One more time with feeling".
There's such a tension from the unreleased, swelling emotion that the transition into the older material is a welcome relief. The group pulls heavily from the Let Love In album and the fans lap it up. Martyn Casey's rock solid bassline grounds Nick's lawlessness on 'Do You Love Me?'. While 'Red Right Hand' and 'Loverman' tear the hitherto unknown roof off of this outdoor venue.
Nick has always been a great showman and today is no exception. Even with the heaviness of his subject matter, he's never overwhelmed nor is he distant. He's Charon leading the crowd down the river Styx with an unwavering confidence. Sometimes this muted and stoic, such as when anything from Skeleton Tree is played. Other times, it's pure dick swaggering charm and energy. Case in point, 'From Her To Eternity' which sees him hurling himself about the stage, writhing on hands and knees and screaming with the intensity of hardcore punker. The nature of his showmanship is perfectly reflected in his backing band. These half-dozen men veer between a Greek chorus helping to nurse the pain and a collection of surprisingly musical drug addicts ripping the stage apart in search of a fix. The way in which Warren Ellis uses his violin as an instrument of pure ecstasy and noise is truly inspiring.
Everything is going swimmingly when the band suddenly veers left and bring the show back down to earth. As Cave wanders to the piano, the main theme of the evening becomes apparent: tension and release. The next sextet of tracks are a testament to this; first comes the fall and then the rise. We begin with the spectacular 'Into My Arms', a spellbinding version that sees the audience engaging in the most downtrodden sing along this venue has seen. 'Girl In Amber' achieves a similar, emotionally raw feat, albeit with fewer group vocals. The mood is delicate and sombre, you can almost feel the collective goosebumps sliver down everyone's spines. Then we hit 'Distant Sky'. I fully acknowledge of the hypocrisy of this sentence given the first line of this article, but this is possibly ranks as the greatest single performance Kilmainham has ever seen. It is a close to perfection as piece of music can be. To try to describe it would do it a disservice. This is a truly magical moment.  Everything hits the mark perfectly. Cave can barely hold it together as he sighs the refrain "They told us our gods would outlive us/They told us our dreams would outlive us/They told us our gods would outlive us/But they lied", while Else Torp's pre-recorded vocals ring out across the darkening sky the force of a hurricane. People are literally weeping as the song reaches its climax. It's a deeply human moment that connects everyone here.
Have taken their fanbase to their emotion nadir by ratcheting the tension to the point of tears, it's time for the release. With so much pent-up energy, it's surprising that anyone is able to stand when they let loose. It all begins with a transcendent version of 'Jubilee Street' that captures the same energy as the performance from the end of 20000 Days On Earth. Next is fan favourite 'The Mercy Seat' which they tear through with aplomb. Finally, there's 'The Weeping Song' which begins at a more measured pace but quickly rises to incredible heights. Halfway through Cave wades into the middle of his adoring public and heads to the camera riser in the middle of the floor. From here he takes on the role of conductor, commanding the audience to clap to the rhythm; it's rare to see such a unanimous ocean of hands. It's simply wonderful.
As the night draws to a close, we're given two more numbers. The first is a sublime crack at 'Stagger Lee'. It's filthy, swaggering and aggressive; there's a frankly unhealthy level of bile in every word. Nick struts up and down the stage as the bodies below reach out to like some kind of a Messiah. He's taking their shirts and using them to wipe his face. As some of the throw their arms up, he grabs onto them and begins pulling them up onstage. Those who are pulled up huddle in the centre while the 60-year-old hurls himself headfirst into those who he's hasn't brought up. The chaos and discordance eventually give way to one last singalong in the form of 'Push The Sky Away'. It's a wonderful closer to the gentility and genuine care in every word fills the audience with a sense of elation. Tonight, we've all been privy to an exorcism of sorts. We've moved from restrained, overwhelming sadness and longing and raucous, anarchic good times without missing a beat. As the final synthesizer notes ring out, there's this unshakable urge to somehow go back in time and do it all over again. Will Murphy
Photos by Jason Lee