Live Reviews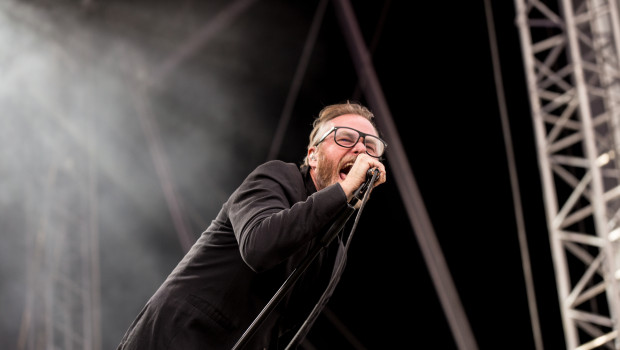 Published on June 19th, 2018 | by Aoife O'Donoghue
0
The National w/ John Grant @ Energia Park, Dublin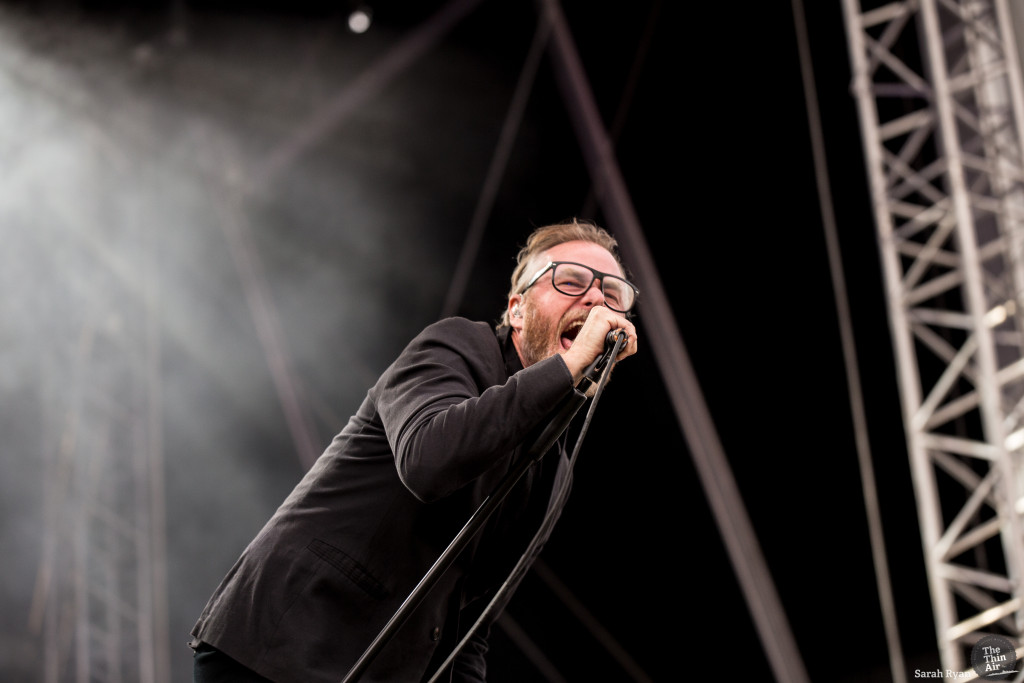 The National just can't seem to stay away from Dublin. Not ten months since their intimate double-bill at Vicar St., they made their return this Friday, nestled away in the leafy Donnybrook suburbs at the Energia/Donnybrook Stadium, for their own miniature two-day festival, with support acts including Lisa Hannigan, John Grant, Villagers and Rostam. The Friday gig featured the aforementioned Lisa Hannigan and John Grant, as well as Jay Som, and Preoccupations.
Not your typical outdoor venue, this weekend was an opportunity for Donnybrook Stadium to showcase itself as one – with surprisingly strong acoustics, and the high suburban trees that make you feel hidden from the city, the National's two shows this weekend, alongside Future Islands on Sunday night, might mark the stadium as a music venue worth revisiting, one reminiscent of the Iveagh Gardens.
Having a gig that starts at 2pm on a Friday is always going to be tricky sell, and people only really began to trickle into the venue during Lisa Hannigan's set, which started at 5.45. This didn't deter Hannigan and her band offering a powerful, whole-hearted set, with tracks like 'Undertow', 'We, The Drowned', the latter of which she was joined by Saint Sisters, and the Crash Ensemble quartet. She was also joined by Aaron Dessner, who came on stage to play some songs which they wrote together for her album, At Swim, such as 'Lo.' The National and Lisa Hannigan have a documented intimate working relationship, with Hannigan coming on stage at numerous stages of the National's set, to accompany Matt Berninger on vocals – though surprisingly, not for her feature on 'Walk It Back', as Berninger teases that she always forgets the words. Irregardless, her set, as always, is manicured to perfection, perfect for setting the atmosphere that leads into the National's set.
But before that, John Grant takes the stage. Cosy in a beanie and jacket to brace the winds and drizzle of the night, he congratulates the crowd on our 'recent victory' (the referendum result). Grant comes across as very comfortable on stage, and declares that this is probably the last chance to hear a lot of these songs, with new music coming soon. Starting with 'Grey Tickles, Black Pressure', from 2015's album of the same name, he went on to play tracks like 'Pale Green Ghosts', 'Sigourney Weaver'. Grant's stage presence and his powerful vibrato-laden vocals are so phenomenal and captivating, and there are moments during songs like 'Queen of Denmark' and 'GMF', that you would be forgiven for forgetting another act – the main act – of the night was still to come.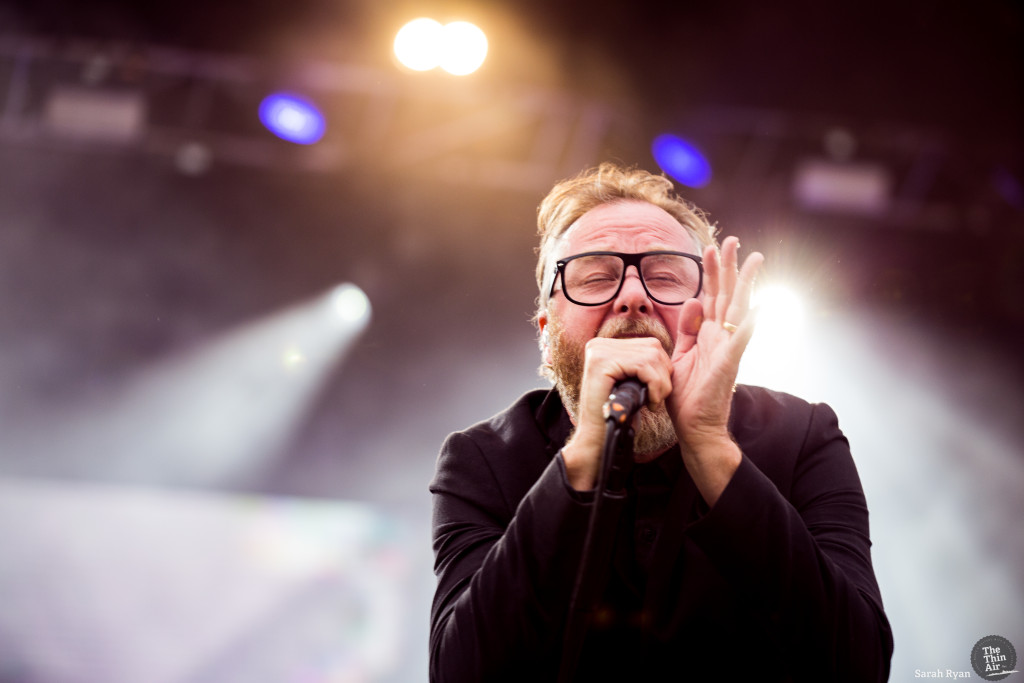 An hour after Grant leaves the stage, the National finally emerged to huge applause, and you can immediately feel the crowd tighten and move forward – probably in anticipation of that inevitable moment where Berninger (above) throws himself into the crowd. The set was a strong mix of tracks from The System Only Dreams In Total Darkness, and older tracks from albums like High Violet and Boxer, though it feels that the band may have reached the stage where they have too many fan favourite songs – a die-hard fan won't be disappointed by the setlist overall, but maybe at the exclusion of a certain track or two, like 'Mistaken for Strangers', or 'Sea of Love'. These omissions may have been because they came on half an hour later then they were supposed to. Nevertheless, the setlist is a fine example of the National at their best, with tracks including 'Don't Swallow the Cup', 'Guilty Party', 'Bloodbuzz Ohio' 'Slow Show', and 'Born To Beg'.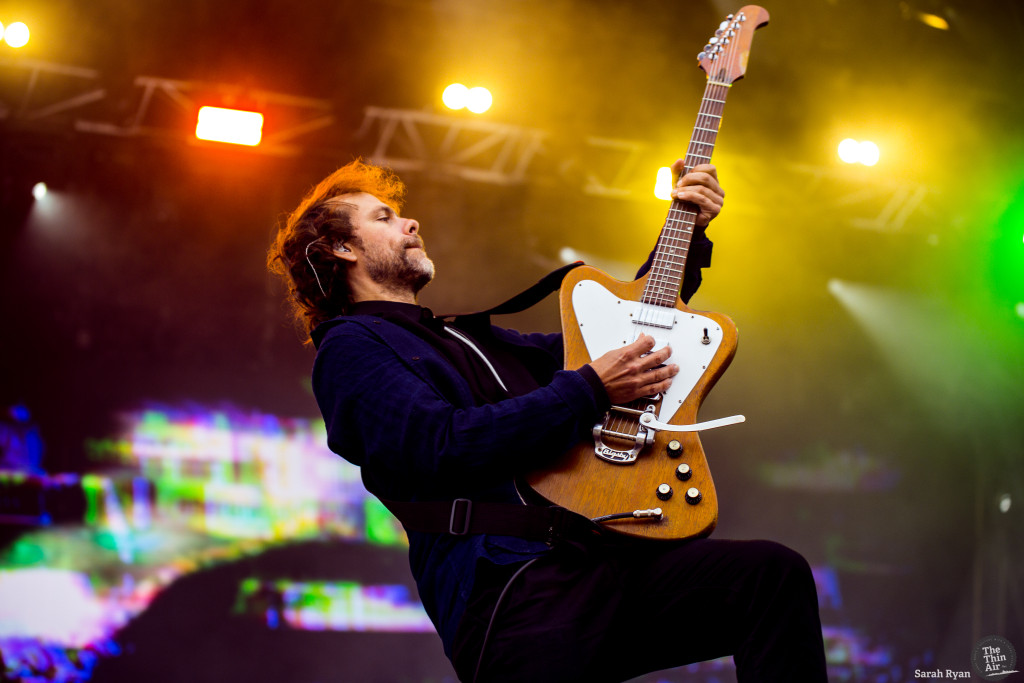 At one point, Berninger mentions that he and his daughter woke up at 2am that morning, and stayed up, and you can see the jet-lag and fatigue in his performance some times, during 'Carin at the Liquor Store', or when he forgets the intro to 'Walk it Back' (immediately after teasing Lisa Hannigan about forgetting her part) and fluffs the lyrics to 'England'. It doesn't take away from the show at all, however, and it's more endearing than anything else. At a show like this, the fans tend to carry the words, anyway – especially in the encore, where Matt Berninger throws himself into the crowd for 'Mr. November', and 'Terrible Love', emerging for the expected final moment, a crowd sing-along to 'Vanderlyle Crybaby Geeks'. A lot of elements of both the setlist, and the show itself, wouldn't be new for fans who have seen them before, but even for those people – and the people seeing them for the first time – it still feels unique to the night. Aoife O'Donoghue
Photos by Sarah Ryan