Galleries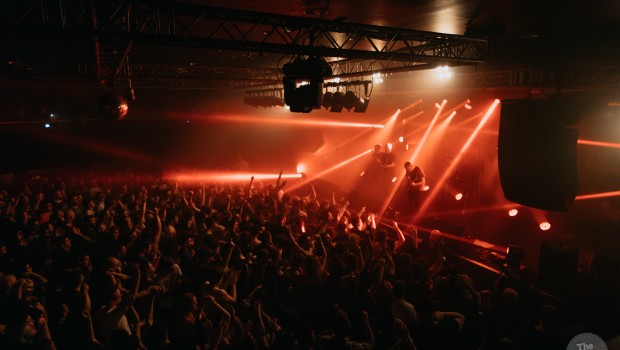 Published on July 30th, 2018 | by Stu Fletcher
0
Goodbye Mandela @ Mandela Hall, Belfast
So, the last gig at Mandella Hall. Probably a pretty great venue when you sit and list off all the great gigs you saw there. But nostalgia is for later.
WASPS are a pleasantly rambunctious start to the evening, playing in Bar Sub they strike excitable silhouettes adrift in a haze of dry ice and some slick, stark lighting. They find their groove somewhere between desert surf and mathy punk and mine it to death, littering it with nice interplay and clever fills, throwing in some swampy rock riffs every now and then, too. They give an energetic and warm account of themselves, pay reverence to the significance of the day and leave looking as delighted as their crowd when they're done.
Junk Drawer have slipped on stage in Mandela Hall while WASPS are finishing their set and are already in full flow. Over the last year their presence on stage has evolved and they cut a far more confident profile on stage, the more playful notions of the songwriting seeming more natural from a band who appear much more at ease, not necessarily tighter but somehow more together on stage. They still bury pop songs under minor chords and sludgy guitars but the songs really suit being delivered with something more like a swagger. More mentions of how it's a shame to see the old venue go. No time for that now.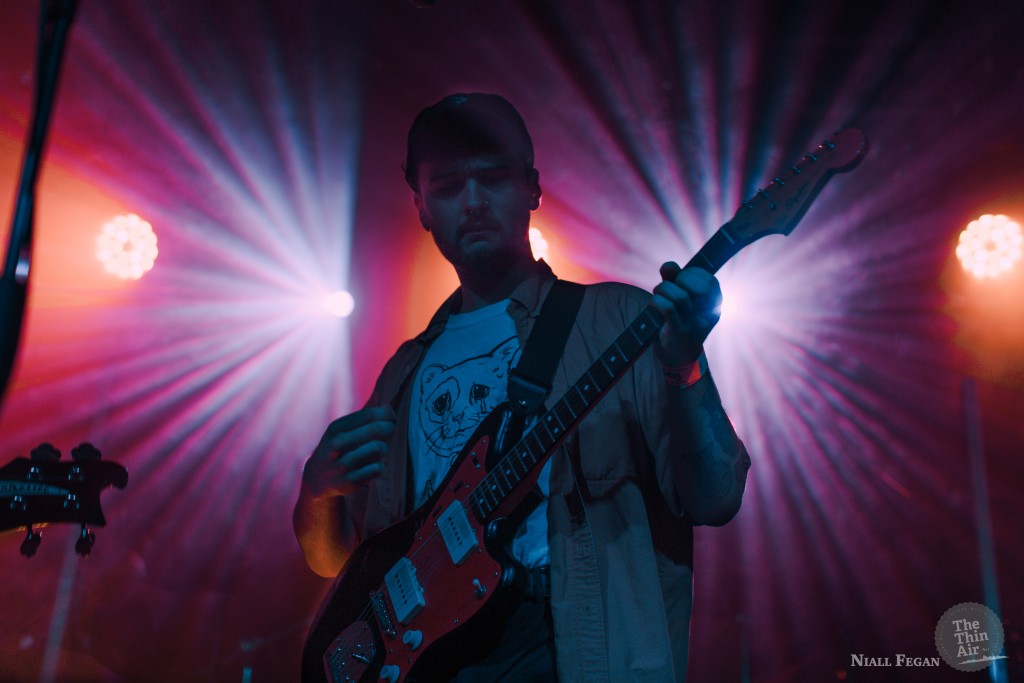 Cherym are already playing in Bar Sub, the pace of the back-to-back gigs in the two rooms is almost as exhausting as watching the Derry three-piece. Cherym wear their recent success well, they look like they've been playing to decent sized crowds far longer than they actually have and really look like they are enjoying it. They're choppy style of poppy power punk is fun, extremely lively and engaging and can seemingly coax at least a nodding head out of even the most statuesque punter given a decent run at it.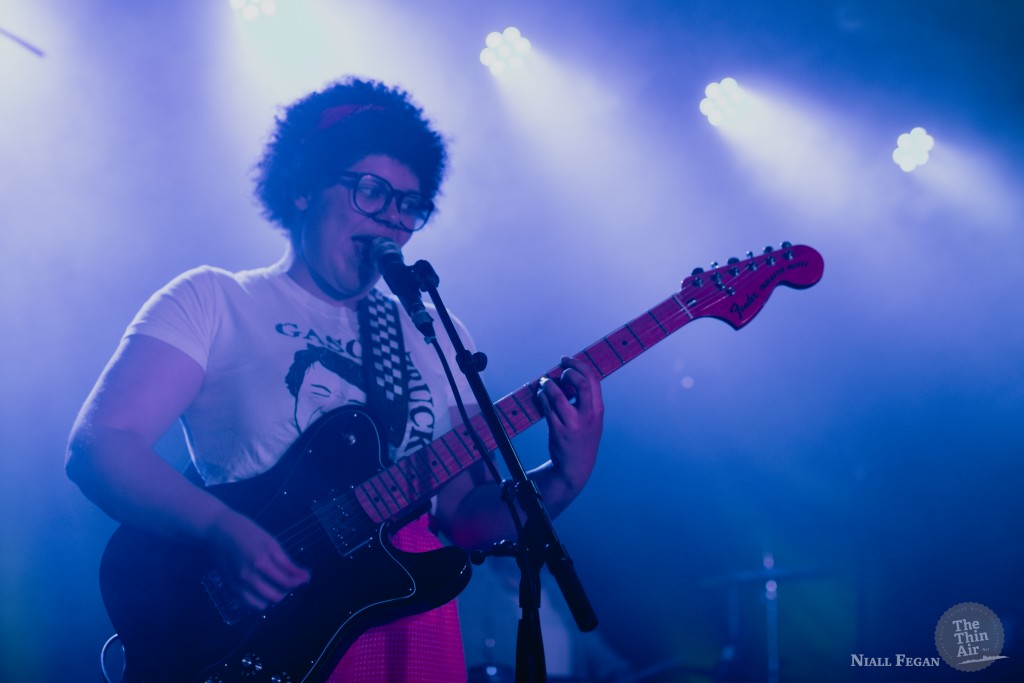 Back in the Mandela Hall, Ryan Vail is on stage before anyone gets a chance to catch their breath or grab a pint of the diminishing range of drinks on sale. He seems a small figure on a large stage, seemingly dwarfed by his setup on racks before him. The music evokes an Ibizan chill-out sunset vibe despite the dark and dingy lighting away from the stage. While this is a large step away from the acts that have come before in terms of tone he keeps a large crowd quietly hypnotised and seems to come as a welcome change of pace from the many guitars we have already heard and will hear before the night is through. It may have suited the smaller stage better but a fine performance.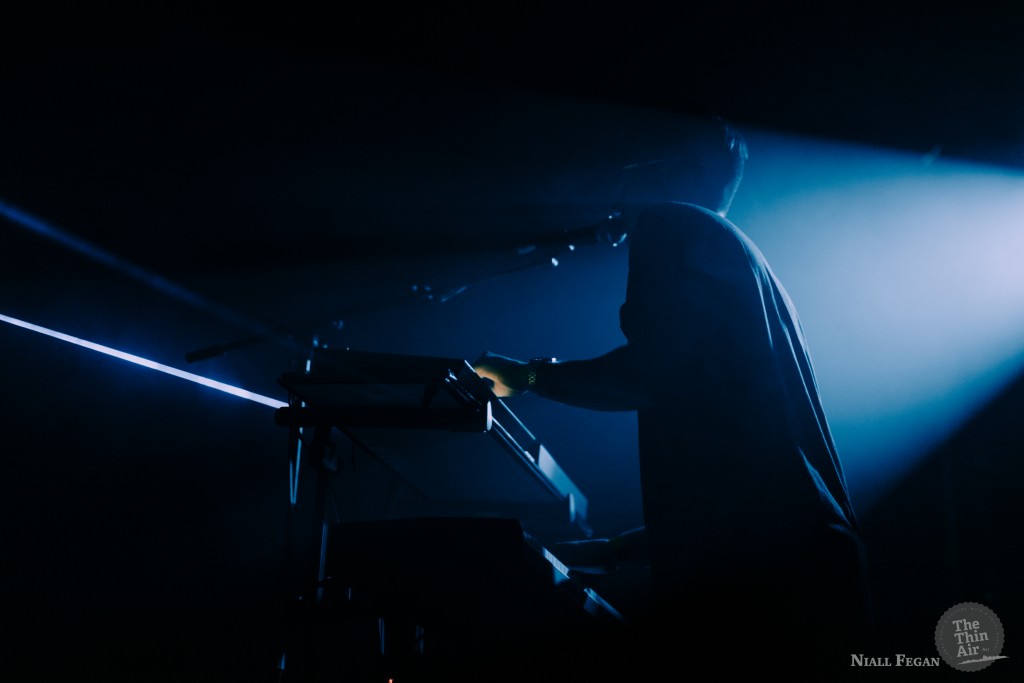 Back in the Bar Sub, Bitch Falcon are on stage delivering their superbly-crafted rock sound to an enthusiastic crowd, evoking some of the better elements of the late 80's and early 90's rock scene. Never sliding too close to the cock rock cliché or grunge they walk a fine line very well. The steady flow of alcohol is finally loosening the crowd up too and the cheers and howls are becoming wilder and hoarser.
We do finally get a quick break after Bitch Falcon's departure and before Robocobra Quartet hold court in the main hall. The venue is jammed now, and getting stickier and sweatier with each passing band. All the ale is gone, the only things left on draft are lager, stout and cider. Robocobra Quartet get underway regardless of the melee at the bar.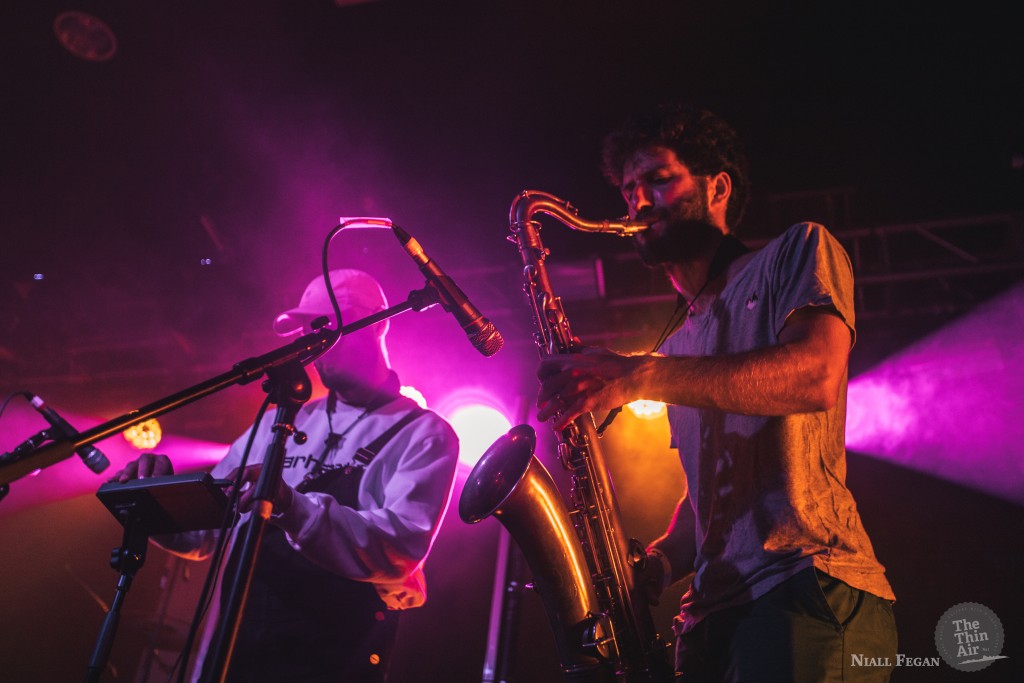 Horns flirt with the bass which grooves with the (occasionally unsettling) drums, working together to bed the world weary sing/rant vocals which anchor the sound of the group so well. Swinging between noir-ish monologues over grooves and howling wails into the void set to tunefully discordant horns, meaty bass and scatter-fire beats, Robocobra Quartet have justifiably drawn the largest crowd of the day thus far and seem to have the measure of the room and are received with affection and respect they deserve.
Arvo Party can be heard and felt long before you step into Bar Sub, moving within direct line of sight of any of the speakers in the main room can be felt deep in your chest. The sound is like a wall, warm synths flowing through you and the beat shaking up through your feet.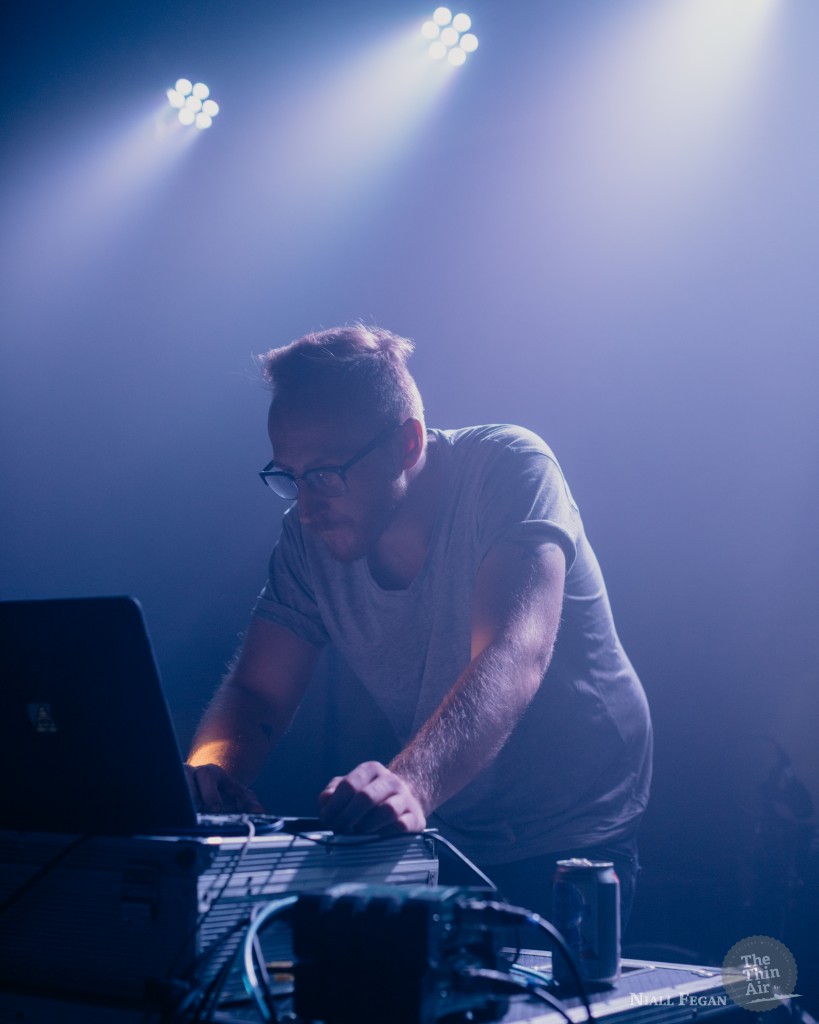 Grins plastered on the faces of a smaller but very happy crowd, nosey people with a fondness for synths and patch cables can be seen moseying up to check out the setup. The sound is indescribable, almost needing to be felt as much as heard, a gem of an ambient electronica set made to feel all the more special for being one of only two diversions from the tide of guitars.
Back in Mandela Hall the crowd continues to grow as Mojo Fury return to the stage for the first time since 2016. Mojo Fury have always projected confidence onstage as a band and despite a quick spill by singer Michael Mormecha early in their set they don't even need to work that hard to maintain it.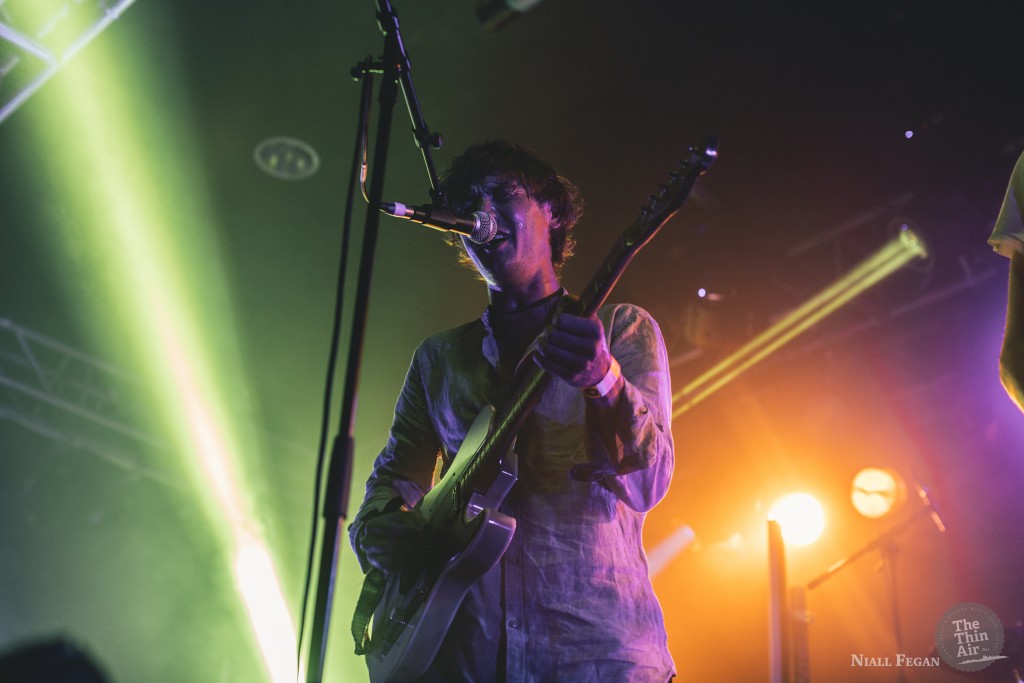 Recovering without really breaking his stride, the band deliver their best, many old favourites among them to a keen and welcoming crowd, always are a big and popular draw in Mandela Hall it's hardly surprising to see such a good response from the throng, a capable and exciting performance flies by.
Only one band has regularly been better received on the stage in Mandela Hall than Mojo Fury in recent times, And So I Watch You From Afar don't seem in the mood to let this record get upset at the last and throw themselves to the task of seeing the old room, which has been a very kind host to them over the years, off.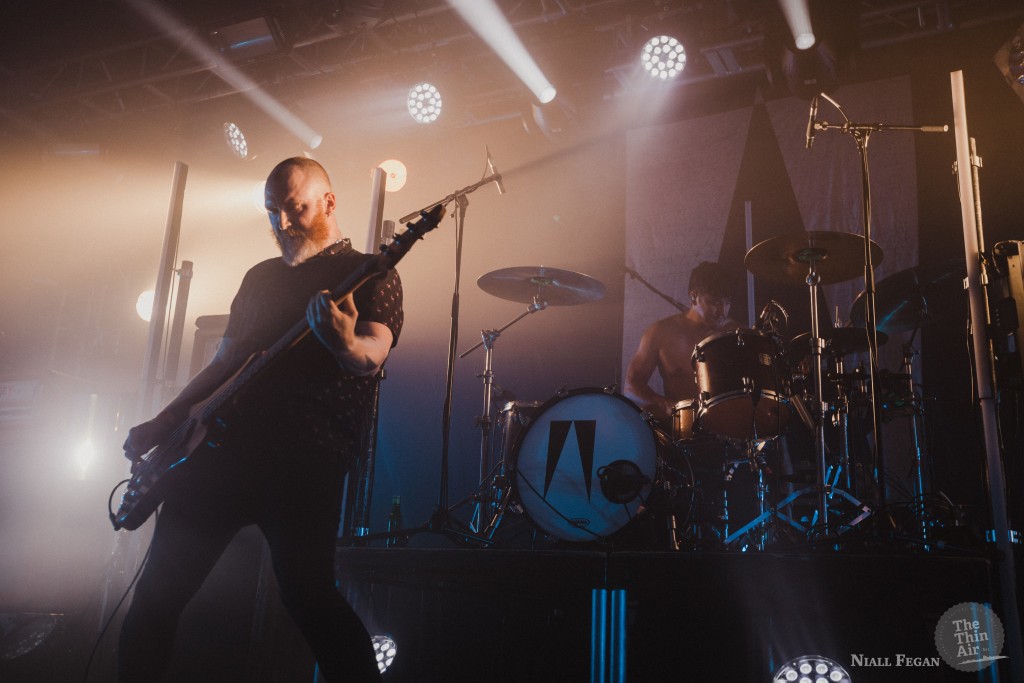 They launch into a blistering set, 'Gang (Starting Never Stopping)' sets off a pit front and centre which simply won't relent until their set is done, filled with ragged punters grinning and bouncing off each other and somehow always saving the people who fall. The set is a glorious sticky, sweaty blur of songs, what was played hardly matters but stuff is pulled from their whole canon, the encore is reached before anyone has even stopped to catch their breath with just an encore left before the final curtain. 'Set Guitars to Kill' starts off a whole new levels of bouncing and hollering from the crowd and the now ubiquitous anthemic set closer 'Big Thinks Do Remarkable' lifts everyone high in song and it's all over.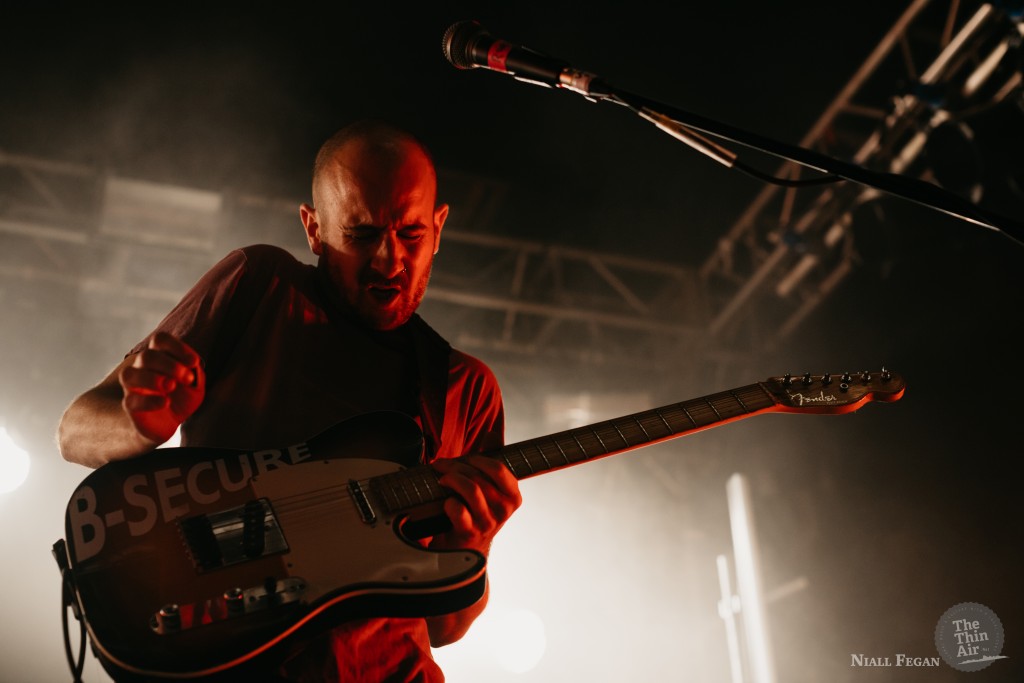 There are no big tears or melodramatics. While everyone really quite liked Mandela and really loved some of the gigs there, no one seemed forlorn to see her doors close but did seem more than satisfied with the glorious way she was sent off. Stu Fletcher
Photos by Niall Fegan