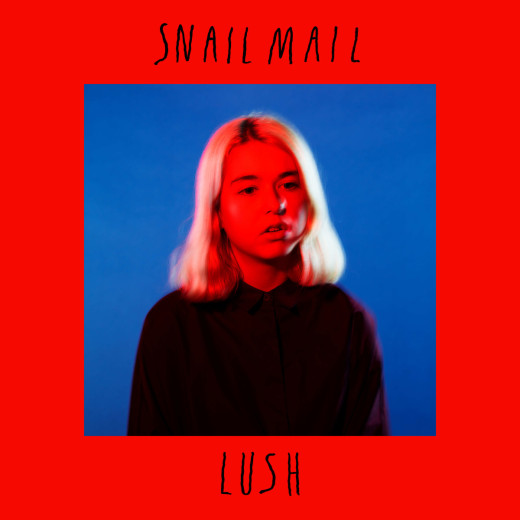 Snail Mail's Lyndsey Jordan has spoken about her frustration at the media's lingering focus on her age and it's easy to understand her consternation. Barely 19, the poison chalice of being a young female musician irritatingly ensures that her music is often viewed through a very particular lens and often described in qualified terms: "Full of potential rather than fully realised", "Precocious rather than simply gifted" etc.  Bearing this in mind it's important to break that pattern and clearly state plainly that Snail Mail has made one of the brightest, most insightful and coolly understated albums of the year – No ifs, ands, buts or caveats.
Lush is an assured debut brimming with sharply observed and whip-smart songs that crystallise the trials and tribulations of teenage life with ease and clarity, never once stooping to cliché. The mixture of vulnerable but incisive lyrics and kinetic melodies make for an emotionally frank and hugely relatable modern work.
The album's first single, 'Pristine', is an ennui drenched indie rock anthem detailing the universal frustration of the unrequited crush. The song's verses are shot through with melodic twists and turns echoing the giddy madness and weighty ehxaustion of young love. What really sets the song apart though is Jordan's keenly self-aware narration, veering between wry understatement and arch melodrama. You can almost hear her tongue planting itself firmly in her cheek as she sings the line, "I'll never love anyone else". She knows that the writing is very much on the wall though and resigns herself with the sighing couplet, "And if it's not meant to be, then I'll just let it be…"
The gently insistent chug of 'Pristine' lays the blueprint for the rest of an album which, while often melodically complex, is largely reserved in its delivery. Jordan's guitar work is witty and nimble but never ostentatious with only rarefied bursts of knotted riffage hinting at the "really intense classical guitar lessons' she's been attending since she was five. Slow indie ballads are very much the order of the day but far from being a weakness, the superficial similarities of the songs help Snail Mail to create a strong and unified aesthetic mood throughout, leaving room for the adaptability and nuance of her musicianship to shine through. From the Kurt Vile indebted guitar lines of 'We Found an Out' to the muscular rock of 'Full Control' Jordan manages to create  an elaborate emotional journey during which not one of the ten songs feels out of place.
'Heat Wave' gently unfurls with a fluttering of finger picked guitar before finding its dancing feet with a sturdy backbeat, morphing into one of the album's most propulsive tracks. The song conflates the idea of time wasted on a casual affair with the idle vagueness of a misspent summer, "Spending every weekend so far gone, heat wave nothing to do". The songs aching choruses showcase Jordan's vocals at their most unguarded as she comes to the inevitable conclusion that she needs more, "I'm feeling low, I'm not into sometimes."
Jordan's lyrical voice is economical and unadorned but deals acutely with both her own missteps and those of the people around her. Her plain spoken resignation somehow makes as much emotional impact as the cerebral poetics of Frankie Cosmos or the scathing angst of Soccer Mommy while her appealingly deadpan façade reveals just the right amount of tender insecurity.  The overall effect lands somewhere between the world weary impassivity of Chastity Belt's Julia Shapiro and the droll but disarming insight of MTV's Daria.
Penultimate track 'Deep Sea' is perhaps the emotional peak of the album, slowing proceedings down to a glacial crawl with searching guitar chords and one of Jordan's most strident vocal turns. The track's rapturous, crashing chorus  provides the emotional gut punch required to bring everything into focus as Jordan utters the devastating lines, "It took so long to meet someone like you, and each in the dying sun". The arrival of a lachrymose trumpet motif underpins the songs melancholy farewell to a slowly dying romance, all but decimating the listener emotionally.
Lush is an album somehow familiar and brand new all at once, drawing on a myriad of influences from '90s grunge but suffusing them with an indelibly modern feel. More importantly, the album launches the career proper of an indie star to be watched, her best is yet to come. James Cox