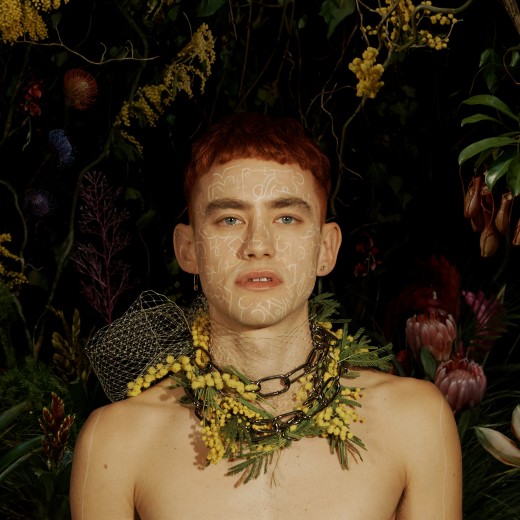 In 1987, the Pet Shop Boys released 'It's A Sin', detailing Neil Tennant's relationship with his own sexuality and the sense of shame that came with it. It was years after the singer publicly came out. Thankfully, these days, singing about sex and love outside of heterosexual constraints isn't a rarity. So many songs in the pop zeitgeist have gone beyond heteronormative boundaries, but still, it is often treated as something forbidden, experimental, taboo and something explicitly, solely sexual. Think Katy Perry's 'I Kissed A Girl' or Demi Lovato's 'Cool for the Summer.' Years & Years' Olly Alexander joyfully takes a different approach.
Years & Years sophomore album doesn't experiment with queerness, it owns it. These aren't songs about a cheeky kiss with someone of the same gender or "just something that we wanna try", this is a full exploration of what it means to fully own one's sexuality that is not often embraced in contemporary pop.  While Tennant and the Pet Shop Boys wrestled over the societally considered "sinful" nature of non-heteronormative relationships and asked forgiveness ("Father, forgive me, I tried not to do it"), Alexander wonders if it is in fact "heavenly" and promises he "won't be ashamed" ("Father, forgive me, for finding the truth"). Linking queerness with religious terminology may seem unusual, but it powerfully permeates Palo Santo. The title itself has spiritual connotations; Palo Santo or "Holy Wood" is a natural aromatic incense used by the Incas and indigenous people of the Andes as a spiritual remedy for purifying and cleansing and is said to get rid of evil spirits. It also has a convenient double meaning. Amusingly, Alexander has commented that the sexual innuendo in the albums name is perfect, "Like, thinking that your dick is holy? I've known guys like that!"
This contrast of iconography and spirituality, with irony and sass, flows through the album, and it's the seriousness mixed with a sardonic humour that really makes it feel utterly authentic. Opening number 'Sanctify' gives a good indication of where the album is heading. The dark BDSM inspired track details Olly's sexual encounter with a man who identifies as straight ("You don't have to be straight with me / I see what's underneath your mask"). Olly promises to "walk through the fire with you / 'cause I know how it can hurt," seeming to simultaneously empathise with the man's struggle while also conjuring up an image of baptism through fire, suggesting a sexual awakening. "Sanctify my sins when I pray," the chorus harps. "What do you do what you pray?," Olly asked Dazed, "You get on your knees." It's a smart play on words, the likes of which are heard numerous times throughout Palo Santo. Many of the track names have religious or spiritual connotations ('Sanctify,' 'Hallelujah,' 'Karma,' 'Preacher'), the use of which Alexander employs in an attempt to subvert the church's idea that to be gay is to be sinful, while also seeming to wink at the listener with cleverness and poise.
On their debut album Communion, there was a recurring theme of shame, if not from the artist, from Alexander's partners, who where hiding or denying their sexuality ("Pray to the truth that you're denying / Give in to the game / To the sense that you've been hiding"). It was something Alexander seemed to be complicit in. On 'Memo' he assured his lover he'd love him "in the dark / no one has to see," while on 'Worship' he proclaimed "I'm not gonna tell nobody 'bout you." On Palo Salo, he is less accepting of hiding in the shadows. On 'All For You' he warns his partner "love's a bitter fruit if you choose to remain in your shame" while on 'Preacher,' he tells his closeted lover "I really wanna love you / but you're hiding […] Come on out / Come on out." On both tracks, religious imagery is once again invoked, with nods to Adam and Eve ("Come on baby, take a bite") acknowledging the forbidden nature of the affair.
While there's a lot of seriousness to unpack in the lyrics, the petty, sardonic nature of some tracks (or at least some lines), is also a strong feature. There's plenty of sneering on the record to satisfy stan Twitter. "Want to taste you on their lips and make you jealous" he chirps on 'Hallelujah', on 'Karma' he quips "Daddy said I never could win," but it's 'Palo Santo' where he really lets loose, "Do I look good in this position, just like him?". 'Lucky Escape' is the perfect culmination of this attitude. It's bitter and petty, but perhaps that's what makes it the perfect break-up track for 2018? "Do I have to see all the pictures of both of you / Is he a model? / I'm not surprised, you're so vain," he spits. Beyond the pettiness, there's a pain that's cutting, "And now you got somebody else to manipulate" / "At least I own up to mistakes" / "I think I dodged a bullet".
The need for at least one ballad is fulfilled with 'Hypnotised,' but it doesn't feel like a forced addition to an otherwise danceable record. On the contrary, it leaves you feeling much like the songwriter. The lyrics are delicate and beautiful, encapsulating the lovers awe and fascination with his muse; "Surround me, body and soul / Pull me into your glow, make me blush / Unbound me, spin me in gold / As the story unfolds in your touch…" It is at this moment that we see Olly Alexander like we've not seen him before. Vulnerable and unguarded. "I know a place where it's always so perfect and blue," he croons, "And every colour comes to life / As petals fall before your eyes / You kiss me, and I'm hypnotized." It's a breath of fresh air, a ballad that stands alone, but doesn't stick out.
'Hypnotized' and 'Here' both feel like interludes (though only the latter is billed as such), two quick diversions from an album that otherwise feels like a messy night on the town, all booming beats and cheap shots.  If 'Hallelujah' is the start of the weekend, 'Here' is the end. "Shattering glass and a lover or three," he sings softly on the closing track, a brief moment where he seems to take a step back and look at himself in broad daylight.

Despite the depth to the lyrics, and the cohesivity of themes, Years & Years don't let any of this distract from simply making a good tune. Almost every track is radio-ready, with catchy hooks and infectious dance beats to boot (house-inspired 'Hallelujah' is a particular highlight), but it's the melding of religion and sexuality that really makes this interesting. Since releasing debut album Communion, he's become a much-loved LGBTQ+ activist, campaigning for safer sex, HIV screenings, talking about his own struggles with depression, anxiety and bulimia, and narrating the BBC3 documentary Growing Up Gay. But Palo Santo might be Olly Alexanders greatest form of activism to date. It is a celebration of sexuality, of lust, of desire, strength and vulnerability. It worships at the altar of hedonism and debauchery, infatuation and dance, and won't be shamed for it. Years & Years' blend of dance music is frantic and infectious, but it's also inspiring, and it puts them firmly in the running for the political pop voice of our generation. Nicole Glennon