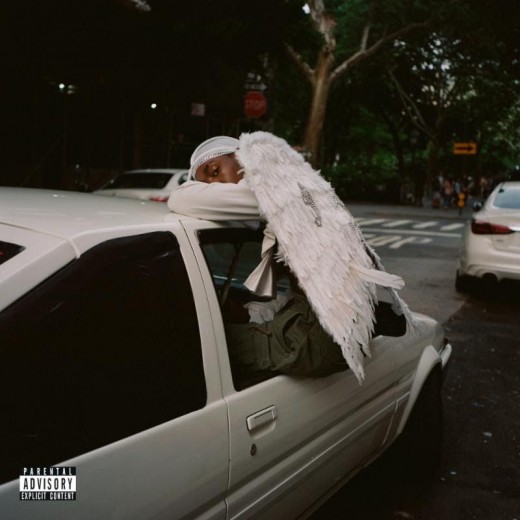 Looking at the decade and a half long career that Dev Hynes AKA Blood Orange, has carved out for himself, there is one word that rings above all others: chameleonic. In that time, the London-born, New York-based polymath has transitioned from noisy, DFA-influenced dance punk to baroque indie pop and then onto masterful R&B with a seemingly effortless pace, adopting each genre and its trappings with such a deft hand that it's hard to envision him doing anything else.
His Lightspeed Champion persona was so convincing that hearing that same mind compose a song like 2016's 'Hand's Up', a searing indictment of police brutality over downbeat soul music, beggars belief. A big part as to why Hyne's has been so successful thus far, then, is that commitment to adaptive personas, but also it's just down to the sheer quality of what he's producing. With his third album under Blood Orange moniker, Freetown Sound, Hynes demonstrated a new level of depth, nuance and songwriting capability that pushed him to new heights, a trend continues with his latest LP, Negro Swan. This album is a reflective and gentle, yet resolutely funky examination of a contemporary black identity, specifically focusing on mental health issues.

The greatest strength of Outkast's 'Hey Ya!' was how Andre 3000 managed to bury an analysis of the impossibility of love's intangibility in a fluffy pop song that people would throw on to forget their troubles. This melding of sweet and sour is nothing new, but it's the intensity of the poles and how well they fit that separates these songs from the pack. It is a trick that Blood Orange attempts multiple times on this record to a fantastic effect. If you separate the words and music and solely focus on the latter, this is simply a great R&B record. You drop in anywhere and you'll be gifted some with some impossibly smooth soul that gets the heart and hips moving in a beautiful synchronicity.
Album opener 'Orlando' is a great example of this. It puts these tight, dry drums right front and centre and delivers crisp groove that demands your attention. 'Out of Your League' is synth-pop fun with a thick, funky bassline that grabs you by the hand and pulls you along for the ride. Lead single 'Charcoal Baby', meanwhile, is an almost irresponsibly good track that just lets you sit back and take it all in. Musically, this whole record is a thing of beauty, comprised of these warm, effervescent analog synth textures that seem to never begin or end, but rather float in a perpetual motion.
A cut like 'Chewing Gum', which has one of the sweetest hooks you'll hear all year, is a great example of this. In spite of the glitchy drum beat, the surrounding melody feels almost like a warm cuddle. Then on the other end of the spectrum, you've got a cut like 'Holy Will' which strips away all the electronic trappings of the rest of the LP and leaves only a guitar, an organ and gorgeous gospel vocals. In isolation, the music here is sublime, but once the words are added and the two combine, the LP ups its game exponentially.

Hyne's was open about how he wanted to explore depression and identity issues amongst the black community and he's successful in this aim. Lyrically, the presentation seems pretty much perfect. As the artist expresses, there are a multitude of problems affecting the community that surrounds him, and an internalised hatred and sense of self-destruction that must be confronted sensitively and with an internal understanding.
There's a good deal of darkness, fear, and pain here. For example, 'Dagenham Dream' focuses on being assaulted as a teen while 'Orlando' is based around the nightclub shootings in 2016. One of the chief phrases amongst these songs comes in 'Black Charcoal': "No one wants to be the negro swan". There's a very good reason Hynes chose that for the title of this collection. A black swan is an unexpected rarity with a certain undefinable mystique, yet in Dev's eyes, once race is introduced, it becomes something to be avoided. He won't stand for this. In spite of all of the darkness and fear, there is a perseverance and strength. Take the album closer, 'Smoke', which wraps up the album in a simple message of quiet fortitude: "The sun comes in, My heart fulfils within". It's quite heartwarming, but it's the elegant interplay between music and words that blows the house down.
Hynes draws on a vast array of black cultural history. You've got shades of New Orleans jazz, Philadelphia soul, gospel, trap, old school hip-hop and dance music all sitting side by side and working in harmony. Similarly, his choice of guests is diverse and fascinating. You've got the likes of A$AP Rocky, Project Pat and Puff Daddy here, further demonstrating the album's scope. Of these guests, it's two who really stand out.
Puff Daddy's verse proves a powerful inclusion, whose final stanza in 'Hope' is an unexpected moment of poise and sensitivity. Hearing the man who exemplified the "bitches, bling and exorbitant wealth" side of hip-hop frankly discuss his inability to open up and allow himself to be loved is just staggering. The other is Janet Mock. Her role is a speaking one. She appears on the interludes and delivers concise messages which tie the chief thematic ideas of the album together neatly and profoundly.
Negro Swan is a stellar effort by an artist at the peak of his powers. It's heartfelt, raw and honest examination of what it is to be marginalised, and the importance of belonging. Or as Janet Mock says:

We get to choose our families
We are not limited by biology
We get to make ourselves
And we get to make our family