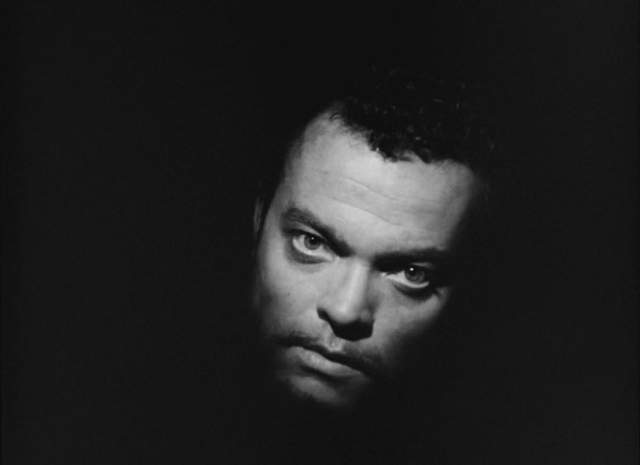 Like a giddy lover, The Eyes of Orson Welles only has eyes for Orson Welles.
Mark Cousins' latest cinematic essay is a swooning, engaged, delightful dive into Welles' career and personal life and, in particular, his practice of looking, his visual vocabulary as expressed in mostly-lost drawings and, of course, the construction of those fabulous frames. If the film is also under-edited and at times over-earnest, then this can be forgiven. Anyone who's ever penned a love letter knows how easily they can get away from you.
The Eyes opens with a sealed box, a mystery like Rosebud, retrieved from America and taken home to Cousins' flat. The box has been in the custody of Welles' daughter Beatrice, the product of the film-maker's third and final marriage, to Mr. Arkadin star Paola Mori. Inside is a collection of sketches and drawings by her father, for whose work she continues to advocate, supplemented for Cousins' eager, close-up eye by the archive material at Ann Arbor college. Cousins' gloved hands turn the pages, revealing new dimensions to one of cinema's most-studied figures.
Citizen Kane. The War of the Worlds. Voodoo Macbeth. Welles is best known through his superlative achievements in film, and radio and theatre too, but Cousins wants to get to know the Art Institute of Chicago grad through his hand sketches of pen and brush, a compulsion that ran through his life, and was on full show on the 1955 BBC series Orson Welles' Sketch Book, in which director would deliver monologues peppered with quickly sketched illustrations. Many were discarded, but the ones that remain are fascinating nerd material.
Cousins is not an art historian, but he is a passionate looker, and an intimate guide to Welles' drawings. For fans of Welles and cinema history, it's a treat just to see these things: side portraits of Irish men and women the young Orson met in his famous jaunt across the Atlantic; the glide of Moroccan fabrics that influenced Mr. Akadin; the curved and bruised noses of random observed subjects; dense, hot, angry oil abstracts of internal frustration. And so many Christmas cards: Santa as Welles; as Falstaff. Merry and rotund and defeated.
The Eyes is a visual history of Welles' filmography, and of the 21st century more generally. The attentive Cousins flags up connections and symmetries, like Nuremberg's light columns and the vertical military lines in Chimes of Midnight's rejection scene, or Art School miniatures and the interiors of Kane and The Magnificent Ambersons. The film is also an interesting introduction to, and commentary on, the principal strands of Welles' personality and aesthetics, how his films reveal and refract his complicated approaches to law, power, innocence, love and its loss. These sections are a little skimmed, and stitched together with some sag, but brought to life by the return, again and again, to Welles the cinematographer and Welles the actor, fabulous visions of looking and being looked at.
Part of the joy of The Eyes is just experiencing Welles' extraordinary sets, angles and lighting on the big screen: the camera's coital hover above Rita Hayworth, the plunging perspectives of The Trial, the wild, decadent contrasts of Macbeth and Othello. One gets the sense of Welles as a longstanding spiritual companion to Cousins, who fell, at a young age, for the snarling evil of A Touch of Evil. The two directors share the film: Cousins, via his now-familiar voiceover, talks to him; and Welles, in a reversal that's silly and audacious and just a little bit twee (this is Cousins, after all), talks back.
In the Cinema Sins age of video criticism as petty click-bait, The Eyes' affection and genorousity is seductive. At its heart, the film is an invitation to share in the vision of a visionary. A rarity that's more than worth a look. Conor Smyth
The Eyes of Orson Welles was screened as part of the Pull Focus festival and is showing at QFT, Belfast, the Light House Cinema and the IFI, Dublin.