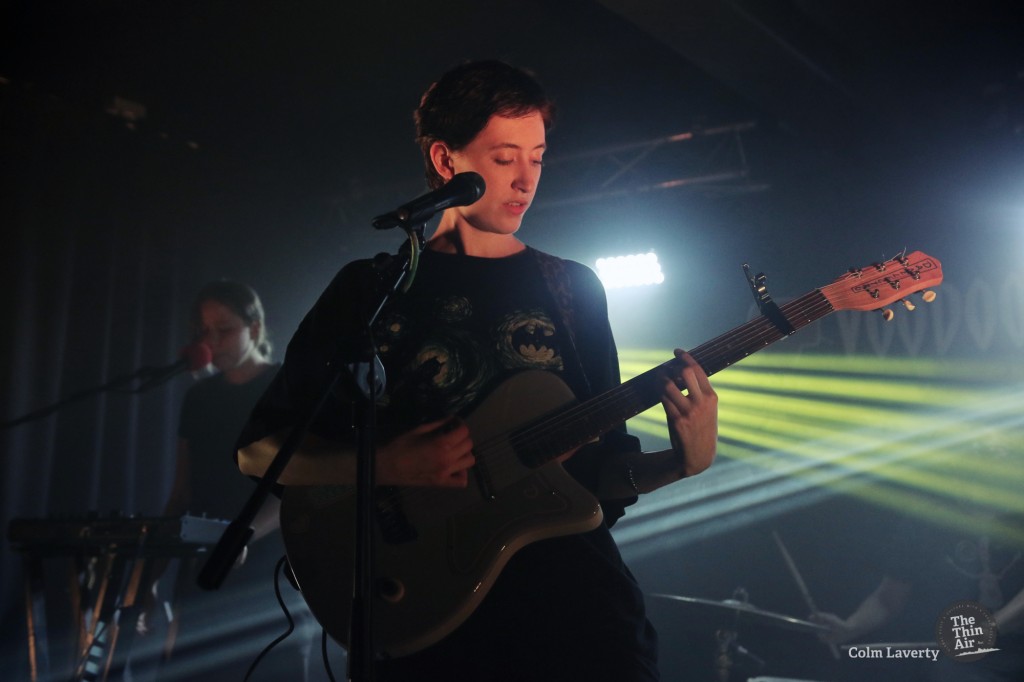 Frankie Cosmos's Greta Kline is an artist who oozes cool credibility. A startlingly talented songwriter with a steadfastly DIY ethos, the native New Yorker began garnering acclaim for her music when she was still just a teenager, using Bandcamp to release a veritable avalanche of bedroom pop gems in just a few short years. Now signed with Sub Pop records and touring off the back of Frankie Cosmos' third full length album,  this evening's show in Voodoo promises to showcase Kline's wry poeticism and Lo-Fi yet sophisticated take on the indie pop genre.

First sightings of Kline in Voodoo's bar area seem to confirm her DIY rep as she busies herself at the merch table and mingles with a slowly amassing crowd of fans, rabidly vying to catch her eye and stoke up a conversation with the singer before tonight's support act takes to the stage. The Dublin power trio Squarehead were reportedly personally selected by Kline to support her band during their Irish tour and she even describes them as one of her favourite bands. This potentially throwaway comment is soon vindicated as she positions herself with eardrum perforating proximity to the PA , ensuring she catches every note of the band's set.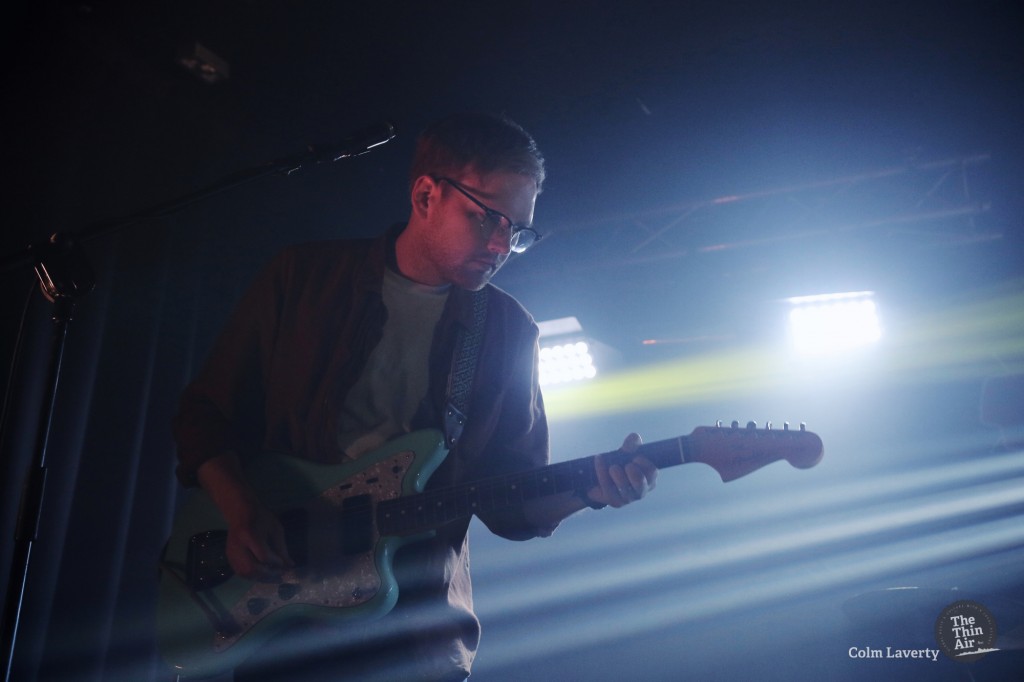 Featuring mostly new material from their latest offering Yeah Nothing, Squarehead's first Belfast appearance in six years delights the crowd with jangling yet muscular guitar playing, nimble bass lines and a double chest of drawers full of toothsome riffs. Dealing in instantly memorable songs that range in style from bittersweet indie to 50's inflected rock and roll, the band prove themselves to be an impressively tight unit, creating a direct and dynamic sound that even bands with twice as many members would struggle to replicate.  The real star of the show however is Roy Duffy's bruised and keening tenor, a versatile instrument that adds real emotional heft to proceedings.

As Squarehead take their leave, Kline and her 3 cosmic cohorts shuffle on to the stage and, discounting a brief altercation with an unruly drum mic, get off to a flying start with the sumptuous opener 'Caramelise'. Beginning with nothing more than fragile guitar strums and wispy vocal harmonies the song's simple intro belies the composition's extremely inventive structure and a melody which boasts enough hooks to put your average ABBA track to shame. Meanwhile the propulsive full band arrangement which kicks in at the halfway mark proves to be an apt mission statement for the bands particular brand of scrappy, sugary energy and highlights the undeniable chemistry bubbling between the four band members.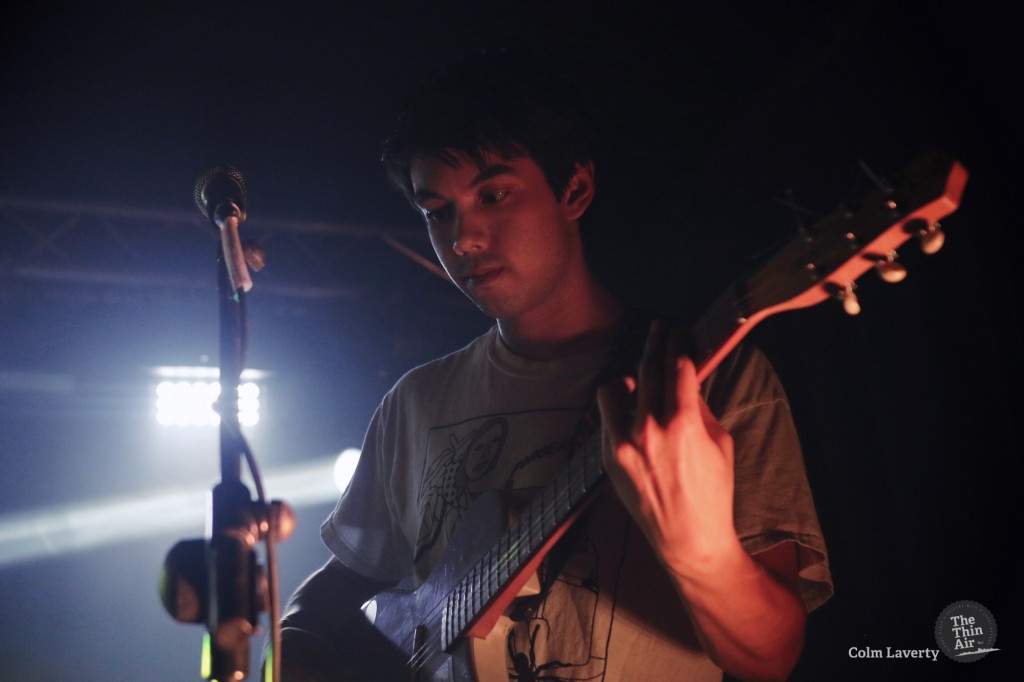 The songs tonight come thick and fast, employing rapid fire tempos and lean run times that rarely trouble the two minute mark. Despite their brevity though every melody sounds expertly and minutely crafted, not to mention uniformly catchy.  Lyrically, Kline exhibits a natural proclivity for word play as well as a poetic flourish. The high romance of 'On the Lips' for example archly conflates the suspended disbelief of watching David Blaine's sleight of hand tricks with the leap of faith needed to fall in love. The track also shines a light on Kline's crystalline soprano as it blends seamlessly with Keyboardist / guitarist Lauren Martin's clever harmonies on the celestial falsetto choruses.
Following in a similar lovelorn vein, the set is taken to swoonful new heights  with the dusty, fifties inflected love songs 'Duet' and 'Outside With The Cuties'. The former sees Kline playfully switch sides of the microphone, trading lines and affecting a doe eyed duet with herself. 'Outside With The Cuties' comes on like Rosie and the Originals performing at a David Lynch curated prom, complete with reverb heavy guitar chords and an eerie sci-fi keyboard line that illuminates the song's closing verses.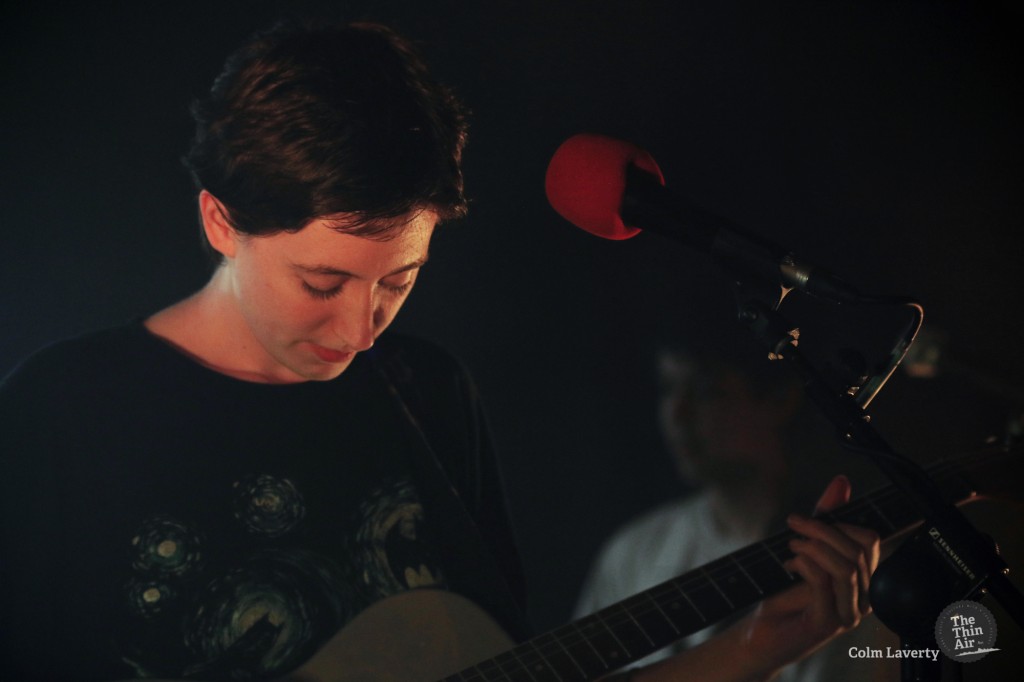 The sets true zenith may well come with 'Fool', probably the closest track Frankie Cosmos has to a bonafide anthem, a song whose winsome, elegant melody stands out even when surrounded on all sides by as as many  slices of perfect pop as it is this evening. The band's gorgeous harmonies are lent even further ballast by the enthusiastic and surprisingly tuneful crowd who sing along to every word before erupting into howls of applause.
At one point during the set, after the merest of vocal wobbles. Kline sarcastically mumbles, "I'm a good singer… I'm actually a professional singer!" apparently seeking to remind herself of this fact as much as anybody else.  Though Kline is now part of a growing number of former Bandcamp artists threatening to break into the mainstream it seems she may still be struggling with a modicum of imposter syndrome, dazed by the fact that she's managed to translate her teenage hobby into a career proper. Tonight's by turns ramshackle and rapturous show proves Kline's rightful place at centre stage, marking her out as a young artist very much at the height of her powers. The rabble of twenty-somethings baying for 'one more tune' in impassioned unison can surely attest to that. James Cox
Photos by Colm Laverty