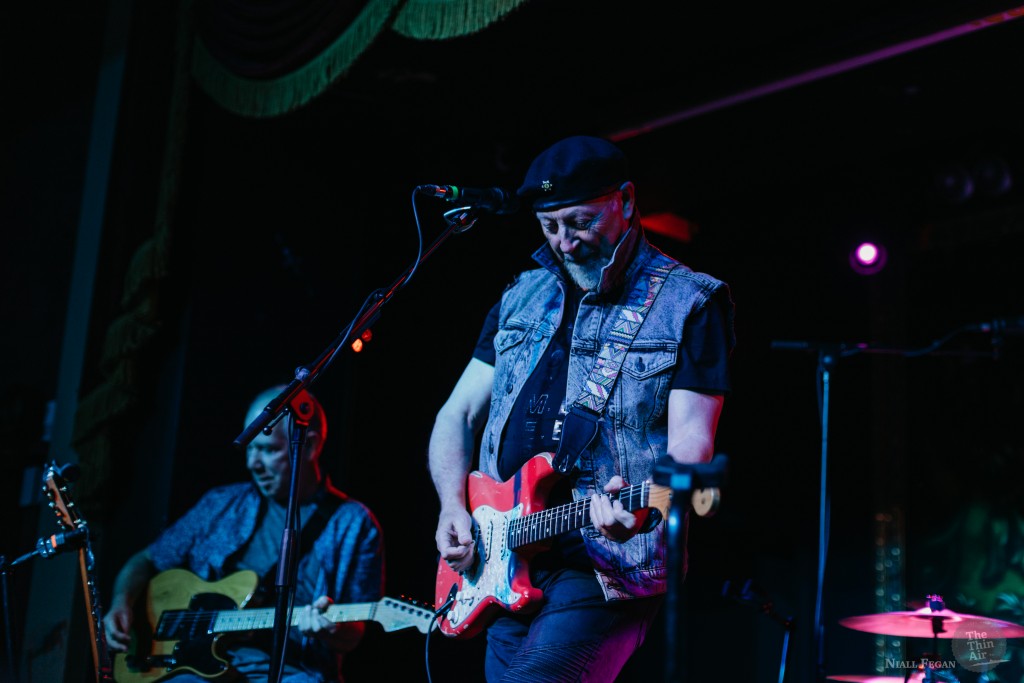 There's been a recurring narrative in most critical discussion around Richard Thompson over the years, that he exists as this undiscovered national treasure. In terms of the comparable reverence commanded by former peers like Nick Drake & John Martyn, that might be true – it's not a trendy sell, not quite fitting perfectly into folk or rock pigeonholes in a business that operates most efficiently under binary conditions. Couple that with themes that veer wildly between mordant meditations on humanity, and congenial, quintessentially British kitchen sink themes without the 'benefit' of A) dying young, or B) self-mythologising as a romantically-inclined poetic genius, and you've got a recipe for disparity between commercial & critical acclaim. For fans, though, his lack of artifice is the charm.
David Byrne once said: "being somewhat jealous and envious of Richard's songwriting and guitar playing, it is somewhat satisfying that he has not yet achieved household-name status. It serves him right for being so good", but whether or not that argument still holds any weight is moot these days – being a founding member of arguably Britain's most influential folk rock act, he's earned an Ivor Novello, an OBE, been covered by Bob Dylan, R.E.M. & David, and soundtracked Werner Herzog's Grizzly Man – even managing the feat of UK Top 10 place for a folk album as recently as 2017. The few constants in his career being the beret, beard and Stratocaster. His show tonight, billed as a preview for the tour for new album 13 Rivers, is in front of a sold out Empire crowd.
First, though, a substantially more performative singer-songwriter opens tonight, in the form of the young, fast-rising David Keenan. It's immediately clear that his affinity is for the spirit of quixotic 50s beatnik bohemia and the last 30-odd years of Irish cultural reckoning, with crepuscular, lucid visions that weave through the put-upon Irish mentality and late-night "working man's drug"-influenced epiphanies. The rattle of freshly-changed acoustic strings proves jarring, no more than at each emotional apex, when paired with the obligatory, passionate, over-strained vocal for dramatic effect. Phases like 'epileptic candles' and 'lactose intolerant mothers' at times blur the line between lucidity and prosaic Dylan parody, but in the seemingly less intentional moments, there lie genuine moments. A new song's first outing solicits a few cheers via feinting the obvious hooks, grappling with Mass attendance and the similarly habitual nature of apologising, and name-checking Geordie Best along the way. With a debut album soon for release and a growing international presence, Keenan looks set for an even brighter year, and as he grows into the age of his persona, the wisdom will come more naturally.
Joined by Michael Jerome & Taras Prodaniuk, the rhythm section which have been with him for the last decade, Richard Thompson steps on the Empire stage in a show billed as a preview for the upcoming album tour for new solo album 13 Rivers. With startling immediacy, uptempo new single 'Bones of Gilead' reveals the band – accompanied on this one by collaborator & guitar tech Bobby Eichorn – are unfalteringly tight. The song itself seemingly transposes an unexpectedly off-kilter muted Hüsker Dü-ian riff onto a slice of alt. country. His disclaimer sounds: "Before we get to those timeless classics that you've driven a hundred miles to see, I'm afraid we'll have to play some new stuff", as it's performed with a vitality that sets the pace for the rest of the night. Sure enough, Fairport classic 'Meet Me On The Ledge' comes soon enough, and as the night goes on, so to do cuts from every era – the third ever outing for an old Fairport song, 'I'll Never Give it Up', the obligatory, beautiful career-highlight '1952 Vincent Black Lightning', which has managed the trick of avoiding millstone status after all these years.
Besides the songcraft, Thompson has managed the rather unique feat as not just an incredibly accomplished fingerpicker, but one of the most unique & skilled electric guitar players of his generation; Rolling Stone placed him in their top 20 of all time. One could easily discard the acoustic or electric halves of his back catalogue and you'd be left with a career-sustaining body of work.
His trajectory echoes Neil Young – striking early success with a hip band in the hippie era before leaving to follow his own path without concerning himself too much on fame and its trappings – he's been a constant, never leaving more than three years between studio albums. With influences that range from Jimmy Shand to Homer, it's no surprise that one of Thompson's enduring skills has always been to natural instill characters and profound truths with a sense of the quotidian without veering into manipulative sentimentality, rarely moreso than on the quietly mournful nostalgia of 'They Tore the Hippodrome Down', from the recent Acoustic Rarities. As the bass amp malfunctions, Thompson entertains a mostly-middle-aged, male crowd with a safe bet: nun jokes. He's charming enough to keep the sleaze to a minimum, and silly deeper cut 'Two Left Feet' gets a request – par for the course at his shows. He jokingly concedes "it might come down to that". It doesn't, and we have low-end once more.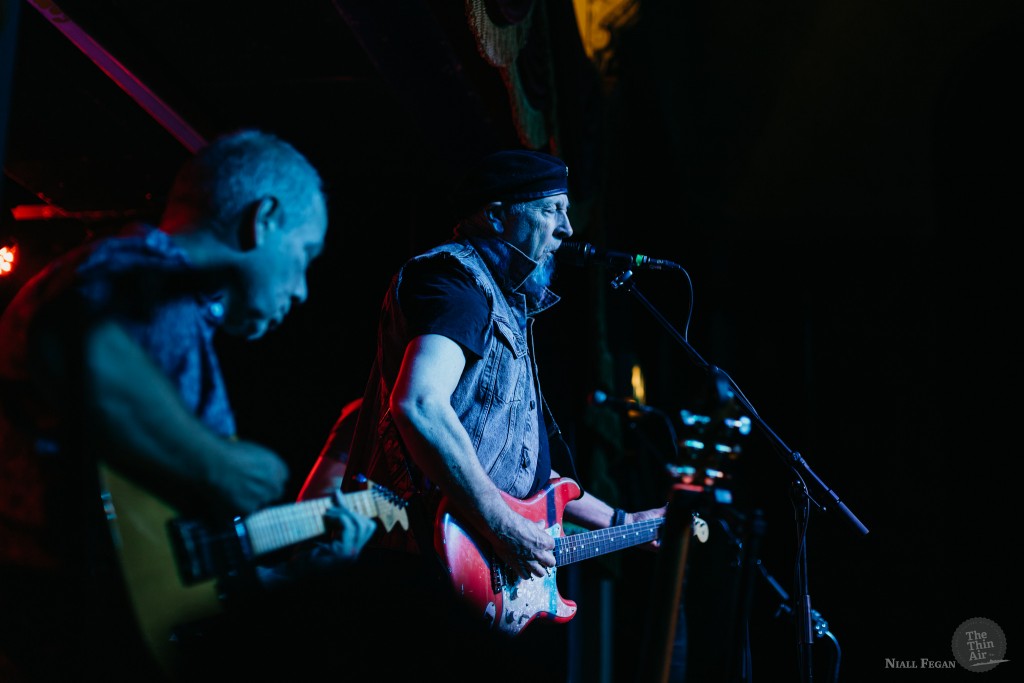 With each febrile solo comes string overbends that threaten to fall off the fretboard, their mood rooted in bagpipe-influenced drones, peppered by a quickfire flurries, each one a part of the free-flowing conversation between disparate elements of his playing allowing runs from Bert Jansch to Freebird. They're given a thorough examination in 'Guitar Heroes', a romance story about his chosen instrument that's self-aware enough to sidestep tweeness, as he lays out his own reference points – Django Reinhardt, Les Paul, Hank Marvin et al – while holding onto those stylistic choices of Thompson, in a crystalline Stratocaster sound that trumps even the likes of Albert Lee. His latent self-flagellation can be glimpsed in lines like, "Now I stand on stage and I do my stuff/Maybe it's good, but it's never good enough."
As further new material is rolled out, a relationship between melody and discordance is revealed moreso than earlier work, that touches upon solo work from noted fan Bob Mould of the aforementioned Hüsker Dü, and the sensual, doomy croon of Nick Cave. It defies common intuition that his new music is some of the most angular & heaviest he's released, seeing the trio go into off-kilter timings, Jerome & Prodanuik's unified stabs serving an interplay that touches on Fugazi's understated moments, having clearly been allowed freedom to experiment on the new record. Thompson himself said these songs "came to me as a surprise in a dark time", and whether it's a case of Thompson's influence coming full circle or actualising what Mould heard in there first time around, it's arguably the biggest trek into new pastures since leaving Fairport Convention.
Following 1982's Shoot Out The Lights closer 'Wall of Death' he closes out the set with a frantic 'Tear Stained Letter', which threatens to derail at any point, his fingers perpetually trying to pull ahead of him, but never quite do. An encore is inevitable, and his re-emergence gives us two acoustic classics 'Beeswing' and 'Down Where The Drunkards Roll', before a quick one-two of electric tunes, allowing the band to flex chops.
Months away from his 70th, at a supposed twilight stage of his storied career, the easy way to secure a fortune for his children would be to just tour Fairport Convention songs, or just focus on his incredible decade of material released with ex-wife Linda. He doesn't, though, and new material is as satisfying as those "timeless classics". These days, he writes in a 9-5 fashion, better enabling "the rusty faucets of inspiration to creak open". Maybe it was the ascetic Sufi phase of the 70s, but it's as if he's had the benefit of hindsight for 50 years. Or maybe it serves him right for being so good. Stevie Lennox
Photos by Niall Fegan