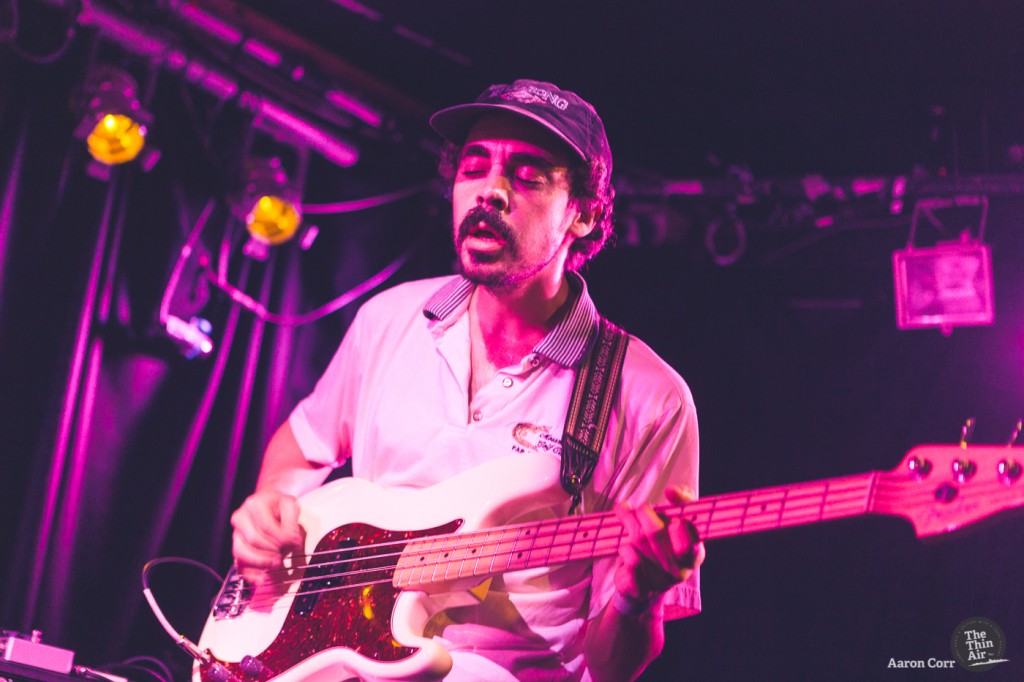 On what was an already humid evening, it wasn't much of a surprise that this sold-out crowd led to a rapid rise in temperature inside the venue. The reason for the sweat-box effect was down to the debut Irish appearance of Melbourne's Rolling Blackouts Coastal Fever. Formed five years ago, the band have picked up quite a few column inches since the release of their debut Talk Tight EP in 2016, which led to Sub Pop releasing the highly acclaimed French Press EP last year and their full-length debut Hope Downs in June.
Strolling on stage just after 9:30, the five piece of Fran Keaney (vox/gtr), Joe White (vox/gtr), Tom Russo (vox/gtr), Marcel Tussie (drums) and Joe Russo (bass), kicked off proceedings with a double whammy of 'Clean Slate' and 'Talking Straight'. Their collective energy was visible right from the start, while their ability to combine infectious melodies, with fast paced riffs and machine gun like drumming so early on, led to a feeling this was going to be one of those "remember when" nights in Whelans.
The comparison to their antipodean musical ancestors The Go-Betweens and early-era Fling Nun groups or that of The Feelies, isn't lost on anyone, but just like other Aussie upstarts; Dick Diver, Twerps, The Creases and Chook Race, Rolling Blackouts C.F. still manage to bring their own unique sound to the indie-pop table.
More jangly guitar sounds followed with the punky 'An Air Conditioned Man' and 'Time in Common', while a broken bass string during 'Exclusive Grave' meant the band went off script, and once the intros of Irish ancestry concluded, they played older track 'Angeline' until Russo (Joe) returned to the fray.
Hook soaked tunes continued to fly by with 'Bellarine' quite reminiscent of Murmer/Reckoning REM,  'Julie's Place' and 'Wide Eyes' sounded tight even though there was an obvious looseness throughout their delivery.  The fivesome were clearly taken aback by the turn out and mentioned as this was the final night of the European tour before they leave for LA, they were "gonna enjoy Dublin!"
Hope Downs 'Mainland' and French Press tunes 'Fountain of Good Fortune' and its title track brought an end to the set, with all three encapsulating everything that is exciting about this band. After a sixty-minute set that felt like a ball of frantic energy had steamrolled through the room, they returned, albeit too briefly, to blast through 'Heard You're Moving' from Talk Tight, and then they left once more.
Based on this evidence alone, the next time Rolling Blackouts Coastal Fever return to Dublin, the venue will no doubt be more than a little larger. And yes their music that is a perfect match for this sun drenched time of year, but then again even in depths of the soon to be shorter evenings, you couldn't not give their records a continuous spin. Conor Callanan
Photos by Aaron Corr