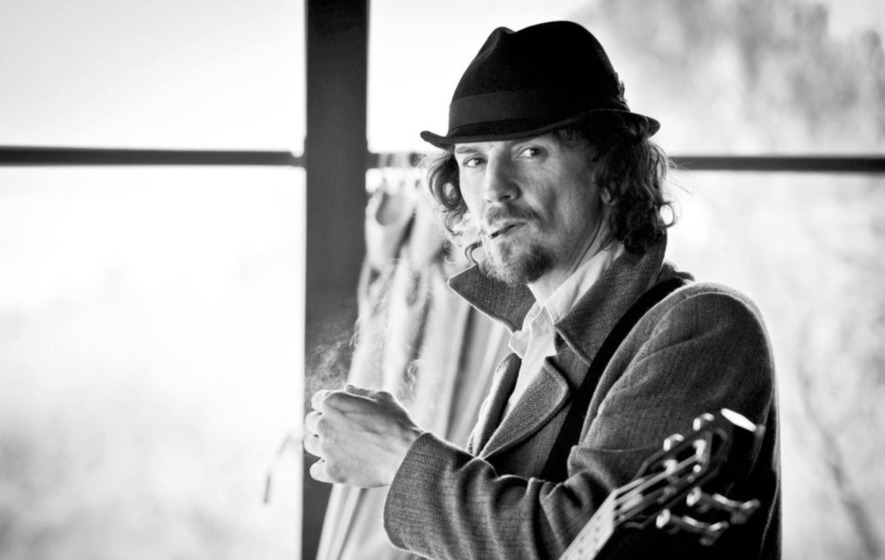 Best known as bassist in Spacemen 3, Spectrum, Spiritualized, the Brian Jonestown Masssacre and Dead Skeletons, amongst many others, Will Carruthers is also a memoirist, poet, book-binder and artist. Ahead of the launch of a new exhibition of his art at Belfast's Framewerk, he talks to us about the challenges and victories of creation, how living in Belfast has influenced his art, identifying as a transpositional vibration analyst and more.
Hi Will. What are your earliest memories – foggy, clear-cut or otherwise – of creating visual art?
When I was five my Mum put a big piece of paper on the wall in my bedroom so that I could have a bit of a draw because I had stopped talking. I tore it all off in a little tantrum one day, then they confiscated all of the sharp pens and that was the end of that for a while.
I remember making a little clay squirrel when I was about seven that I was quite fond of. I'm afraid I was not a noticeably gifted artistic child.
Needless to say, music has been a big calling for you. During your tenure in Spacemen 3, Spiritualized, and thirty-one other bands, did you paint much?
Visual art was never something that I devoted my energies to as a child or young adult. I sometimes doodled in the margins and scribbled on the backs of fag packets after a long night on the funny fungi during those early days but I preferred more physical pursuits. I think that I really learned any skills I might lay claim to, from the fifteen years I spent painting and decorating. That's why I never paint straight lines and ceilings now.
Nowadays, you identity as being a fully-fledged artist, something the existence of Soothing Alien Landscapes and a Fruitless Search For Otters confirms. What links the pieces of artwork that you will be displaying at the exhibition?
I identify as a transpositional vibration analyst on my Facebook page and I dabble in celebrity exorcism occasionally, but it's hard to pay the rent with that. It's important to be practical, so I mainly try to do half of what I have to, and enough of what I want. I started off with these paintings when I was back in Berlin this Spring. It was something I did for myself that didn't involve being in a bar and I started to enjoy it, and then other people seemed to enjoy it too. It kept me sort of sane, and it was fairly harmless, so I kept going. When I got back to Belfast in the early summer I kept on keeping going with the pictures. All of these paintings have been completed this year. Most of them in Belfast. I'm just finishing a couple of last minute inclusions for the exhibition now.
From Wish Fulfillment to Across The Bog, your paintings deal a lot with landscape and light to sublime effect. Take us through your typical (if there is a typical) process of creating a painting from scratch.
I am glad you like them. It's been such a lovely summer and people have been posting pictures of landscapes and sky on social media. That's been a big inspiration and just the way the light has been this year. The clouds and sunshine and stuff. I work from that, and from memories I have of places I have been and the feelings those memories inspire. I work early in the morning at the kitchen sink, splashing inks onto the paper and then running water through them.  More ink, more water, chemical reactions, bleeds, accidents – another flood. Bit of a heatwave. Full moon. A memory of the desert and the northern lights. Some desire to be a cloud.  I like the way the natural world sometimes appears on paper if you manage to get out of the way a little bit.
Do you tend to listen to music when painting, or does silence suffice?
I never hear silence. My ears ring like an idiot bell and I hear constant sirens. I made enough people deaf over the years so it seems fair I suppose. I like to work in whatever silence I can find but I'll put a tune on now and again if something catches my fancy.
Like all good artists, you arrived in Belfast earlier this year, "through a combination of misadventure and desperation". How has the city – or this neck of the woods generally – fed into your artwork?
Belfast has been an unexpectedly encouraging place for me somehow. I like the people I've met here. I like the sense of community and the fact that it's largely a working class city. After Berlin, it's a breath of fresh air in some ways and it stops me taking myself too seriously.
Many people have used music you've been involved with as sonic trapdoors – a means to zone out or bow out for a little. Just as many people have used to explore their inner recesses and cutting loose. How do you feel creating art, in comparison to making music? Is it a meditative affair?
When I make music or write poetry, or bind books, or paint landscapes, it's the same feeling and the same spirit manifesting in different ways. There are the same challenges and the same victories. The same frustrations sometimes but there is always  the hope that I might lose my cares for a minute and maybe help make sense of my place in the world through it. Like everything you become absorbed in, it can be possible to lose yourself in the doing of it. Mind you, I used to get that painting and decorating sometimes too.
Finally, Belfast: what are your three favourite things about living in the city?
The stuffed otter in The museum.
Kings chippy.
Talking about food. Cavehill. My friends. The Lagan towpath. That's more than three, isn't it?
Soothing Alien Landscapes and a Fruitless Search For Otters launches at Framewerk in Belfast tonight from 7pm. Full details are here.