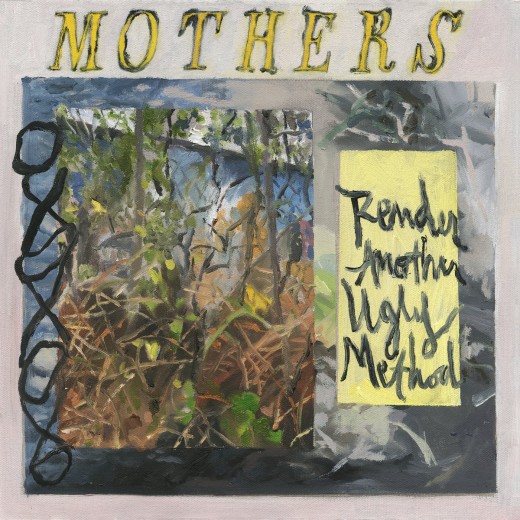 "Hard to focus and efforts fruitless…"

So sings Mothers' frontwoman and creative nucleus Kristine Leschper on the jagged 'MUTUAL AGREEMENT', crystallising the looming themes of dread and futility that permeate the band's woozy second album. Sadly, the quote also serves as a succinct review of this imperfect and ultimately exhausting release.
Downcast opener, 'BEAUTY ROUTINE' comes tentatively into focus with shivering fronds of detuned guitar and the first of many keening but gloomy vocal performances. The track drifts idly along as if bobbing underwater, seemingly reliant on tidal micro currents to sluggishly propel itself to the end of each verse. Leschper mournfully sings and gasps the track's defeatist lyric as if she were drawing her final breaths until at around the halfway mark the backbeat tightens dramatically and her vocals grow wilder and more authoritative, freeing the song's final section from its murky miasma to thrilling, if fleeting effect.
The glacial pace of many of the quieter moments on the record run the gauntlet from the simply unengaging to disappointingly arduous, 'IT'S A PLEASURE TO BE HERE'  for instance, seems to exist purely as a test of just how thin a melody can be stretched and just how long 5 minutes 15 seconds can seem. Mercifully, abrupt changes in tempo and tone mean that the record alternatively lulls and prickles, modulating from dimly lit dirges to needling post punk assaults.
As with the final section of  'BEAUTY ROUTINE', the album's more aggressively paced tracks bring some much needed life and vitality to the band's sound and easily  represent the most successful experiments here. The fierce 'PINK' shines a light on Leschper's frequently obscured songwriting gifts as well as on her powerful vocals which exhibit an elastic range and textural subtlety that do much to vindicate her frequent favourable comparisons to Sharon Van Etten and Big Thief's Adrianne Lenker. Her oddly detached delivery though marks her out as an original vocal stylist in her own right as she flatly incants her obscure and hazy lyrics as if in a hypnotic fugue state. The band's taut and technical musicianship is also placed at the fore, as the four-piece skilfully navigates the mercurial twists and turns of their out of whack rhythms and messy, knotted guitar figures, calling to mind the clamour of  Ought and the twangy noodling of fellow Georgia natives Omni.
Unfortunately such moments are short lived and the same abrupt shifts in rhythm that help to enliven 'PINK' can derail and defang otherwise promising tracks. 'BLAME KIT' and 'CIRCLE ONCE' begin with perhaps the strongest and most instantly accessible motifs on the record, the former erupting with a hail of ping ponging guitars and frenzied off kilter drums and the latter showcasing one of Leschper most direct and memorable vocal turns. Both tracks meet the same sorry fate however, with a sudden and unwelcome deceleration in tempo as the band switch from stun to snooze for yet another protracted lament.
Right from its cumbersome title, Render Another Ugly Method seems purpose built to test the listener's endurance. While there are undoubtedly moments worthy of our attention within the band's expansive textural and rhythmic experiments, the album's claustrophobic atmospherics and lack of any unified sense of propulsion or especially strong melodic lines make for a wearying listen. James Cox